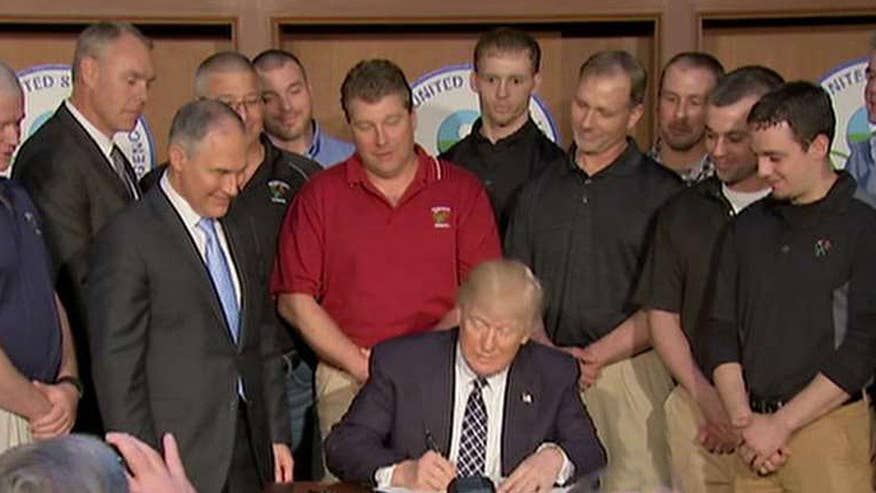 New York State's Democratic attorney general vowed Tuesday that he would "oppose any effort" to roll back former President Barack Obama's Clean Power Plan after President Trump signed an executive order to suspend, rescind or flag for review more than a half-dozen measures in an effort to boost energy production from fossil fuels.
At a news conference, Eric Schneiderman accused the President of "trying to dial back history" with his order, which initiates a review of the Clean Power Plan, before vowing, "it's not going to happen."
TRUMP SIGNS EXECUTIVE ORDER ROLLING BACK OBAMA-ERA ENERGY REGULATIONS
Schneiderman said he would lead a coalition of attorneys general from 16 states and the District of Columbia, as well as the chief legal officers of liberal cities including New York, Philadelphia, Chicago and Boulder, Colo., to challenge Trump's executive order in court.
"Addressing our country's largest source of carbon pollution -- existing fossil fuel-burning power plants -- is both required under the Clean Air Act and essential to mitigating climate change's growing harm to our public health, environments, and economies," Schneiderman said in a statement. "We won't hesitate to protect those we serve."
Massachusetts Attorney General Maura Healey echoed Schneiderman, writing on Twitter that Trump's executive order "[ignores] both the law and the critical importance of confronting the very real threat of climate change."
FLASHBACK: DEM AGS MOUNTING 'BIG TOBACCO'-STYLE PROBE OF OIL COMPANIES, INDUSTRY FIGHTS BACK
Schneiderman has been at the forefront of a months-long effort by Democratic attorneys general to stage investigations into whether energy giant ExxonMobil was forthcoming with what it know about climate change in the late 1980s and 1990s. The investigations mirror the Justice Department's landmark case against "Big Tobacco" companies it accused of covering up the health risks of smoking.
In November 2015, Schneiderman subpoenaed Exxon's financial records and emails and vowed to prosecute any energy company he deems to have committed fraud to maximize profit at the public's expense "to the fullest extent of the law."