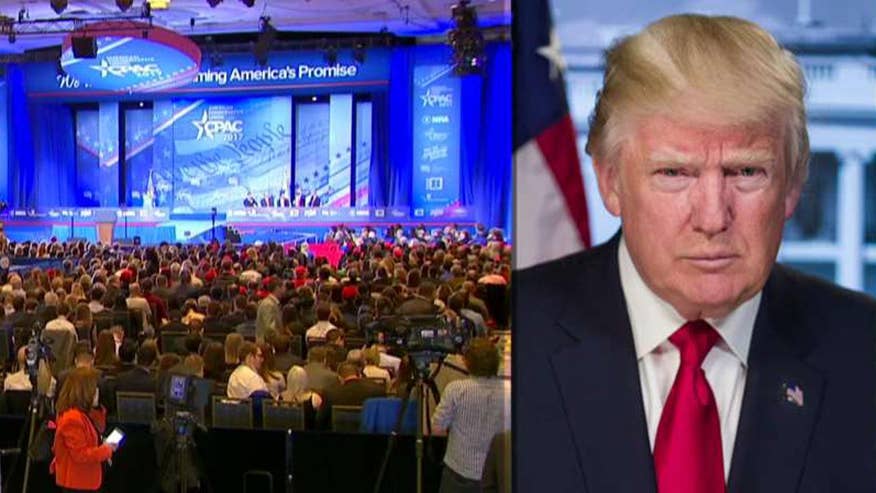 When President Trump takes the stage at CPAC on Friday at 10 a.m. ET, there will likely be as many optimistic conservatives inside the Maryland convention center as there are suspicious.
But no matter how you define Trump's conservative bonafides, it appears to be the first time in decades a Republican president -- whose party controls both chambers of Congress -- can implement a largely conservative agenda.
"We conservatives have an opportunity that only comes around every few generations," Vice President Pence told CPAC on Thursday. "My friends, this is our time."
VIDEO: BANNON ATTACKS 'OPPOSITION PARTY' MEDIA AT CPAC
There are some conservatives who will never embrace the former Democrat who, according to The Associated Press, once elicited boos at the conference now held annually at the Gaylord National Resort and Convention Center in suburban Maryland.
Trump addressed CPAC in 2011 and was booed when he said crowd-favorite Rep. Ron Paul "cannot get elected." Paul and his son Sen. Rand Paul usually dominate the conference's straw poll. Sen. Ted Cruz won last year's poll and Trump came in a modest third.
VIDEO: KRAUTHAMMER: BANNON SHOWS HE WAS THE BRAINS OF OPERATION
Trump skipped last year's event during the presidential primary and the group, in response, said the decision "sends a clear message to conservatives."
The Guardian newspaper wrote, "As the real estate developer said of Ron Paul in 2011, "I think he's a good guy but honestly he has zero chance of being elected. You have to win an election." Trump won that election, and this will be first time that the conservative movement under Trump will be on full display."
Kellyanne Conway, a senior advisor to Trump told CPAC that "tomorrow it will be TPAC when he's here."
One of Trump's top issues is how he will approach his call to repeal and replace ObamaCare. Trump has recently said that his administration will release a plan in the upcoming weeks, but the issue has been a hot topic for conservatives who want to see the law repealed.
VIDEO: TED CRUZ ON HOW CONSERVATIVES VIEW TRUMP
Despite some differences, Trump appears to be gaining support from top conservative leaders.
Matt Schlapp, the head of the American Conservative Union, which holds the event, said Trump has been "pitch-perfect with conservatives as he starts his administration." He complemented Trump's Cabinet selections and his choice to replace Justice Scalia on the Supreme Court.
Schlapp told NBC News that Trump managed to marry "conservative instincts" to a populist tone.
Grover Norquist, another CPAC faithful, mentioned Trump's tax plan and said, "Damn near the entire conservative wish list on tax policy is in his tax reforms."
White House Chief Strategist Steve Bannon told the CPAC crowd on Thursday that "appreciation" will largely be the theme for Trump during his speech.
Bannon appeared on stage with White House Chief of Staff Reince Priebus to, according to some reports, show a united front after speculation that Trump's inner circle is divided.
"Trump may either accomplish more than Republican presidents did in terms of a conservative agenda, despite all the chaos and drama…or he will redefine conservatism," Rick Tyler, a GOP strategist and former spokesman for Cruz's presidential campaign, told NPR. "The movement is at a crossroads, and it remains a known unknown where it is going."
Ben Howe, a contributing editor at Red State and critic of Trump, told NBC that the conservative wing of the party was divided last year, but this year it is "going to be the 'Make America Great Again' CPAC, which is going to be a very different makeup then what I'm accustomed to."
Edmund DeMarche is a news editor for FoxNews.com. Follow him on Twitter @EDeMarche.