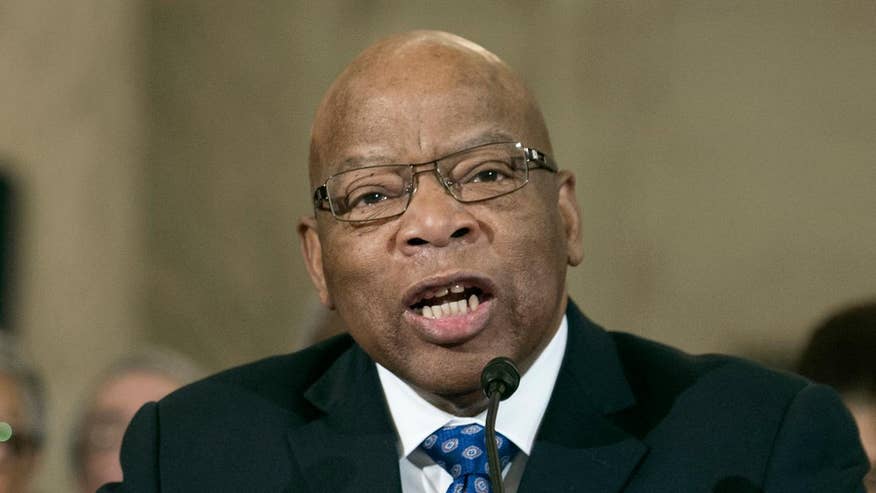 A Georgia county commissioner is being urged to resign after calling civil rights icon Rep. John Lewis a "racist pig" in a Facebook post days before Martin Luther King Jr. Day.
Gwinnett County commissioner Tommy Hunter's comments likely stemmed from a war of words between Lewis, D-Ga., and President-elect Donald Trump. Lewis told NBC's "Meet the Press" that he believes Trump is an "illegitimate president" because of Russia's alleged influence in the election.
"There ain't one political pundit that didn't say on November 9 this would be Demonrats (sic) EXACT response to Trump winning," Hunter said in the since-deleted post. "They believe polls were right and THE REAL VOTES were wrong. What a bunch of idiots."
Hunter's remarks also started the calls for him to step down from his seat on the board of commissioners.
"Hunter is a disgrace to Gwinnett County in particular and Georgia in general, and he should apologize for those comments," Gwinnett County Democratic Party Chairman Gabe Okoye told the Atlanta Journal-Constitution. He added that Hunter should resign.
State Rep. Dar'shun Kendrick, D-Lithonia, said she was ashamed that Hunter represented the "Gwinnett portion of my district." Kendrick represents District 93 which touches part of Hunter's territory.
Hunter told the paper that the "racist pig" was probably out of aggravation after Lewis' comments, but he refused to apologize for any other part of his message. He said he was "grateful" for Lewis' contributions to the civil rights movement, but accused him of using his fame to "divide the races."
He then added that Lewis was "illegitimate."
After deleing the "racist pig" Facebook post, Hunter was back on the social networking site to wish his followers a "Happy MLK Day."
"Remember it's the content of your character, not the color of your skin that matters. Someday, hopefully that will become reality."
Click for more from the Atlanta Journal-Constitution.