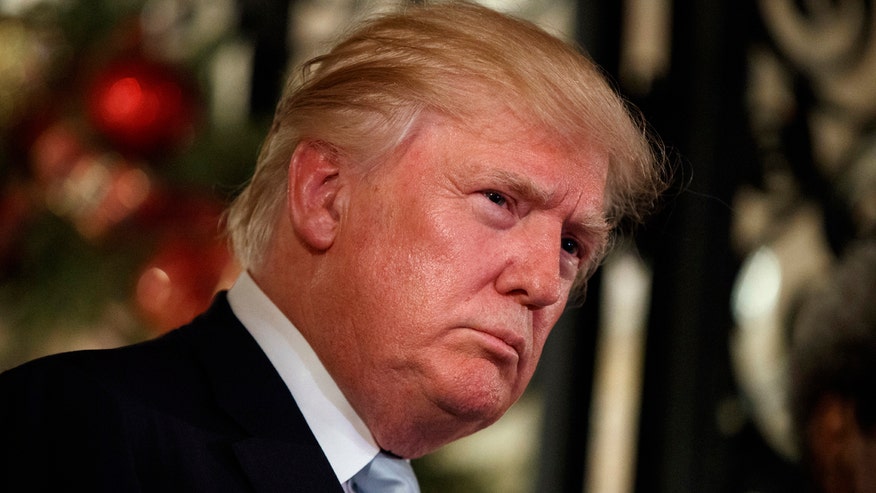 Moscow denied allegations Wednesday that the Kremlin has collected compromising information about Donald Trump and called news reports on the matter a "complete fabrication and utter nonsense" -- as the president-elect blasted the claims on Twitter.
Dmitry Peskov, a spokesman for President Vladimir Putin, insisted that the Kremlin "does not engage in collecting compromising material."
Shortly afterward, Trump unleashed a barrage of tweets about the "fake news."
Russia just said the unverified report paid for by political opponents is "A COMPLETE AND TOTAL FABRICATION, UTTER NONSENSE." Very unfair!

— Donald J. Trump (@realDonaldTrump) January 11, 2017
Russia has never tried to use leverage over me. I HAVE NOTHING TO DO WITH RUSSIA - NO DEALS, NO LOANS, NO NOTHING!

— Donald J. Trump (@realDonaldTrump) January 11, 2017
I win an election easily, a great "movement" is verified, and crooked opponents try to belittle our victory with FAKE NEWS. A sorry state!

— Donald J. Trump (@realDonaldTrump) January 11, 2017
Intelligence agencies should never have allowed this fake news to "leak" into the public. One last shot at me.Are we living in Nazi Germany?

— Donald J. Trump (@realDonaldTrump) January 11, 2017
"Russia has never tried to use leverage over me," Trump wrote, while swiping at the intelligence community for allegedly allowing the information to leak.
The pushback followed unverified reports that Russia possessed compromising personal and financial information on Trump. A U.S. official told The Associated Press that intelligence officials had informed Trump about the unsubstantiated report.
Reince Priebus, Trump's incoming chief of staff, told "Fox & Friends" Wednesday morning that the claims are "complete garbage" and resemble an Ian Fleming novel. He specifically rebutted a claim about Trump counsel Michael Cohen supposedly meeting Russian officials in Prague, saying Cohen has "never been to Prague in his life," a statement Cohen also made on Twitter.
"This stuff is total garbage, and it's not true," Priebus said, adding that the materials are not an intelligence document and calling their publication "irresponsible."
The New York Times and CNN, citing unnamed officials, had reported that the summary was presented last week as an annex to the findings regarding alleged Russian hacking during the 2016 presidential campaign.
The information reportedly was based on memos created by anti-Trump operatives including a former British intelligence operative. According to CNN, the FBI is investigating the credibility of the claims – which supposedly come from Russian sources.
The FBI reportedly has not confirmed many key details from the memos, which contain salacious allegations about information the Russian government could use as leverage against Trump.
After it was reported that Sen. John McCain originally forwarded the documents to the FBI last year, the Arizona Republican senator confirmed Wednesday he had given "sensitive" documents to the bureau – but said he has no sense of their authenticity.
"Late last year, I received sensitive information that has since been made public. Upon examination of the contents, and unable to make a judgment about their accuracy, I delivered the information to the Director of the FBI. That has been the extent of my contact with the FBI or any other government agency regarding this issue," he said in a statement.
BuzzFeed published the 35-page document that contained unverified allegations. The news site said it published the document "so that Americans can make up their own minds" about the allegations.
The editor reportedly wrote in a memo to staff that the decision was not an easy one, "but publishing this dossier reflects how we see the job of reporters in 2017."
Kelly McBride, a media ethicist and vice president at Poynter, wrote in a post that "publishing an entirely unvetted document is a significant departure from the way editors of the most significant publications would define the role of reporting."
The Associated Press contributed to this report.