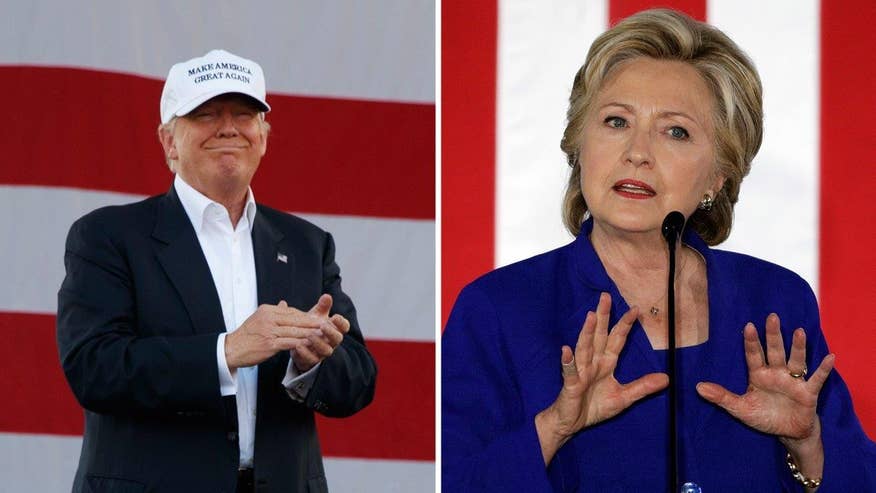 Republican nominee Donald Trump turned his attention to the battleground state of Florida Wednesday, making three campaign stops across the Sunshine State.
Trump visited Miami, Orlando and Pensacola, and was scheduled to stop in Jacksonville Thursday.
"'Stay on point, Donald, stay on point,"' Trump teasingly quoted his staff as saying at an evening rally in Pensacola. "No sidetracks, Donald. Nice and easy. Nice and easy."'
A Quinnipiac University poll released Wednesday showed Trump in a virtual tie in Florida with Democratic nominee Hillary Clinton. Both sides agree the New York businessman has virtually no chance to win the presidency without the state's trove of 29 electoral votes.
5 days to #2016election, polls tighten: 9 states (118 electoral votes) within 3.5 pts (RCP avg), 44% of what's needed to win. #FoxNews2016

— Fox News Research (@FoxNewsResearch) November 3, 2016
"We don't want to blow this," Trump told rowdy supporters in Miami. "We gotta win. We gotta win big."
Conceding nothing in the state, Clinton has also been a frequent visitor. She posed for pictures and shook hands during a surprise visit to a South Florida Caribbean-American neighborhood Wednesday morning.
The Democratic nominee has built a powerful ground game, backed by a dominant media presence, that dwarfs her opponent's. Clinton has more than doubled Trump's investment in Florida television ads. Overall, the state has been deluged with $125 million in general election advertising -- by far the most of any state.
Later Wednesday, Clinton addressed a boisterous crowd of around 15,000 in Arizona, a traditionally Republican state that she has tried to pluck away from Trump.
"This state is in play for the first time in years," said Clinton, whose husband Bill won Arizona in his successful 1996 re-election bid. Clinton also waded into a local sheriff's race getting national attention, backing Democrat Paul Penzone in the race for Maricopa County sheriff, a post held by immigration hardliner Joe Arpaio.

"I think it's time you had a new sheriff in town, don't you?" she asked the crowd at Arizona State University.
Trump lashed out at "Crooked Hillary" in Miami, predicting that a Clinton victory would trigger an "unprecedented and protracted constitutional crisis" as federal investigators probe the former secretary of state's email practices. But Trump did not take the bait dangled by the Clinton campaign about his treatment of women.
In Pensacola, Trump turned his criticism to President Barack Obama, who had spent Wednesday rallying Clinton supporters in North Carolina.
"He's gotta stop campaigning for Crooked Hillary," Trump said of Obama. "He's gotta go back -- go to the office ... I mean this guy, all he wants to do is campaign for Hillary. It's unbelievable."
Democrats acknowledge that the FBI's renewed attention to her has helped rally reluctant Republicans behind their nominee. That's given Trump an enthusiasm boost in Florida and across Midwestern battlegrounds long considered reliably blue territory.

"I'm definitely nervous," said former Pennsylvania Gov. Ed Rendell, a Democrat. "Democrats in Michigan, Wisconsin and Pennsylvania, if you heard it was over, if you thought those states were in the bag, don't believe it."

Perhaps heeding Rendell's warning, Clinton's team is devoting new resources to states like Michigan, which last voted for a Republican nominee in 1988.
The Associated Press contributed to this report.