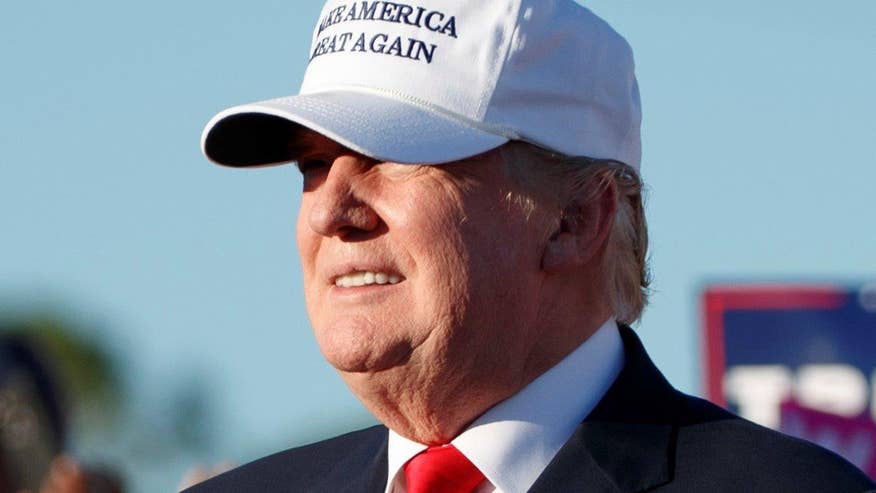 **Want FOX News Halftime Report in your inbox every day? Sign up here.**
On the roster: - A word about polling - Data Dive: Senate showdown - Clinton ally aided campaign of top FBI official's wife - Audible: He would know… - Send pizza

A WORD ABOUT POLLING
Oversampling - present participle of oversample - /ōvərˈsampliNG/ the practice of making one's lunch out of free tastes at Costco.
One wonders what Donald Trump's electoral fortunes would look like if he and his supporters transferred all the energy they put into attacking polls that show him losing into actually trying to persuade voters.
But here we are again at the crossroads of opinion research and magical thinking. The previous polling bunkum from the Trump campaign was that Trump was winning debates because of his success in online clickbait contests, in which his supporters could go and refresh their way to lopsided victories.
This time it is "oversampling" and a hacked Clinton campaign email that discusses how Team Hillary would conduct part of its internal polling.
For those who claim, despite all the evidence to the contrary Trump is winning, often cite "rigged" polls that include more Democrats than Republicans in their samples.
A couple of things that bear repeating: In 2012 exit polling, 38 percent of voters identified themselves as Democrats and 32 percent self-identified as Republicans. And that's in keeping with recent history, in which Democrats outnumber Republicans in America. And as we've discussed before, that's why Republicans need lopsided wins among independent voters to take the presidency.
Legitimate pollsters, however, don't weight their samples for the numbers of Republicans and Democrats. The weighting is on demographics: how many white voters, how many Hispanic voters, how many male voters, how many voters from upper income households, how many voters from lower income households, etc.
The question of which party a voter identifies with, or if they identify with a party at all, is derived solely from the respondents themselves. Good pollsters don't go looking for set numbers of Republicans and Democrats.
That's because individual voters might feel very differently about partisan affiliation as election goes on. Imagine a Republican who ardently supported Marco Rubio in the primaries. That voter might have strongly identified as Republican with Rubio in the running, but then turned his or her back on the GOP after Trump got the nomination. But if that voter came around to Trump as the election went on, he or she might come around to Republican Party too.
The most recent poll from ABC News shows Trump trailing Hillary Clinton by 12 points. His supporters decry the survey because there's a 9-point gap between self-identified Democrats and self-identified Republicans.
But that's not "oversampling."
Would you believe that the partisan gap was bigger than the 6-points from 2012 exit polls? You might, given the ongoing troubles of the Trump campaign. Is the ABC poll slightly heavy at 9 points? Maybe so. But it's certainly in the realm of what's possible.
Now, back to that polling memo in which senior Clinton adviser John Podesta and his team purportedly discuss a proposal from Atlas Project, a Democratic polling firm, for swing state surveys. Here the discussion turns to oversampling in the real sense of the word.
If a pollster expects that Hispanic voters make up 10 percent of a state's population, which means that out of 1,000 voters surveyed, only 100 would be Hispanic. If a campaign wanted to know more about how Hispanic voters were responding to a specific message or what the deeper trend lines would look like within a subpopulation, a campaign would "oversample" that group and do perhaps 500 interviews with Hispanic voters.
But that doesn't have any effect on the final outcome of the polls. There would still only be 100 Hispanic voters included in the 1,000-voter, horserace survey. The sample of 500 Hispanics would only be used for assessing that subset.
After all, campaigns want real numbers, not intentionally skewed ones. The idea that the Clinton campaign would pay for bad polling makes no sense.
What's really disheartening here is that some people seem to believe that the private polls conducted for a campaign are the same as polls conducted for news organizations. It's just not the case.
Both campaigns have aggressive polling operations, and both presumably do oversampling for key demographic groups to test messages and track emerging trends. None of this is nefarious. None of this is different than previous years. And it doesn't have anything to do with how many people identify as Democrats and Republicans in national public surveys.
Anybody who says otherwise either does not understand how polling works or is lying.
Adding to today's Wiki-pollster stew is an alleged plan of action for going into Trump-friendly online communities to dishearten his backers over the state of the election. Trump supporters claim this is evidence of polling rigging. But all that we find in the memo is just Democrats discussing ways to torture Republicans online, something that GOPers do to Democrats as well.
So, here's your takeaway: oversampling is a normal activity for campaign pollsters, good public pollsters are not "oversampling" Democrats and if there is a Clinton effort to sow anguish among Trump supporters online, this discussion alone would seem to be evidence that it's working.
We understand why a losing campaign tries to cast doubts on unflattering polls. If all of Trump's supporters believed that he was down as much as he is, there's a decent chance that the margins would get worse as hope faded. But this ongoing assault on polling seems to be part of something more than the quadrennial happy talk from every trailing campaign: the cultivation of grievances.
If Trump loses with "rigged" polls disheartening his potential supporters, then it is the fault of the system, not Trump himself.
DATA DIVE: SENATE SHOWDOWN
How closely tied are the fortunes of Republican Senate candidates to that of Donald Trump? Maybe not as closely as you think. Chris breaks down on "Perino & Stirewalt: I'll Tell You What" WATCH HERE.
THE RULEBOOK: WHY CITIZENSHIP IS NECESSARY
"Nothing was more to be desired than that every practicable obstacle should be opposed to cabal, intrigue, and corruption. These most deadly adversaries of republican government might naturally have been expected to make their approaches from more than one quarter, but chiefly from the desire in foreign powers to gain an improper ascendant in our councils. How could they better gratify this, than by raising a creature of their own to the chief magistracy of the Union?"– Alexander Hamilton, Federalist No. 68
TIME OUT: PEN TO PAPER
The New Yorker describes explores the dying art of cursive script: "From the beginning, people have attached judgments to different scripts, and people's proficiency in them. Because handwriting was labor, the work of monks or hired scribes, it used to be something that the status-conscious made sure not to do too well…Under the long shadow of the Puritans, handwriting in American was put in the service of moralism. After an early life devoted to alcohol, Platt Rogers Spencer, born in 1810, discovered the vice of temperance…before discovering his real calling: penmanship. To promote Spencerian script—we know it from the swirly 'Coca-Cola' on bottles and cans—he franchised schools and sold his own brand of books and pens. He believed that good penmanship is more than ink on paper. Rather, it 'refines our tastes' and 'makes us better men.'"
Flag on the play? - Email us at HALFTIMEREPORT@FOXNEWS.COM with your tips, comments or questions
SCOREBOARD
Average of national head-to-head presidential polls: Clinton vs. Trump: Clinton +6.4 points
[Polls included: ABC News, IBD, ARG, Quinnipiac University and Fox News.]
Average of national four-way presidential polls: Clinton vs. Trump vs. Johnson vs. Stein: Clinton +6.8 points
[Polls included: ABC News, IBD, Quinnipiac University, Bloomberg and Fox News.]

CLINTON ALLY AIDED CAMPAIGN OF TOP FBI OFFICIAL'S WIFE
Fox News: "A top Clinton ally's political organization reportedly gave nearly a half-million dollars to the political campaign of the wife of an FBI official who would go on to help oversee the probe into Hillary Clinton's email practices – a tangled web likely to fuel Republican complaints about the investigation. The Wall Street Journal reported Sunday night on the connection. According to the Journal, finance records show Virginia Gov. Terry McAuliffe's PAC gave $467,500 to Dr. Jill McCabe's 2015 state Senate campaign. The Virginia Democratic Party spent an additional $207,788 on the campaign, the Journal reported. McCabe, who ended up losing to Republican incumbent Dick Black, is married to n – the FBI's deputy director. At the time of the campaign and of McAuliffe's support, McCabe was associate deputy director. He later was promoted to deputy after the campaign ended, assuming an oversight role in the Clinton email investigation."
Clinton camp pouring money into Indiana, Missouri - WaPo: "Hillary Clinton is pouring $1 million into Indiana and Missouri in the campaign's final weeks — not because the Democratic presidential nominee thinks she can carry those reliably Republican states, but because she believes that, with an extra push, Democrats can win the Senate and governors' races there. In Michigan, the Clinton campaign is propelling a late surge by Democratic state legislative candidates to regain their House majority. In parts of Maine, Nebraska, Virginia and other states, Clinton volunteers are touting Democratic congressional candidates in their phone calls and fliers to voters. And as Clinton rallied supporters across Pennsylvania on Saturday with running mate Tim Kaine, she touted Senate hopeful Katie McGinty and attacked her GOP opponent, Sen.Patrick J. Toomey, as beholden to presidential nominee Donald Trump."
AUDIBLE: HE WOULD KNOW…
"It's a scandal." – Bob Woodward on "Fox News Sunday with Chris Wallace" talking about Hillary Clinton's refusal to answer Wallace's debate question on her family foundation's shady dealings.

PLAY-BY-PLAY
Clinton, Trump skeptical of AT&T, TimeWarner merger - Time
Clinton calls Trump a 'direct threat to our democracy' at N.C. rally - WashEx

Early voting polling places open today in Fla. - AP

In 2012, Trump said 'I don't believe in' deporting illegal immigrants - The Hill

Trump receives first major newspaper endorsement from Adelson's Vegas paper- Las Vegas Review-Journal

FROM THE BLEACHERS
"Just curious about your perspective on the Rasmussen Poll trends. I know that they are not one you use in your aggregate but they have had a pretty good past track record. They have consistently shown these past two weeks the race to be much tighter than Fox or other polls with Trump shown as of today up 2. Do you have a perspective on their methodology as to why it is such an outlier? Thanks!" – Bob Hoerr, East Peoria, Ill.
[Ed. note: Good question, Mr. Hoerr! Rasmussen does not meet our standards because of how they operate,. That poll uses automated calls with respondents using the keypad on their telephones to answer questions. But regulations forbid "robocalls" to cell phones since such calls could be an undue and unwanted expense for cell phone users. More than a third of voters users now are cellphone only. And remember, the difference between a good poll and a bad poll is not a matter of degrees. A pollster who can't call cell phones shouldn't really be considered if you're looking for an accurate state of the race. I understand that Trump supporters would focus on this poll as well as the consistently favorable longitudinal voter study being done for LA Times. But since neither of these endeavors reflect best practices for polling, we just have to shun them outright.]

"Hi Chris, thanks for your report, which is particularly helpful in understanding the elections. Given that it looks increasingly that Clinton will win, and win huge (haha), I am curious whether there has ever been a presidential nominee lagging behind in the polls in the general election, but was able to turn things around and win the election in a short period of time. Thought of Bill Clinton's comeback kid but not really similar, in that his experience was during the primaries. Are you aware of such a scenario?" –Lizette Zuniga, Birmingham, Ala.
[Ed. note: Wouldn't that be something to see? There would be no historical precedent for a candidate so far back so close to the election to win at the end. That's made even more difficult by the fact that early voting is well underway, with probably 40 percent of all ballots cast before Election Day.

Two of the most remarkable comebacks of he modern political era were Ronald Reagan in 1980 and George H.W. Bush in 1988. In 1980, Reagan had trailed consistently in polls until late spring and then roared out to a commanding lead by the end of July.

As fall came on, though, Reagan saw his share of the vote plummet, even trailing in some polls by September. By this point that year, the race looked like a dead heat, though Reagan was showing momentum in some polls. The sole debate between Reagan and incumbent President Jimmy Carter seemed to break the deadlock as polls swung widely in his favor in the final week.

In 1988, Bush gave back his early lead and was trailing Democrat Michael Dukakis by as much as 15 points during the summer. Bush bounced back after his convention and opened a steady, eventually commanding lead.

You mentioned Clinton's 1992 performance; he also went from 21-point underdog in the springtime to 10-point leader in that year's wacky election.

In all of those cases, though, the comebacks were well underway before autumn.]
"Trump is being honest and truthful stating that he is waiting to see results of voter fraud before he supports the winner. Why would he lie and say 'of course?' Honesty has become rare in politics and media reporting." – Len Vostrejs, Aurora, Colo.
[Ed. note: Mr. Vostrejs, it certainly wouldn't be dishonest for a politicians to say they would abide by the judgment of the voters, but with every intention of reserving all due process during and after the election. Hillary Clinton says she would abide by the voter's decision but you know she has a phalanx of lawyers to deploy across the country in case of election night drama. That's not even eliding, it's just not feeling obliged to say everything that comes into one's head. Remember, success in politics has more to do with what a candidate does not say rather than what he or she does not say.]
Share your color commentary: Email us at HALFTIMEREPORT@FOXNEWS.COM and please make sure to include your name and hometown.
SEND PIZZA
NJ.com: "A bus fire on the northbound lanes of the Delaware Memorial Bridge Sunday evening caused major traffic delays as firefighters worked to extinguish the blaze, authorities said…No injuries were reported, the DRBA spokesman said. The bus is owned by 'Weed World Candies,' a marijuana-advocacy group that was headed to Philadelphia as part of a tour when it caught fire, NBC10.com reported. The organization sells marijuana-flavored candy, according to the group's website. The owner of Weed World Candies told NBC10 that $50,000 in merchandise was lost in the fire."
Chris Stirewalt is digital politics editor for Fox News. Sally Persons contributed to this report. Want FOX News Halftime Report in your inbox every day? Sign up here.
Chris Stirewalt joined Fox News Channel (FNC) in July of 2010 and serves as politics editor based in Washington, D.C. Additionally, he authors the daily Fox News Halftime Report political news note and co-hosts the hit podcast, Perino & Stirewalt: I'll Tell You What. He also is the host of Power Play, a feature video series on FoxNews.com. Stirewalt makes frequent appearances on network programs, including America's Newsroom, Special Report with Bret Baier and Fox News Sunday with Chris Wallace. He also provides expert political analysis for FNC's coverage of state, congressional and presidential elections.