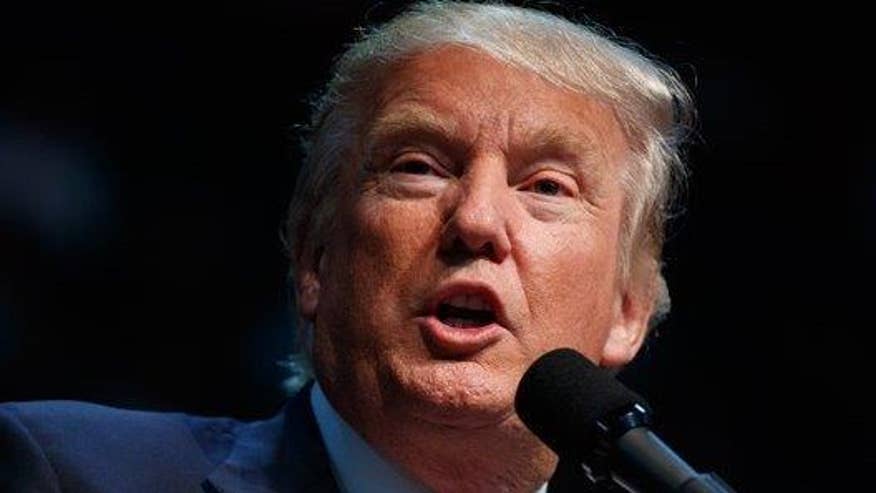 On the roster: Trump takes a chance on Mexico - Time Out: Marzzzzz… Hillary's favorability tanks, now tied with Trump - Hillary keeps courting center: Preaching 'American exceptionalism' to Legion - G.O.A.T. friend

TRUMP TAKES A CHANCE ON MEXICO
We've talked a lot about Donald Trump needing a change in the shape and trajectory of this presidential race in order to have a fighting chance in November.

Most of our focus, though, has been on the chances for a change coming by the demerits of Hillary Clinton. What if she were charged with a crime? What if Team Putin sank her with some stolen documents?

Trump, though, is taking the initiative today with the kind of bold move that could actually reset the race. Rather than waiting for Hillary to implode, Trump is trying to make his own luck with a surprise trip to Mexico.

Now, we know that American men who make spur-of-the-moment decisions to take trips to Mexico sometimes end up with unhappy results. And while the context here is different, Trump certainly faces plenty of dangers.

But before we get to those, let's consider the upsides.

Trump's campaign has been desperately trying to play down expectations for his "major speech" on immigration to be delivered in Arizona tonight. Nothing doing. Trump won the GOP nomination largely on the basis of roasting his rivals on the topic and it has been the issue that has defined him.

Re-racking his posture and policies on the animating feature of his candidacy is a big deal.

But we are now told that Trump is unlikely to say much about his shifting stance on what to do with the more than 10 million people in the United States illegally. He will instead focus on the issue of border security.

This is strong proof that Trump's new campaign manager is a pollster. Trump's proposals for mass deportations were on the wrong side of public opinion. As he shifts his stance to something more akin to the mainstream Republican position of border security plus more aggressive internal enforcement of existing laws – essentially the "self-deportation" of 2012 by another name – Trump is opening the door to some voters who have so far rejected him.

What Trump is reportedly aiming to do tonight is something Trump's party has been trying to varying degrees of effectiveness since 2007: focus on border security first and leave the trickier business of what to do with those here already for later. The argument goes that you can't talk sensibly about amnesty until the border is secured. This is a reasonable position to take, and one that resonates with voters. Maybe not with Trump's wall, but border security is a winning issue.

But giving a more disciplined, nuanced speech about immigration rather than sloganeering could be not just a disappointment to core supporters, but also make for kind of a letdown to those accustomed to Trump, bombastic builder of the great wall of Mexico.

So jetting off to Mexico City for a meeting with Mexican President Enrique Peña Nieto is a fantastic distraction. Trump is presidential. Trump is a man of action. Trump is unafraid to go into the lion's den.

But the risks are enormous.

Nieto is deeply unpopular in his country for a variety of reasons, but all rooted in the idea that he is incompetent and error-prone. For him, entertaining Trump at the presidential palace is a major risk, too. Being seen as supplicant to Trump, a reviled figure in Mexico, could mean doom for Nieto.

But…

Nieto might be able to win some affection is he can embarrass Trump, especially in front of the watchful eyes of the world press. While Trump would like the publicity to be about the trip itself, Nieto would probably like to have the story be about what is said between the two men.

Trump's perfect trip would involve a few waves and smiles at a press corps kept at bay followed by some vague remarks about finding common ground to make North America Great Again, while Nieto would probably love to be able to scold Trump in public.

If this turns into an ugly international incident, Nieto can say that he stood up to Trump while Trump would have only deepened the perceptions of him as too hot-headed.

We shall see.

What ought to encourage Trump's supporters in all of this, though, is that Trump is getting serious about trying to shake up the race with more than new nicknames for his rival. This trip and tonight's speech could be the beginning of the end of the Trump, but it really could be the start of something new.

[What do Americans want to hear in Trump's immigration speech today? Chris Stirewalt breaks it down in 60 seconds. WATCH HERE.]

TIME OUT: MARZZZZZ…
Hollywood has shown us the downside of hibernation for space exploration, but researchers say it may be the key to Mars colonization. Space.com: "'We're not going to colonize Mars, or really settle it, sending four or six or eight people at a time every two years; we're going to have to send larger numbers,' principal investigator John Bradford, president and chief operating officer of SpaceWorks Enterprises...With current rocket technology, a one-way trip to Mars takes six to nine months. That's a long time to keep astronauts alive, healthy and happy, Bradford said. He and his team think there's a way to ease this journey — lowering astronauts' body temperatures by about 9 degrees Fahrenheit (5 degrees Celsius). This would induce a "hypothermic stasis" that cuts crewmembers' metabolic rates by 50 to 70 percent, Bradford said. 'That reduces the need for consumables in both nutrition and hydration, [and] oxygen demand,' he said."

Flag on the play? - Email us at HALFTIMEREPORT@FOXNEWS.COM with your tips, comments or questions

SCOREBOARD
Average of national head-to-head presidential polls: Clinton vs. Trump: Clinton +7.6 points
Average of national four-way presidential polls: Clinton vs. Trump vs. Johnson vs. Stein: Clinton +7 points
Generic congressional vote: Democrats +4.2

HILLARY'S FAVORABILITY TANKS, NOW TIED WITH TRUMP
Amid a constant drip, drip, drip of foundation ties and email revelations, Americans' views of Hillary Clinton just hit a record low. WaPo: "A new Washington Post-ABC News poll shows 41 percent of Americans have a favorable impression of Clinton, while 56 percent have an unfavorable one. That's the worst image Clinton has had in her quarter-century in national public life." The WaPo/ABC News poll points out that while Donald Trump remains the more unpopular of the two nominees - 35 percent of Americans have a favorable impression of him, 63 percent unfavorable – when it comes to registered voters, "Clinton's image is about as bad as Trump's, with 38 percent having a favorable impression and 59 percent unfavorable, compared to a 37/60 split for Trump."

The survey shows that Clinton's image has suffered significantly from just a month ago: "After the Democratic convention, Americans were about evenly split -- 48 percent favorable and 50 percent unfavorable...Interestingly, Clinton's numbers appear to have dropped since that early August poll mostly in groups that have been very supportive of her:

* Her favorable rating among women dropped from 54 percent to just 45 percent.

* Among Hispanics, it went from 71 percent to 55 percent.

* Among liberals, it went from 76 percent to 63 percent."

About 30 undisclosed Hillary emails may be linked to Benghazi - WSJ: "The State Department said Tuesday it has found approximately 30 emails from Democratic presidential candidate Hillary Clinton's account that could be related to the 2012 attacks on two U.S. government facilities in Benghazi, Libya. The new documents were found among the roughly 15,000 emails forensically recovered by the Federal Bureau of Investigation from Mrs. Clinton's personal email server as part of its investigation into whether she or her aides mishandled classified information. Those emails were turned over to the State Department in the wake of the FBI probe, which resulted in no charges against Mrs. Clinton earlier this year….The department also said it would need until the end of September to review any new Benghazi-related emails and redact any information that threatened national security."

Hillary keeps courting center: Preaching 'American exceptionalism' to Legion- - AP: "Hillary Clinton plans to stress her support for 'American exceptionalism' during a speech in the battleground state of Ohio, while arguing that Donald Trump has rejected the concept. Clinton's midday address at the American Legion's annual convention in Cincinnati Wednesday comes as Trump plans a last-minute trip to Mexico in advance of a long-awaited speech on immigration. A Clinton campaign official said the Democratic nominee plans to use her first public event in days to portray her Republican opponent as a questionable leader who would 'walk away from our allies, undermine our values, insult our military — and has explicitly rejected the idea of American exceptionalism.' In contrast, the official said Clinton 'will make the case' for it and call for maintaining America's military and diplomatic leadership in the world."

PLAY-BY-PLAY
Maine Gov. says he won't resign… or ever speak to the press again - Boston Globe

NRO does deep dive on how McCain survived - National Review Online

Judge rejects Trump's bid to derail fraud suit against him - Chicago Tribune

Rubio and Dem challenger Murphy to debate 6 times following primary victories – The Hill

AUDIBLE: IT'S A START!
"I'll concede that Debbie Wasserman Schultz is a corporate stooge." – Democrat Tim Canova when asked by reporters if he was going to call Rep. Schultz to concede defeat in his primary challenge of the South Florida incumbent and former head of the Democratic National Committee. Canova lost by 14 points.

FROM THE BLEACHERS
"After reading about Meg Whitman speaking for Hillary in Denver, I picked up my HP printer and carried it to the dumpster. I don't understand these so called Republicans supporting Hillary. If they can't support Trump, then just shut the hell up and go home." – David A. Williams, Clovis, N.M.

[Ed. note: Remember that Whitman backed Al Gore over George W. Bush in 2000, so her standing as a stalwart Republican is in more than a bit of doubt. But as has been the case in past races when there is an early favorite, you can expect to other prominent party switchers as we head into the fall.]

"I was wondering if you look at The 2016 USC Dornsife/LA Times Presidential Election "Daybreak" poll? What do you think of it? As of 8-27-16 Trump was very slightly ahead. I enjoy reading the Halftime Report. IN GOD WE TRUST" - Larry Hammer, Tyler, Texas

[Ed. note: I do, but not for a picture of how voters would behave if the election were held today. The survey is really like a large-scale focus group where the same 3,000 people are repeatedly surveyed over the course of the election to see if their preferences change. Those who would agree to participate might be expected to be more politically attentive than others, and any non-political junkies who agreed to participate would certainly be expected to be more dialed in as the weeks went by. They're studying for the test, if you will. The poll can be useful for seeing how current events are playing with the most attentive voters. But for a snapshot on how the race is really going with regular voters, stick with the good stuff: random polls conducted by live telephone calls to a mix of landlines and cell phones.]

"The National Football League should fire [San Francisco 49ers Quarterback Colin Kaepernick] and recall the millions he will be getting, not because he is not free to speak his mind, but the negative impact he is placing on our country. If this should take place, I firmly believe things will begin to change, otherwise if he feels so oppressed by the flag and the playing of our national anthem, what would stop him from publically urinating on the flag for which he has no respect?" – Jean Witte, Evansville, IN

[Ed. note: The only thing that can enforce civic norms is, well… civilization. And those, as it turns out, are finicky organisms. We've had these debates before as athletes refused to show patriotism – as well as the larger debate within sports about what athletes are supposed to be. Are they there to do a job or should they have to be role models? Is being a role model part of the job? The answer, it seems to me, is that professional athletes are entertainers by trade. If what they do off the field of play causes enough anger among fans to hurt the profits of their employers, I would expect their employers to take action. But as we have often seen, even the most shocking conduct by athletes can be spun and played out until the outrage ebbs and profitability can return. Americans make a serious mistake when they count on businesses and governments to be arbiters of what defines their culture. Those institutions follow and reflect the culture but are poor stewards of it, motivated as they are by short-term profits and popularity. I understand why so many Americans are angry at Kaepernick's disrespect and why this will cost the 49ers. But they are reflections of a broken culture, not the causes of it.]

Share your color commentary: Email us at HALFTIMEREPORT@FOXNEWS.COM and please make sure to include your name and hometown.

G.O.A.T. FRIEND
AP:"A dwarf billy goat gave new meaning to the word 'scapegoat' when he busted out a surprisingly slippery Clydesdale that went on the lam in California for several days. The nearly 1-ton horse named Budweiser, who goes by 'Buddy,' was safely wrangled back into his pen Sunday in the Santa Cruz Mountains on California's Central Coast. The goat named Lancelot knows how to butt open the stable gate, and did just that Wednesday, letting his best friend escape, owner Tamara Schmitz [said]. Another Clydesdale, Harry, also fled and was nabbed in a meadow the next day. But Buddy is more wary and wily, Schmitz said. … He eluded volunteers from around the Santa Cruz area for five days, with evidence like tracks and loud snorts suggesting he was as far as 3 miles away. … A pair of searchers on horseback finally found Buddy hiding amid manzanita shrubs Sunday."

Chris Stirewalt is digital politics editor for Fox News. Want FOX News Halftime Report in your inbox every day? Sign up here.
Chris Stirewalt joined Fox News Channel (FNC) in July of 2010 and serves as politics editor based in Washington, D.C. Additionally, he authors the daily Fox News Halftime Report political news note and co-hosts the hit podcast, Perino & Stirewalt: I'll Tell You What. He also is the host of Power Play, a feature video series on FoxNews.com. Stirewalt makes frequent appearances on network programs, including America's Newsroom, Special Report with Bret Baier and Fox News Sunday with Chris Wallace. He also provides expert political analysis for FNC's coverage of state, congressional and presidential elections.