Hillary Clinton returned to the campaign trail Thursday to try pinning a racist tag on Donald Trump, accusing him of "taking hate groups mainstream" -- while Trump accused his opponent of "lies" and "smears," and labeling "decent Americans as racists."
The Democratic nominee, who has spent the last week fundraising at private donor events, used a Reno, Nev., speech to pointedly accuse Trump of building a campaign on "prejudice and paranoia."
"He's taking hate groups mainstream and helping a radical fringe take over one of America's two major political parties," she said, in perhaps her toughest speech yet about her Republican opponent.
Clinton accused her rival of having a history of racial discrimination and a connection to conspiracy theories, including the "racist" claim that President Obama was not born in the United States. She also claimed that Trump's businesses discriminated against African-Americans and Hispanics.
"A man with a long history of racial discrimination, who traffics in dark conspiracy theories drawn from the pages of supermarket tabloids and the dark, far reaches of the Internet, should never run our government or command our military," she said.
Trump, though, tried to preempt the attacks during an address just minutes earlier in Manchester, N.H.
"When Democratic policies fail, they are left with only this one tired argument – you're a racist, racist, race, it's a tired, disgusting argument and so totally predictable. It's the last refuge of the discredited politician," Trump said.
He accused Clinton of painting everyday Americans as racist, saying: "She lies, she smears, she paints decent Americans – you -- as racists."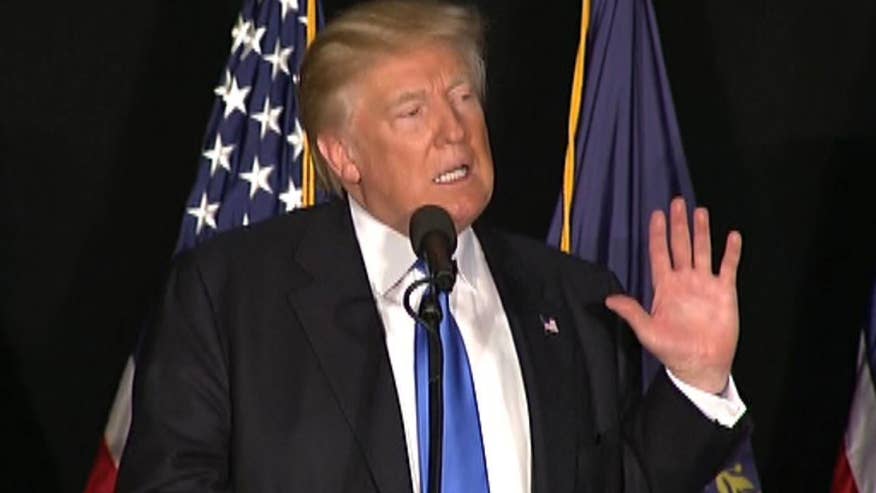 He went on to criticize Democrats in general for their leadership of the inner cities, which he said has hurt African-American communities. "For fifty years, people living in our inner cities have suffered under a failed policy regime. But the Democratic politicians – who only want to please media executives and Wall Street donors – do nothing but expand the hurt and the suffering that our inner cities and our country is going through right now."
The comments were part of Trump's stepped-up outreach to minority voters -- which Clinton cast in her address as disingenuous.
She also slammed Trump's decision to make Breitbart News' Steve Bannon his campaign CEO, pointing to headlines the site has published, including: "Birth Control Makes Women Unattractive and Crazy" and "Would You Rather Your Child Had Feminism or Cancer?"
She said that Bannon's hire represented a victory for a fringe conservative movement called the "alt-right" – a movement Clinton described as a racist ideology.
"The de facto merger between Breitbart and the Trump Campaign represents a landmark achievement for the alt-right.' A fringe element has effectively taken over the Republican Party."
A web video released earlier in the day also pointed to a number of white supremacists who have backed Trump's campaign, including former Ku Klux Klan Grand Wizard David Duke. A Trump supporter called the ad "revolting."
Clinton's return to the campaign trail comes after a week of fundraising, amid growing questions surrounding the connection between the Clinton Foundation and the State Department when Clinton served as the country's top diplomat.
An Associated Press investigation showed that more than half of the people outside government who met with Clinton while she was serving as secretary of state gave money to the Clinton Foundation. The campaign has said that the numbers were cherry-picked to make Clinton look bad.
Before tackling Clinton's racism charges, Trump used his remarks in Manchester to amplify his attacks on the foundation.
"This week the curtain was lifted. The corruption was revealed for all to see. The veil was pulled back on a vast criminal enterprise run out of the State Department by Hillary Clinton," he said.
"It is hard to tell where the Clinton Foundation ended, and where the State Department began," he said. "It's called pay-for-play."