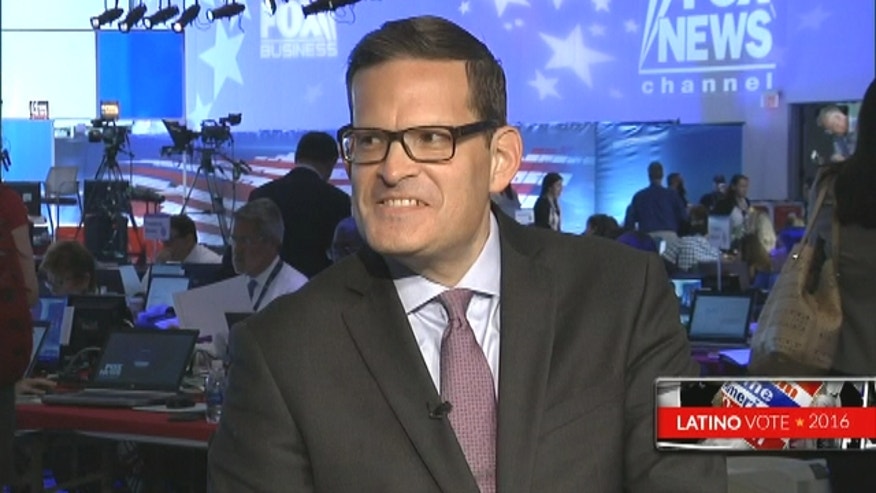 Cleveland – Latino conservatives who had railed against Donald Trump and even threatened to leave the presidential slot blank on the ballot in November announced Monday that they have decided to back the real estate mogul, after all.
A group of activists and party leaders attending the Republican National Convention released a letter encouraging other Latinos to vote for Trump, despite any misgivings they might have had in the past regarding the candidate's positions.
"We are not enamored with Donald Trump's bombastic rhetoric and personality. But at least we know that Donald Trump won't divide the country and fuel the flames of racial confrontation by accusing the police and the entire criminal justice system of being racist," the letter reads.
The 14 signatories include Latino Partnership for Conservative Principles' Alfonso Aguilar; Colorado Republican leader Jerry Natividad; Jacob Monty, from the Latino Jewish Alliance; and Vinicio Madrigal, from the Louisiana Hispanic Political Action Coalition.
"We realize that much of the uproar over Trump within the Latino community has been over his comments and proposals on immigration ... But the reality is that Clinton cannot be trusted on immigration," the letter continues.
"She now portrays herself as a champion of immigrant rights, yet back in 2007 she voted for a poison pill amendment to kill immigration reform. Just two years ago, she called for the expedited removal of unaccompanied minors coming from Central America."
Other Latinos who have not yet embraced Trump are at the convention to see – and hoping – a softer, gentler GOP standard bearer.
"I'm looking for the Trump campaign, or him – Donald Trump – to make the case that they'll have a positive agenda that will create opportunity for everyone," said Daniel Garza, head of the Libre Initiative, which gets at least part of its funding from the conservative Koch brothers.
"I'm looking for him to this week give more clarity to the Latino community on what he intends to do on the issue of immigration," her told Fox News Latino.
Delegate Arcadio Casillas, the chairman of the New York State Republican Party's finance committee, said what he expects from the GOP convention is "party unity."
As someone who has known fellow New Yorker Trump for years, Casillas said, he dismisses the characterization of the presumptive nominee as a racist, though he said some of comments were more of a poor choice of words rather than deep-seated discrimination.
Casillas balks at polls that show a majority of Latinos have an unfavorable view of him.
Like some other Latino Trump supporters, Casillas said there is a "Latino silent majority" that likes the candidate and his policy positions.
Casillas said he is aghast that many Republicans are, in essence, boycotting the convention.
"John Kasich is the governor of the state of Ohio, he is not coming," Casillas said. "He should be here welcoming all Republicans at the convention."
"They say the Republican Party is racist," Casillas said. "I don't buy that, and I'm Latino. Trump is not your typical politician. Democrats and Republicans alike have lost touch with the working people. This administration has divided the country, it's like the Wild West now."
Casillas would like to see Trump be more thoughtful when he speaks.
"What he said about Mexicans, about the judge, that was incendiary," he said. "The comment about the judge was a huge mistake. And a wall — we do not need a wall. We already have a fence. But he has given opportunities to so many Latinos. I think the comments are behind us."
"We're going to be united, we're going to come together and get America back together," Casillas said.
Elizabeth Llorente is Senior Reporter for FoxNews.com, and can be reached at Elizabeth.Llorente@Foxnews.com. Follow her on Twitter @Liz_Llorente.