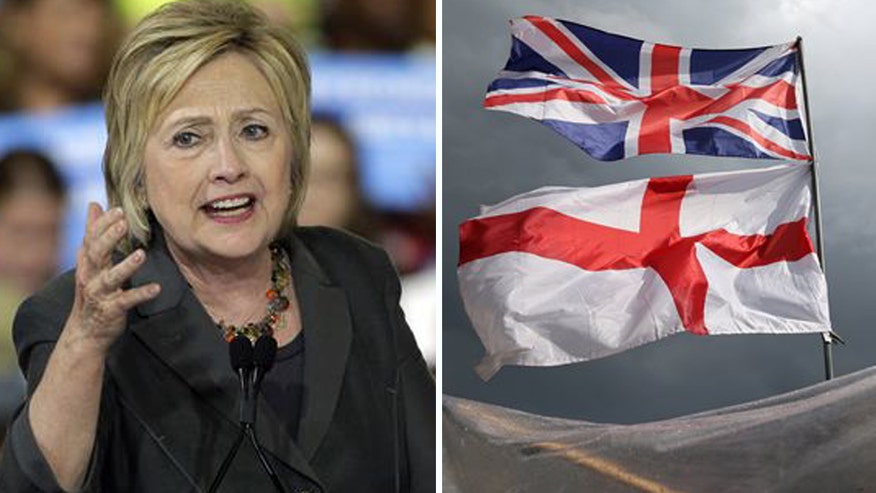 The presumptive Democratic presidential nominee Hillary Clinton on Sunday spoke for the first time publicly about Britain's vote to exit the European Union and took a jab at the presumptive Republican nominee Donald Trump in the process.
Without mentioning him by name, Clinton, speaking at the annual gathering of the U.S. Conference of Mayors in Indianapolis, said "steady experienced leadership" is what the U.S. needs to avoid the kinds of troubles Britain now faces.
"We need leaders ... who understand how to work with other leaders to manage risks, who understand that bombastic comments in turbulent times can actually cause more turbulence and who put the interest of the American people ahead of their personal business interests," Clinton said.
Clinton called the vote for Britain to leave the 28-member bloc a sobering reminder that "what happens around the world has consequences that can hit home quickly."
"Our priority now must be to protect American families and businesses from the negative effects of this kind of tumult and uncertainty," she added.
Clinton was piling onto Trump after her campaign accused Trump of caring more about how Britain's decision to leave the EU would benefit his bottom line more than how it would affect the U.S. economy.
Clinton campaign manager Robby Mook said Trump's reaction showed that he's not a good fit to serve as president, despite acknowledging the parallels between the anti-establishment movement that sparked the Brexit vote and Trump's rise.
"Hillary Clinton looks at this through the lens of how it's going to affect middle-class families, Donald Trump through the lens of how it will help his bottom line," Mook said on "Fox News Sunday."
The Clinton campaign also released a national television ad earlier Sunday that showed Trump speaking about the vote and how it could affect business at his golf course in Scotland.
"Every president is tested by world events, but Donald Trump thinks about how his golf resort can profit from them," the ad said.
Trump has widely backed the "Leave" movement and called the decision to depart the EU as an example of people "trying to take their country back."
Striking back against the scathing advertisement, Trump said Clinton used poor judgment in backing the "Stay" campaign."
"Clinton is trying to wash away her bad judgment call on BREXIT with big dollar ads," Trump said on Twitter.
The Associated Press contributed to this report.