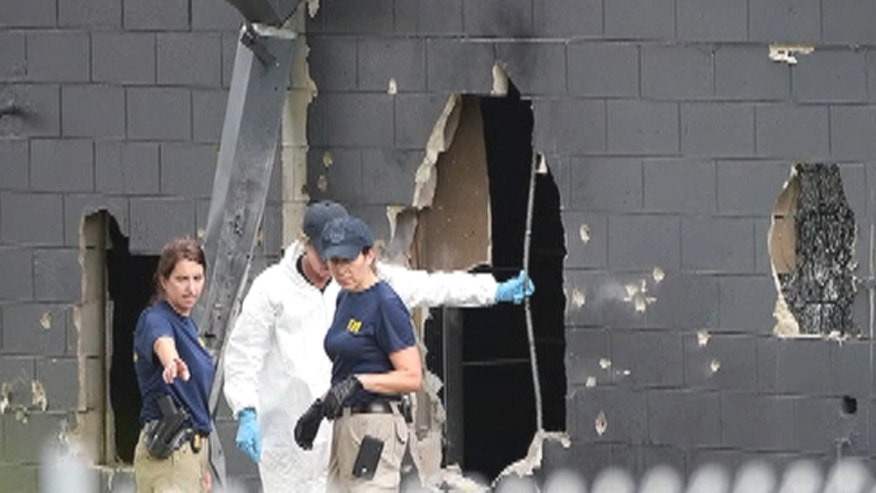 FORT DIX, N.J. – Standing in front of the mobile command center, the head of the FBI's New York Evidence Response Team briefed investigators.
"We had one, possibly two, explosions based on witnesses," Special Agent Kimberley Whittle said. "Right now we have several deceased individuals that were at the demonstration. We have what appears to be one, maybe two, craters in the sand; a lot of debris."
To be clear, the "deceased" in this case are mannequins, all part of a scenario thought up by FBI brass during a joint forensic training exercise. But the crime scene processing and intelligence gathering that followed, under a blazing sun at Fort Dix, N.J., mimicked grisly scenes becoming all too common for the bureau's evidence technicians.
The frequency of active-shooter terror situations – most recently the attack in Orlando last weekend – has only increased pressure on the bureau to boost forensic team training in exercises like this, so they know exactly how to respond and sort through the carnage for critical clues.
"We were thinking Paris. We were thinking San Bernardino. We were thinking of the attacks that have occurred in West Africa recently against foreigners," said Whittle as she explained the thought process behind the training event at Fort Dix.
Housed at each of the agency's 56 field offices, Evidence Response Teams (ERTs) handle crime-scene processing and evidence collection for FBI investigations – they are, in essence, the bureau's "CSI." The highly trained units, in many cases, also deploy overseas to assist foreign authorities with complex investigations or work scenes with a nexus to the United States.
ERTs work investigations ranging from public corruption to counterintelligence, but in light of recent global events, the lion's share of the units' training efforts have been centered on counterterrorism.
The bitter irony is this exercise took place less than one week before the early morning mass shooting at Orlando's Pulse nightclub, which left 49 partygoers dead at the hands of a terrorist claiming to act in the name of ISIS. That point underscores the volatile nature of the threat environment the FBI and other U.S. law enforcement agencies are grappling with.
The unpredictability posed by homegrown extremists combined with the threat of sophisticated attacks like the ones that played out in Paris and Brussels is forcing the FBI to adjust its tactics, including its forensic response efforts.
"We are trying to be adaptive and ahead of the curve," Whittle explained. "We have to train to attack those types of scenes in a logical, methodical way."
The June training event, which brought together members of the FBI's New York, Philadelphia and Newark ERTs, encompassed three separate, but connected, crime scenes: a bombing at an outdoor demonstration and two mass shootings, one inside of a hotel and the other in a nearby parking lot.
It was a chance for team leaders to better familiarize technicians with the chaos that follows a multipronged terror attack. The staged situations also served as a grim reminder that terrorists can strike multiple locations, prompting investigators to work several scenes simultaneously.
"It's based on … the fact that these terrorist groups are using coordinated attacks in an effort to overwhelm law enforcement and just create general panic," Whittle said.
The ERT senior team leader, who previously spent 15 years working on the bureau's Joint Terrorism Task Force, is all too familiar with the savage nature of terrorism. Domestically, Whittle assisted in the evidence collection efforts following the 9/11 attacks in New York and the Boston Marathon bombings.
She also deployed overseas to work the scene of the 2013 Westgate Mall attack in Nairobi, Kenya, and the 2010 suicide bombings in Kampala, Uganda. Whittle highlighted the increasingly common active-shooter element to recent plots worldwide.
"Guns are easier to get ahold of than explosives," Whittle explained. "So, the mass shooting scenes are becoming, unfortunately, very commonplace throughout the world."
Specific to the U.S. homeland, in addition to the 49 killed in Orlando on June 12, a combined 19 others died as a result of active-shooter attacks inspired by jihadist ideologies in San Bernardino, Calif., and Chattanooga, Tenn., in 2015. A similarly inspired attempted mass shooting was foiled in Garland, Texas, in May 2015.
"The concept of these active shooter-type terrorist scenarios has really been a game changer," said Tom Lintner, section chief of the FBI's Forensic Response Section.
Lintner, who oversees the FBI laboratory's response capabilities globally, told Fox News the trend is causing the bureau's forensic analysts to reevaluate how they approach terrorist scenes.
With the sheer scale of the crime scene that followed Sunday morning's attack in Orlando, the FBI pulled resources from several nearby Evidence Response Teams to assist the bureau's Tampa Division, which is leading the investigation. This included assets from the Computer Analysis Response Team – or CART – who scoured the suspect's computers and mobile devices for evidence of any communications with individuals known to FBI; photo and video of additional targets he may have been scouting for attack; and traces of terrorist propaganda.
The joint effort to process the massive scene in Orlando is a reflection of the FBI's focus on integrated training between ERTs across the country, as demonstrated in the exercise at Fort Dix earlier this month.
"It's learning how to be more flexible, more adaptive, and to do more with the same amount of resources," said Whittle. "It's a plug-and-play concept. They all learn the same things in training so they can all work with each other."
For the investigators who serve on the ERTs, that plug-and-play concept coupled with the increasingly unpredictable terrorist threat environment can send them halfway around the world at a moment's notice.
"When you're on a squad like New York that travels internationally, you kind of live half-packed," Whittle explained. "I have to have my neighbors on standby, they know that I'm subject to be called out at any given time. I've texted them before and said 'Hey, something just blew up over in Africa, I'm getting on a plane in six hours and I don't know when I'm getting back.'"
Matthew Dean is Fox News Channel's Department of Justice & Federal Law Enforcement producer. Follow him on Twitter @MattFirewall.