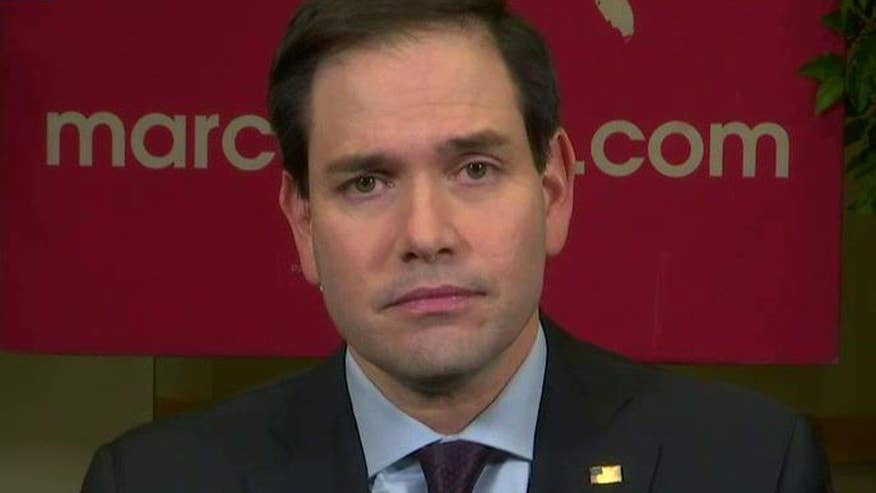 Republican presidential candidate Texas Sen. Ted Cruz ratcheted up his rhetoric Sunday against Sen. Marco Rubio, claiming a vote for his primary rival is tantamount to support for amnesty for undocumented immigrants.
"A vote for Marco is a vote for amnesty," Cruz said on "Fox News Sunday."
Cruz in a tight race with the Florida senator and frontrunner Donald Trump for the conservative vote and ultimately the party nomination also said "This race is a simple choice. A vote for Marco Rubio is a vote for amnesty. And a vote for Donald Trump is a vote for ObamaCare.The reason conservatives are uniting behind our campaign is because I am the only candidate in the race who has been a consistent conservative."
Cruz has hit Rubio for months on the issue, saying he sided with Senate Democrats on comprehensive immigration reform legislation.
Rubio originally supported the bill, then essentially distanced himself from the measure when conservatives did not support it.
Rubio insists he has never supported amnesty for illegal immigrants.
Cruz told CNN's "State of the Union" that the central issue is trust.
Rubio has leveled similar criticism against Cruz, accusing him of distorting his own prior support on immigration reform.
Rubio and Cruz entered the Senate in 2011 and 2013 respectively.
The immigration reform proposal Rubio backed, according to Cruz, "granted amnesty to 12 million here illegally."
"He advocates legalization andcitizenship for everyone here illegally," Cruz told Fox News. "He even advocates amnesty for criminal who are here illegally."
The bill, sponsored by a bipartisan group of senators and passed by the Senate in 2014, gave undocumented immigrants in the United States a so-called "path to citizenship" if they met various conditions. It also would have sharply increased spending on border security.
Fox News contributed to this report.