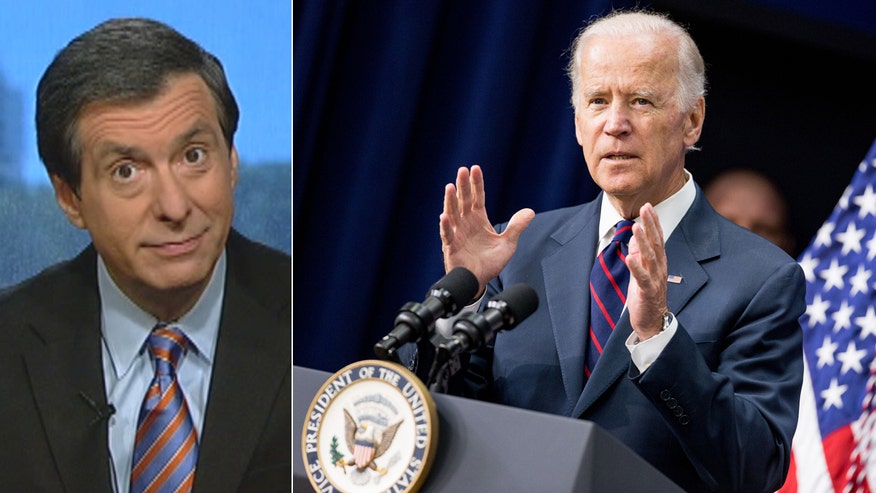 Politico readers could be forgiven for concluding that Joe Biden is about to jump into the presidential race.
"Visitors to Vice President Biden say their conversations suggest he's leaning TOWARD a run," Mike Allen's widely read column declared.
Quite an eye-opener. And yet two sentences later came this: "But several friends are making a last-minute plea to him NOT TO DO IT."
That pretty much captures the bubbling media cauldron of speculation, chatter, theories, predictions and leaks—from the veep and the concentric circles around him—on the question that could potentially derail Hillary Clinton's march to the nomination.
It is, to put it mildly, not the media's finest hour.
With the widespread assumption that Joe would have to get in by the first Democrat debate, even the timing is subjected to waves of spin and counter-spin:
CBS reported on Saturday: "Vice President Joe Biden is nearing a decision on whether to run for president, and it could come as early as within the next seven to 10 days, according to three people familiar with his deliberations."
"As early as" being one of the great dodges in journalism, which we've all used.
And, the network said, "Even if Biden decides to seek the Democratic nomination before the party's first debate on Oct. 13, he likely would not participate, sources told CBS News."
But is that contradicted by Mikey in Politico?
"Super-close sources tell us the most likely scenario is a family decision NEXT WEEKEND or shortly thereafter, with an announcement (or calls by the Vice President to confidants) possible a week from today -- which happens to be the day before the first Democratic debate."
Ugh. So why do we do this?
It's a game with two sets of players. The press wants to know whether an incumbent vice president who is openly grieving for his late son will try to deny the nomination to the first potential female president. And many of those in Biden World want to stoke the story and keep the veep's options open.
The floodgates opened after a Maureen Dowd column in the New York Times in early August that obviously seemed to come from Biden himself. Politico touched off a Beltway furor yesterday by saying the VP was in fact the source.
A spokesman for the vice president told Fox: "The bottom line on the Politico story is that it is categorically false and the characterization is offensive." My understanding is that Biden's office isn't flatly denying that he spoke to Maureen, but suggesting that he spoke to people as a father in sorrow and not out of political calculation.
The level of access was clear from what Dowd wrote: "Beau was losing his nouns and the right side of his face was partially paralyzed. But he had a mission: He tried to make his father promise to run, arguing that the White House should not revert to the Clintons and that the country would be better off with Biden values."
(Historical irony: It was Dowd who helped knock Biden out of the presidential race in 1987 when she reported that he had plagiarized speeches by British politician Neil Kinnock—based on a video leaked to her by a top aide to Michael Dukakis, who was soon fired.)
The Beau story was just the beginning. A confidential meeting with one of the Democrats' liberal icons in late August was quickly leaked as well:
"Vice President Joe Biden met privately with Sen. Elizabeth Warren on Saturday in his residence at the Naval Observatory, CNN has learned, another sign he is seriously deciding whether to jump into the Democratic presidential race."
The vice president himself kicked the story into overdrive by saying—first in private conversations that invariably leaked, then in a speech, then with Stephen Colbert—that he didn't have the emotional fuel to run while he was grieving, that he didn't know if he could put his heart and soul into another campaign.
Meanwhile, his team was courting donors and devising early-state strategies, while the VP marched in parades and tested themes in speeches to interest groups, such as the Human Rights Campaign. It certainly looked like Biden was gearing up to run.
On Sept. 20, Chuck Todd reported the following: "Contrary to reports suggesting Vice President Joe Biden's wife remains an obstacle to his potential presidential run, sources tell NBC News that Jill Biden is fully behind him for another bid." And a Biden spokesman confirmed that if his boss ran, Jill would be on board. That sent a clear signal that the veep's family wouldn't stand in his way.
Now it's become an hour-by-hour parlor game:
CNN: "Vice President Joe Biden, who has been openly toying with the idea of seeking the Democratic presidential nomination, is now privately leaving the impression with some political allies that he is leaning toward running, according to two senior Democrats who have spoken with him in recent days."
Washington Examiner: "Vice President Joe Biden has mostly likely sought President Obama's advice about whether he should jump into the 2016 presidential contest, a White House spokesman said on Monday."
Most likely?
So when I wake up in the morning, I think Biden probably isn't running, because after all this public agonizing, his heart doesn't seem in it. By lunchtime, I feel that this has all been cool calculation as he pores over polling data and he's just waiting for the right moment. By mid-afternoon, I figure he thinks he can't win; when a new Hillary poll comes in, I figure he thinks he can win. And by dinner, I need a drink.
For all the tea leaves and smoke signals, the media don't really know whether Biden will get in. Perhaps we should just wait a little while to find out.
Howard Kurtz is a Fox News analyst and the host of "MediaBuzz" (Sundays 11 a.m.). He is the author of five books and is based in Washington. Follow him at @HowardKurtz. Click here for more information on Howard Kurtz.