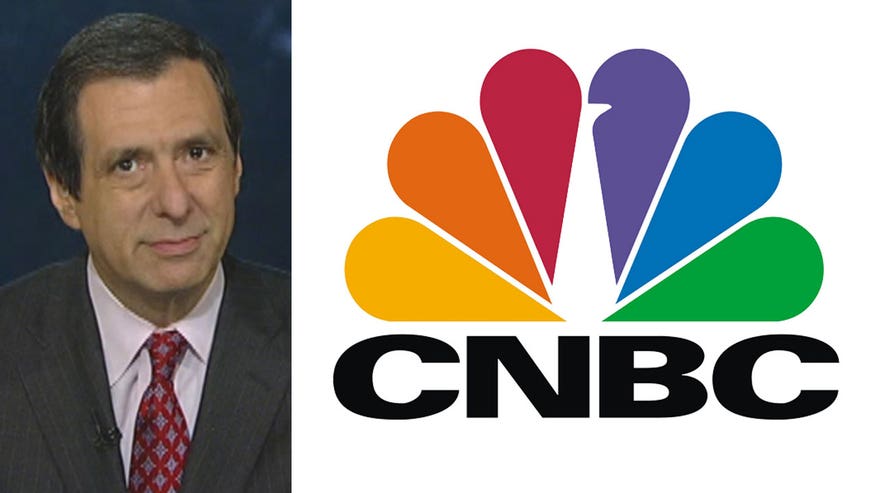 Could CNBC knock several presidential candidates out of the race?
That sounds apocalyptic, but the network's threshold for its debate this month is likely to be very bad news for one or more candidates.
In announcing that a contender must average 3 percent support in polls by six major television organizations between Sept. 17 and Oct. 21, CNBC is making a sharp break with the approach followed by Fox and CNN. They both said the top 10 candidates in an average of national polls would make the main debate (though CNN bent the rules to allow Carly Fiorina an 11th spot at the Reagan Library).
That means, depending on fluctuations in the next few polls, that Rand Paul, Chris Christie and Mike Huckabee could fail to make the cut.
This arbitrary limit feels to me like a deliberate effort to reduce the number of debaters and create a better television show. Which might be more fun, but not quite fair.
The senator from Kentucky, the governor of New Jersey and the former governor of Arkansas are all credible candidates who have raised millions of dollars, campaigned around the country and have done endless television interviews. Why should CNBC boot them if they're just under 3 percent? Why not 2 percent or 4 percent? (I don't have any problem with a 1 percent cutoff, which is the minimum requirement for the undercard debate, despite early chatter that CNBC would dispense with that consolation prize.)
Let's be real here: Any candidate booted from CNBC's main Colorado debate could find himself in a death spiral. It's like being sent from the formal dining room to the kids' table. Not only do they lose the opportunity to connect with huge audiences (20-plus million in the first two debates), the press turns negative and fundraising starts drying up.
Scott Walker's second straight mediocre performance in the CNN debate led to his withdrawal days later. And the only thing worse than a lousy showing is a no-show.
Conversely, Fiorina fighting her way into the CNN debate utterly transformed her campaign, catapulting her from near-asterisk status to second or third place in the latest GOP polls.
I get that all debate criteria make some folks unhappy. Fox and CNN were both criticized for the top-10 limit, which necessarily excluded some candidates. But at least that approach has the contenders competing for spots against each other, not a number plucked out of the air.
CNBC is also making the strange decision to have six questioners, which means we might be watching jockeying among the panelists as much as the politicians.
The main moderators comprise a solid lineup: Carl Quintanilla, co-anchor of "Squawk on the Street"; Becky Quick, co-anchor of "Squawk Box," and John Harwood, the chief Washington correspondent and New York Times contributor, who just conducted a very good interview with Donald Trump.
So why add three more questioners? Well, there's personal finance correspondent Sharon Epperson. But there's also the bombastic Rick Santelli, who is credited with inspiring the Tea Party movement with an on-air rant and obviously leans right. And there's "Mad Money" guy Jim Cramer, the high-decibel host who I've known for a long time, and who has given big sums to Democratic candidates and obviously leans left. Will that mean a flashier debate, or a more raucous one?
The good news is this event, like the Fox Business Network debate in November, will bring the focus back to jobs, taxes and the economy. And for all the craziness of this campaign, those are the issues that voters care about most.
Howard Kurtz is a Fox News analyst and the host of "MediaBuzz" (Sundays 11 a.m.). He is the author of five books and is based in Washington. Follow him at @HowardKurtz. Click here for more information on Howard Kurtz.