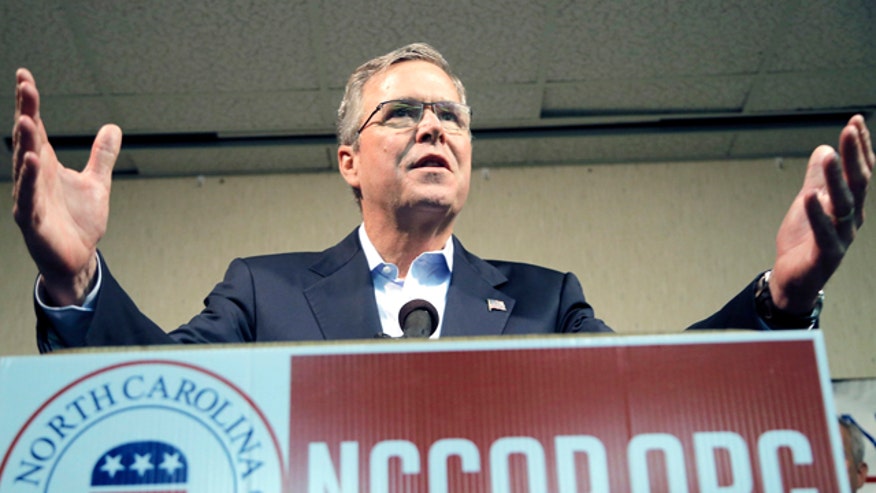 **Want FOX News First in your inbox every day? Sign up here.**
Buzz Cut:
• Jeb courts evangelicals while right fights in S.C.
• Walker set to meet with Bibi
• Hillary's big money logic
• Not cricket, old boy
• He gets misty
JEB COURTS EVANGELICALS WHILE RIGHT FIGHTS IN S.C.
Nearly every member of the Republican field will roll into South Carolina this weekend, intensifying the make-or-break battle in the fight for support of the party's right wing. The most notable absence from the lineup of the cattle call in Greenville will be that of Jeb Bush, who stands little chance with hardcore conservatives in the Upstate region. But Bush isn't conceding the vote in South Carolina, he's just doing it in Virginia. No really.

Saturday, Bush heads to Liberty University to deliver the commencement address at the touchstone institution for the evangelical movement in America. Bush's goal is not to win over the crowd of in Lynchburg, but to lay down a marker with evangelicals across the country, including in South Carolina. Bush, a socially conservative and devout convert to Roman Catholicism, needs to avoid the fate of Mitt Romney, a socially moderate Mormon, who faced intense and protracted resistance from the religious right.

The less frightened social conservatives are about the prospect of another Bush presidency, the less motivation they will have to coalesce behind a single alternative. And this is likely one of the only groups where Bush's status as a legacy candidate helps rather than hurts. Social conservatives adore George W. Bush's, compassionate, faith-based conservatism. If you are a backer of a long-shot Ben Carson or Rick Santorum candidacy, why jump to your second choice in the name of electability if the frontrunner doesn't worry you. The albatross around Bush's neck as he arrives at the house Jerry Falwell built is that of Common Core education standards. How he addresses that issue may well decide Bush's fate.

And he will certainly have a chance to address the subject. Bush, who has not submitted to a sit-down television interview since December, will face Fox News' Megyn Kelly one-on-one after his speech. The interview is set to air on "The Kelly File" Monday at 9 p.m. ET.

While Bush is showing his spiritual side, expect strong words at the South Carolina Freedom Summit. The stakes are high for Sen. Marco Rubio, R-Fla., and Gov. Scott Walker, R-Wis., with both looking to solidify their status with conservative voters as viable candidates to beat Bush. The man to watch in South Carolina this weekend, though, is Sen. Ted Cruz, R-Texas. Cruz, coming off a strong showing in straw polls around the state last week, is looking to consolidate his support among right wingers. The location, his hosts from Citizens United and the presence of his ally former Sen. Jim DeMint set up optimal circumstances for another Cruz missile launch.

South Carolina had picked every Republican nominee since 1980 until former Speaker Newt Gingrich crashed the party in 2012. With Florida retreating from the early-state scrum South Carolina's value is going through the roof. Can a true believing Cruz start his rise there? Could Bush sneak past a divided pack with a small plurality win? Those shrimp and grits are going to be spicy.

[Watch Fox: Campaign Carl Cameron heads to Greenville, SC for the latest reporting on the 2016ers this Saturday.]

Power Play: Fight for the right (of the) party - Political strategists Joe Trippi and Amos Snead join Chris Stirewalt to discuss which GOP hopeful will be the wild card who makes the finals by coalescing the conservative right. WATCH HERE.

Iowa evangelical radio host bashes Huckabee - The Hill: "A former key Iowa ally of Arkansas Gov. Mike Huckabee during his 2008 presidential bid blasted his views on entitlement programs. Radio host Steve Deace delivered a line-by-line takedown of pieces of Huckabee's presidential announcement speech, specifically honing in on his calls to save 'safety nets like Medicare and Social Security.'"

Jeb's foreign policy stays in the family - WaPo: "Jeb Bush said that [former Secretary of State James Baker] is not one of his close advisers and that he leans on his brother for insights when it comes to Israel and the Middle East. Embracing George W. Bush as a foreign-policy confidant is a risky and unexpected move for the former Florida governor as he readies for a likely presidential bid..."

[NYT: "The oil tycoon T. Boone Pickens is backing former Gov. Jeb Bush of Florida for president, saying Thursday that he had donated $100,000 to help give Mr. Bush a leg up in the 2016 election…But, Mr. Pickens quipped, it will take $100 million to get Mr. Bush elected."]

Romney sets date for candidate auditions, sans Jeb - Gov. Mitt Romney, R-Mass., will host several of the GOP contenders for a June 11 summit at his Utah home. Marco Rubio, Scott Walker, Chris Christie, John Kasich and Lindsey Graham are all reportedly heading west to court their party's 2012 nominee. A spokesperson for Jeb Bush's campaign told the Salt Lake Tribune that Bush will be in Europe during the conference and unable to attend.

Walker set to meet with Bibi - Milwaukee Journal-Sentinel: "Gov. Scott Walker is set to meet with Prime Minister Benjamin Netanyahu during his coming trip to Israel...Walker's political organization, Our American Revival, released new details of his visit Thursday…Walker plans to take a helicopter tour of "various historical and strategically significant sites," visit religious sites, meet with a "wide range of leaders at the highest levels of government," and discuss economic development with Israeli and Palestinian entrepreneurs...Walker will leave for Israel from South Carolina, where he will be speaking Saturday morning at the South Carolina Freedom Summit. He has not said specifically who will be traveling with him during his visit, which continues through next Thursday."

Rubio's immigrant story resonates with early state voters - NYT: "As Mr. Rubio has introduced himself to curious, and overwhelmingly Caucasian, Republican audiences from Iowa to New Hampshire, he has vaulted to the front ranks of the early pack of likely presidential candidates…Mr. Rubio's candidacy seems to affirm the idea that in a free market, anyone can rise without the benefit of connections or wealth. That he did so as the child of Latin American parents who fled an autocratic government and toiled in the humblest of jobs — maid and bartender — has sent some Republicans swooning."

Rand sets up an office in San Francisco to clinch tech vote - San Francisco Chronicle: "Republican Rand Paul said Thursday he will open a campaign office in a South of Market shared incubator work space, making him the first 2016 presidential candidate to stake a claim to the Silicon Valley tech vote…Paul plans to announce the office on Saturday in San Francisco, where he will detail his team's collaboration with StartupHouse at 934 Howard Street and unveil his campaign's technology team and its chief technical officer."

GOP Sixteeners enter into data deal - WSJ: "The Republican National Committee announced an agreement Thursday that allows the party access to data that a set of GOP presidential candidates and super PACs gather about voters. The deal also allows the campaigns and PACs to use the RNC's vast file of voter data and build on it as the campaign progresses…This could prove to be a potential boon for the party, if the primary stretches deep into April or May, because it would help the RNC gobble up information about voters in every state that holds a competitive nominating contest."

Another announcement in the works - Sen. Lindsey Graham, R-S.C. intends to announce his Republican presidential bid on June 1st, sources tell Fox News' Serafin Gomez. Read more details here.

Mr. Sunday talks to Dr. Carson - Ben Carson to discuss the challenges ahead as a relative unknown in the race on "Fox News Sunday with Chris Wallace." Viewers will also be treated to an inside look at today's flyover of the U.S. Capitol by a bevy of WWII aircraft. Check local listings for air times in your area.

Fiorina, Perry make time for Granite Staters - Carly Fiorina speaks at the New Hampshire High Tech Council's Entrepreneur of the Year award event in New Hampshire on Saturday Former Gov. Rick Perry, R-Texas, has coffee with local activists followed by a business roundtable in New Hampshire on Saturday.

He can relate - In an interview with the Independent Journal Review, Gov. Chris Christie, R-N.J., says the media needs to lay off New England Patriots Quarterback Tom Brady. Christie says, "I think it's way, way overblown." Watch the clip here. Christie attends a meet and greet today in Amherst, NH.

WITH YOUR SECOND CUP OF COFFEE…
Today we celebrate the 70th anniversary of the end of World War II in Europe. Fortunately for posterity, the late Pulitzer-Prize-winning author Relman Morin, then an AP war correspondent, was present to paint a gripping picture of the surrender by German commanders to allied officers: "There was a moment of silence, and in that moment, the scene seemed to freeze. It had the character of a picture, somehow, a queer unreality. Here was the end of nearly five years of war, of blood and death, of high excitement and fear and great discomfort, of explosions and bullets whining and the wailing of air raid sirens. Here, brought into this room, was the end of all that. Your mind refused to take it in. Hence, this was a dream, this room with the Nile green walls and the charts, the black table, and the uniformed men seated around it. The words, 'There are four copies to be signed,' meant nothing unless you forced the meaning to come, ramming it into your brain with a hard, conscious effort."

"All the greatest things are simple, and many can be expressed in a single word: freedom; justice; honor; duty; mercy; hope." – Winston Churchillin a May 17, 1947 speech at Royal Albert Hall. On Thursday, members of the high command of the British military presented a bust of Churchill to their counterparts at the Pentagon.

Got a TIP from the RIGHT or LEFT? Email FoxNewsFirst@FOXNEWS.COM

POLL CHECK
Real Clear Politics Averages
Obama Job Approval: Approve – 46.0 percent//Disapprove – 49.4 percent
Direction of Country: Right Direction – 29.5 percent//Wrong Track – 61.1 percent

HILLARY'S BIG MONEY LOGIC
WaPo's Chris Cilliza dives into Clintonese logic to explain how Hillary Clinton reconciles her advocacy for reigning in big money with her embrace of a super PAC looking to raise millions to knock off her Republican opponent. "The answer she will likely give…is some version of the unilateral disarmament case: The only way to bring about real campaign finance reform is for me to get elected president. The only way for me to get elected president is to ensure a close-to-fair financial fight. The only way to ensure a close-to-fair financial fight is to help the super PAC raise money…But, the honest truth is that Clinton isn't likely to be heavily pressed on the question…Because for all the sturm und drang about the corrosive role that money plays in politics, there's very little evidence that anyone outside of a narrow swath of committed campaign finance reformers would even consider making it a voting issue in 2016."
No State review of undisclosed Clinton Foundation donations - AP: "[State] Department spokesman Jeff Rathke said the contributions in question, made to the Clinton Health Access Initiative by private donors, would not have been reviewed even if they had all been disclosed under the terms of ethics agreements Clinton signed before she took office. That's because only donations to the foundation from foreign governments or speaking fees for former President Bill Clinton were subject to vetting."

[Hillary Clinton continues her California fundraising swing with a luncheon fundraiser at the Portola Valley home of eBay CEO John Donahoe and global affairs director for Human Rights Watch and former U.S. ambassador to the U.N. Human Rights Council, Eileen Donahoe.]

Why is Hillary so confident? – Take a look at election prognosticator Larry Sabato's take on the electoral breakdown at the get-go.

Quid pro quo - Responding to criticism from Clintonites that he is just "throwing spaghetti against the wall" to see what sticks, "Clinton Cash" author Peter Schweizer told Megyn Kelly that what his book shows is a pattern of behavior where an influx of money to the Clintons results in favorable action for donors. "We need to have somebody that has subpoena power look into some of these deals." Schweizer said. "We need to look at some of the inflated speaking fees that Bill Clinton got as she was considering everything from the Keystone Pipeline to issues related to sanctions on Iran." Watch here.

Power Play: Hillary's left turn - Hillary Clinton is trying to remake herself in a hurry, shifting her positions to the left to appeal to the Democratic base. Can she do it? Democratic strategist Joe Trippi and Republican strategist Amos Snead discuss with Chris Stirewalt. WATCH HERE.

Shots fired - Columnist and political analyst James Pinkerton lets a few rounds loose at Newsmax CEO Chris Durry's full-throated defense of scandal-plagued candidate Hillary Clinton

What about Bloomie? - NY Post columnist Seth Lipsky floats a trial balloon for a Mike Bloomberg presidential run… on the Democratic side. Could the billionaire be the one to beat Hillary?

[Former Gov. Martin O'Malley attends a breakfast fundraiser in Miami organized by his PAC.]

NOT CRICKET, OLD BOY
John Fund writes on the Conservative rout of Labour in Britain and the country's massive polling failure: "Three times in the past 50 years, British pollsters have gotten an election wrong — each time they have underestimated the Conservative vote and been chastened. Conservatives may win enough seats to form a minority government on their own or form an alliance with smaller parties to secure a majority. For the 2015 election, what was supposed to a photo-finish race has turned into a rout, as the opposition Labour Party is not only failing to gain seats from the Tories but is being wiped out in Scotland by the pro-independence Scottish National Party. Indeed, Douglas Alexander, the Labour Party's campaign manager, was defeated by an SNP candidate — a 20-year-old university co-ed named Mhairi Black, who hasn't yet finished her final exams at Glasgow University."

[Deep coverage - Host Howard Kurtz and his guests will look at Bill Clinton's media defense as well as the meager media attention for the three Republican candidates who just jumped into the presidential race. Watch "#mediabuzz" Sunday at 11 a.m. and 5 p.m. ET.]

HE GETS MISTY
(Beckley, W.Va.) Register-Herald: "A Raleigh County man is in jail after he allegedly foiled his own robbery by pepper-spraying himself, police said. Michael Kevin Meadows, 43, of Shady Spring, was arrested Wednesday for attempted robbery, according to a criminal complaint filed in Raleigh County Magistrate Court. On Tuesday, Meadows went into the Bypass Pharmacy on Ritter Drive in Beaver, according to the complaint, wearing full camouflage, a boonie hat and a paintball mask. Meadows started spraying pepper spray everywhere in an effort to take down employees, then walked forward, the complaint stated, stepping right into the cloud of pepper spray. From security footage, police could see that Meadows was affected by his own pepper spray."

Chris Stirewalt is digital politics editor for Fox News. Want FOX News First in your inbox every day? Sign up here.
Chris Stirewalt joined Fox News Channel (FNC) in July of 2010 and serves as politics editor based in Washington, D.C. Additionally, he authors the daily Fox News Halftime Report political news note and co-hosts the hit podcast, Perino & Stirewalt: I'll Tell You What. He also is the host of Power Play, a feature video series on FoxNews.com. Stirewalt makes frequent appearances on network programs, including America's Newsroom, Special Report with Bret Baier and Fox News Sunday with Chris Wallace. He also provides expert political analysis for FNC's coverage of state, congressional and presidential elections.