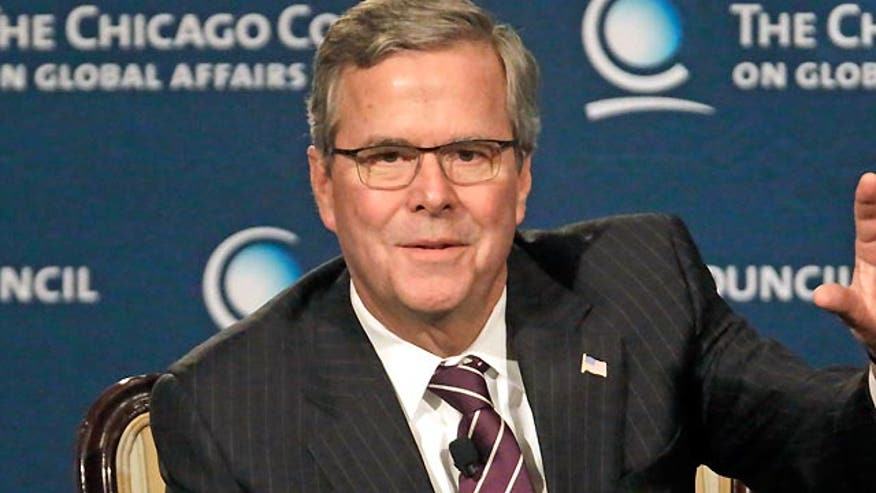 **Want FOX News First in your inbox every day? Sign up here.**
Buzz Cut:
• High wire act for Jeb at CPAC
• Walker rocked crowd, but has to clean up ISIS remarks
• Fiorina auditions as Hillary hatchet woman
• Obama's executive action to ban bullets
• That name doesn't click
HIGH WIRE ACT FOR JEB AT CPAC
Will Jeb Bush make his case to the GOP base or will he stand his ground as a moderate willing to "lose the primary to win the general?" That's the question hanging over today's packed schedule at the Conservative Political Action Conference outside of Washington. CPAC, which is kicking the GOP nominating process into high gear, will afford the former Florida governor his best chance yet to make his case to the party's conservative activist core. Bush will be interviewed this afternoon by Sean Hannity, who has been tough on issues like Bush's support for citizenship for illegal immigrants and Common Core federal school curricula. Bush's decision to emphasize his moderate stances or his areas of agreement with the party base, particularly on abortion, will tell us a great deal about what kind of campaign to expect from the GOP frontrunner.

Jeb says he 'won't cower' on immigration - Wash Ex: "In perhaps his most campaign-style speech so far, not-yet-official GOP presidential candidate Jeb Bush vowed Thursday not to alter his views on immigration despite intense opposition among some parts of the Republican base. 'If I go beyond the consideration of running, I'm not backing down from something that is a core belief,' Bush told a gathering of the conservative Club for Growth here in Florida. 'Are we supposed to just cower because at the moment people are all upset about something? No way, no how.'"

[Watch Fox: Former Florida Governor Jeb Bush starts off the afternoon events at CPAC scheduled for the 1 p.m. ET hour.]

A walk out? - Wash Times: "A movement is underway to stage an informal protest when former Florida Gov. Jeb Bush hits the CPAC stage Friday. William Temple, a member of the Golden Isle Tea Party, told The Washington Times that the party doesn't need another Bush in office, and said that the party should listen to the grass-roots activists that helped fuel their gains in the 2014 election. 'A lot of peoples were not going to come here because they heard Jeb Bush was speaking,' Mr. Temple said before laying out his plan at the Conservative Political Action Conference."

[Watch Fox: Campaign Carl Cameron continues live coverage from CPAC with the next round of speakers including former Florida Governor Jeb Bush.]
RUBIO SKETCHES OUT IMMIGRATION PLAN
David Drucker nabbed a sit-down with Sen. Marco Rubio in which the Florida Senator laid out a few policy targets for a hypothetical presidency. Rubio spoke forcefully about undoing President Obama's agenda on foreign policy and health insurance, but also hinted at what his immigration agenda would look like. WashEx: "Rubio indicated that he would immediately call for passage of legislation to secure portions of the border that remain 'largely' unprotected; implement new enforcement tools, including an entry-exit system to track visa overstays; and modernize employment verification to discourage the hiring of illegal immigrants. 'Once that system is in place and functioning, I believe that that's the key that opens the door to, one, modernizing our legal immigration system towards a merit-based system; and two, dealing with those who are here illegally but have been here for a long period of time and have otherwise not violated our laws,' Rubio said."

They're waiting - Sunshine State News: "The closer Rubio gets to running for president, the closer Florida gets to seeing a scramble of candidates preparing to run for his seat, which will in turn set off a stampede for politicians for the offices the new batch of Senate hopefuls will leave behind."

[Watch Fox: Florida Sen. Marco Rubio is scheduled to kick off CPAC's morning speeches in the 8 a.m. ET hour.]

ON SPEC: PERRY LOOKING TO RE-BRAND
Dallas Morning News: "Oh, those hipster glasses. Rick Perry started wearing them when he started rebuilding his image to project something more studious and intellectual than the "oops" persona everyone remembers from his flameout in the 2012 presidential campaign. Now he's incorporated the look into campaign art — a red, white and blue logo on the back of "Rick" T-shirts worn by the swarm of college age supporters surrounding him at the Conservative Political Action Conference."

Fight the power - Dallas Morning News: "Attorneys for former Gov. Rick Perry have asked a Texas appeals court to dismiss felony charges against the possible 2016 presidential candidate on free speech grounds, arguing that what's 'at stake is not just the freedom of one man.'"

"But, you know, if the only thing [ISIS] understands is the threat of power, then that's what we're going to have to express to them. But I think it starts at the top. And I think the president of the United States calling this for what it is and that is radical Islam. And when the King of Jordan, the King of Saudi Arabia both call it what it is and our president refuses to do that, that's a real problem." --Former Gov. Rick Perry, R-Texas, on "The Kelly File" Watch here.
[Watch Fox: Former Texas Governor Rick Perry is scheduled to speak at CPAC in the 9 a.m. ET hour.]

PAUL MAKES HIS CASE AGAINST ESCALATING MIDDLE EAST WAR
Yahoo: "If Rand Paul were commander in chief, his strategy for fighting Islamic militants in the Middle East would start with the Kurds. 'I would arm the Kurds directly," the Republican senator and potential presidential candidate told Yahoo Global News Anchor Katie Couric. The two sat down in Washington on Wednesday, just hours after the FBI announced it had arrested three men charged with plotting to join the Islamic State, or ISIS, and stage attacks against the United States. Despite urging Congress to make an official declaration of war — for the first time since World War II — against ISIS last November, the Kentucky senator's reputation as an isolationist still precedes him. Dismissing that as a 'mischaracterization,' Paul told Couric he's not willing to send American troops to fight anywhere if the people who live there are not also willing to fight. And he believes the Kurds — the disenfranchised ethnic groups whose Iraqi contingent has been fighting ISIS for months — are particularly up to the task."

[Watch Fox: Kentucky Sen. Rand Paul is scheduled to speak at CPAC in the 10 a.m. ET hour.]

Keeping a toe in the water - Indiana Gov. Mike Pence tests the waters at CPAC as the keynote dinner speaker tonight.

WALKER ROCKED CROWD, BUT HAS TO CLEAN UP ISIS REMARKS
Wash Ex: "Wisconsin Gov. Scott Walker has walked back a remark in which he equated pro-union protesters in Wisconsin with the Islamic State. Speaking to a crowd at the Conservative Political Action Conference on Thursday, Walker was asked how he would address national security threats including the Islamic State. 'I want a commander in chief who will do everything in their power to ensure that the threat from radical Islamic terrorists does not wash up on American soil," Walker said. "If I can take on 100,000 protesters, I can do the same across the world.' After the comment sparked blowback, Walker said later he did not mean to equate the protestors in Wisconsin, who opposed Walker's move to limit collective bargaining, with terrorists. 'My point was just, if I could handle that kind of a pressure and kind of intensity, I think I'm up for the challenge for whatever might come, if I choose to run for president,' Walker clarified to Bloomberg Politics."

Power Play: Walker's hot spotlight - David Drucker of the Washington Examiner and Charlie Hurt of the Washington Times join Chris Stirewalt to discuss the attention-getting Wisconsin Governor who's become a press magnet for gotcha questions. WATCH HERE.

[Chris Wallace has an exclusive interview with Wisconsin Governor Scott Walker on his 2016 run, and the fall-out from his ISIS comments. "Fox News Sunday with Chris Wallace" airs at 2 p.m. and 6 p.m. ET on Fox News. Check local listings for air times in your area.]

Cruz: 'Demand action, not talk' - Dallas Morning News: "Sen. Ted Cruz warned conservative activists Thursday not to buy claims from 2016 rivals that they're true conservatives. None, he said, would ever actually stand up and confess: 'Actually I'm a squishy moderate who stands for nothing.' Better, he urged, to look for the candidate who bears the scars of ideological combat. In other words, someone like him. 'Demand action, not talk,' …"

Carson looks to be bracket buster - Wash Times: "'For instance, if you're pro-life, then you're anti-woman," [Ben Carson] said at the Gaylord National Resort and Convention Center. "If you're pro-traditional family, then you're a homophobe. If you're white and you oppose a progressive black person, you're a racist. If you're black and you oppose the progressive agenda, you're crazy. And if you're black and you oppose the progressive agenda, and you're pro-life, and you're pro-family, they don't even know what to call you,' he continued. 'I mean, you end up on some kind of watch list for extremists.'"

Christie tries to get in the mix - NYT: "[New Jersey Gov. Chris Christie] who declined the opportunity to deliver a prepared speech, appeared before a ballroom with many empty seats, faced adversarial questions from a conservative talk show host and used the opportunity to attack a fellow presidential aspirant, Jeb Bush — a telltale sign that he is fighting to regain position."

[Christie heads to California today for a series of PAC receptions and the keynote address at the GOP state spring convention Saturday.]

Jindal tells crowd to ignore polls, fundraising - Wash Ex: "Louisiana Gov. Bobby Jindal is an underdog among likely Republican contenders for the presidency in 2016 — but the standard metrics are not important, he told the audience Thursday at the Conservative Political Action Conference. 'Forget the polls, forget the fundraising, forget the consultants, forget the media,' Jindal said."

Fireworks display - Fox Business' Lou Dobbs moderates a debate between Former CIA Director Michael Hayden and Fox News' Senior Judicial Analyst Judge Andrew Napolitano, on the tensions between protecting citizens without violating their privacy. The battle of the brains comes to the main stage in the 9 a.m. ET hour.

Also on stage today: Former U.S. Ambassador to the United Nations John Bolton, Donald Trump and former Pennsylvania Sen. Rick Santorum.

Not in the picture - Former Gov. Mike Huckabee, R-Ark., is skipping this week's conservative confab to make stops in South Carolina.

WITH YOUR SECOND CUP OF COFFEE…
Perhaps swap out your coffee for a Coca-Cola today since the all-American beverage's distinctive bottle is turning 100. The Atlanta-based company challenged designers to come up with a bottle that would be recognizable "…even if broken on the ground or touched in the dark." Coke became more than a brand, but a staple in American culture. The bottle's curves are still looking fine a century later. Time has the history of one of the world's most iconic shapes.

Got a TIP from the RIGHT or LEFT? Email FoxNewsFirst@FOXNEWS.COM

POLL CHECK
Real Clear Politics Averages
Obama Job Approval: Approve – 44.6 percent//Disapprove – 51.0 percent
Direction of Country: Right Direction – 33.2 percent//Wrong Track – 58.4 percent

FIORINA AUDITIONS AS HILLARY HATCHET WOMAN
From Benghazi to buckraking, potential 2016 GOP contender Carly Fiorina blasted Democratic frontrunner Hillary Clinton at CPAC Thursday. National Journal: "Unlike every other Republican presidential hopeful at CPAC, Fiorina is uniquely able to criticize Clinton without having to worry about cries of sexism. 'This is not leadership,' she said of Obama. 'Nor is it leadership when Secretary Clinton asks what difference does it make when our embassy is deliberately attacked by terrorists and four Americans are murdered,' Fiorina said. 'It makes all the difference, Mrs. Clinton, and the required response has never come.' … 'She tweets about women's rights in this country and takes money from governments that deny women the most basic human rights. She tweets about equal pay for women, but won't answer basic questions about her own office's pay standards' [Fiorina said] 'Hillary may like hashtags, but she does not know what leadership means.'"

[Report: Hillary knew Benghazi attack was terrorists - National Review: "From the very first moments of the terrorist attack on the U.S. compound in Benghazi on September 11, 2012, then-Secretary of State Hillary Clinton and her top aides were advised that the compound was under a terrorist attack. In fact, less than two hours into the attack, they were told that the al-Qaeda affiliate in Libya, Ansar al-Sharia, had claimed responsibility. These revelations and others are disclosed by a trove of e-mails and other documents pried from the State Department by Judicial Watch in a Freedom of Information Act lawsuit."]

Power Play: Hillary's branding baggage - Democratic frontrunner Hillary Clinton is poised to roll. The Washington Examiner's David Drucker and Charlie Hurt of the Washington Times join Chris Stirewalt to discuss the timing of Clinton's formal announcement of a 2016 presidential bid and whether her brand is likely to sell. WATCH HERE.

Hillary ready to hire a woman? - Roll Call: "Amanda Renteria, the former Capitol Hill aide who unsuccessfully ran for Congress in 2014, is poised to be named the national political director of Hillary Rodham Clinton's likely presidential campaign, according to two sources with knowledge of the move."

OBAMA'S EXECUTIVE ACTION TO BAN BULLETS
Wash Ex: "As promised, President Obama is using executive actions to impose gun control on the nation, targeting the top-selling rifle in the country, the AR-15 style semi-automatic, with a ban on one of the most-used AR bullets by sportsmen and target shooters. The Bureau of Alcohol, Tobacco, Firearms and Explosives this month revealed that it is proposing to put the ban on 5.56 mm ammo on a fast track, immediately driving up the price of the bullets and prompting retailers, including the huge outdoors company Cabela's, to urge sportsmen to urge Congress to stop the president."
#mediabuzz: Howie gets the Axe - This week Howard Kurtz welcomes President Obama's former top political adviser David Axelrod joins the conversation to discuss the contentious relationship between President Obama and the media. Watch "#mediabuzz" Sunday at 11 a.m. ET, with a second airing at 5 p.m.
WHAT DO FEDERAL INTERNET REGS MEAN FOR YOU?
Christian Science Monitor: "What every side does agree on, though, is that the results of today's vote will affect everyone who uses the Internet. Anyone who goes online does so through an ISP, and increasingly these companies are lobbying to provide services on their own terms. Without net neutrality rules, companies like Comcast and Verizon could cherry pick which content is easy to access. And that means that consumer access to specific online content could slow down or speed up noticeably."

404 - The Hill: "Partisan tensions over the drafting of new net neutrality rules might not fade so quickly on the Federal Communications Commission (FCC). Thursday's 3-2 vote on the rules came after months of accusations of misconduct and antipathy from the commission's two Republicans, and they don't appear entirely confident that everything can be smoothed over."

BOEHNER PUTS PRESSURE BACK ON SENATE IN DHS FUNDING FIGHT
National Journal: "Speaker John Boehner on Thursday night finally laid out a plan to avert a partial shutdown of the Homeland Security Department: kick the can a little farther down the road. Yet even that may fail. With just one day left until funding runs dry for DHS, Boehner urged his conference to pass a three-week extension of current funding and try to force Senate Democrats into a conference committee to resolve their differences. The only alternatives, he told his members behind closed doors, would be to let the department shut down or capitulate to the Senate by passing a clean full-year funding bill. But passing the measure in the House will not be easy. Boehner's partial solution comes after a weeks-long deadlock, and he is stuck between angry conservatives adamant about blocking President Obama's executive action on immigration and moderates concerned about the politics of a shutdown."

Tsk-tsk - WaPo: "As Majority Leader Kevin McCarthy (R-Calif.) and Minority Whip Steny H. Hoyer (D-Md.) discussed the scheduling of Friday's votes, Hoyer criticized Republicans for leaving the department 'twisting in the wind' -- prompting groans from the GOP side of the aisle and prompting McCarthy, who had the floor, to reclaim his time. Hoyer's retort? 'You coward,' he said, captured on a C-SPAN broadcast."

Nuts and bolts - Despite heated rhetoric, if Congress cannot come to an agreement on funding, DHS would still function normally since most of their employees are deemed "essential." But employees would not be paid and hiring would slow until funding resumed. The disruptions, though, wouldn't likely commence until next week, because of bureaucratic lag time. Possible outcomes: shutdown, agreement, or temporary agreement to prolong debate.

REID AGREES TO MEET WITH BIBI
The Hill: "Senate leaders from both parties will meet with Israeli Prime Minister Benjamin Netanyahu during his visit to Washington, D.C., next week. Senate Majority Leader Mitch McConnell (R-Ky.) and Minority Leader Harry Reid (D-Nev.) will meet with Netanyahu on Tuesday afternoon, after his address to a joint session of Congress on the Iranian nuclear threat. On Wednesday, Netanyahu declined an invitation to meet only with Senate Democrats, fearing it would 'compound the misperception of partisanship' surrounding his visit. The bipartisan invite comes amid rising tension between the Obama administration and Netanyahu."

THAT NAME DOESN'T CLICK
Residents of Lüderitz, a quaint town on a lovely spot of the coast of Namibia, are in the middle of identity crisis. AP reports that local officials have proposed changing the town's name to better reflect the Nama ethnic group. The proposed name is !Nami#nus. No, those aren't typos. That's the approximate written form for the click-like sounds found in the native Nama language. Incorporating the symbols is bound to cause issues especially on computers and websites, resident Crispin Clay said, "Nobody's quite certain how to pronounce or how to spell it. We'll never get the clicks right." Clay adds that such a unique name will hurt the town's popularity as an international tourist destination. The history behind the name Lüderitz is freighted for locals, having been bestowed by German colonists, who also operated a prison camp on nearby Shark Island a century ago. Mayor Suzan Ndjaleka says no final decision has been made.

AND NOW, A WORD FROM CHARLES…
"I think [President Obama] truly believes that this is a tranquil era, that we are overhyping, putting emphasis on terrorism which is out of proportion, that in the end compared to the strategic threats of Nazism or communism, it's a minor issue." – Charles Krauthammer on "Special Report with Bret Baier" Watch here.

Chris Stirewalt is digital politics editor for Fox News. Want FOX News First in your inbox every day? Sign up here.
Chris Stirewalt joined Fox News Channel (FNC) in July of 2010 and serves as politics editor based in Washington, D.C. Additionally, he authors the daily Fox News Halftime Report political news note and co-hosts the hit podcast, Perino & Stirewalt: I'll Tell You What. He also is the host of Power Play, a feature video series on FoxNews.com. Stirewalt makes frequent appearances on network programs, including America's Newsroom, Special Report with Bret Baier and Fox News Sunday with Chris Wallace. He also provides expert political analysis for FNC's coverage of state, congressional and presidential elections.