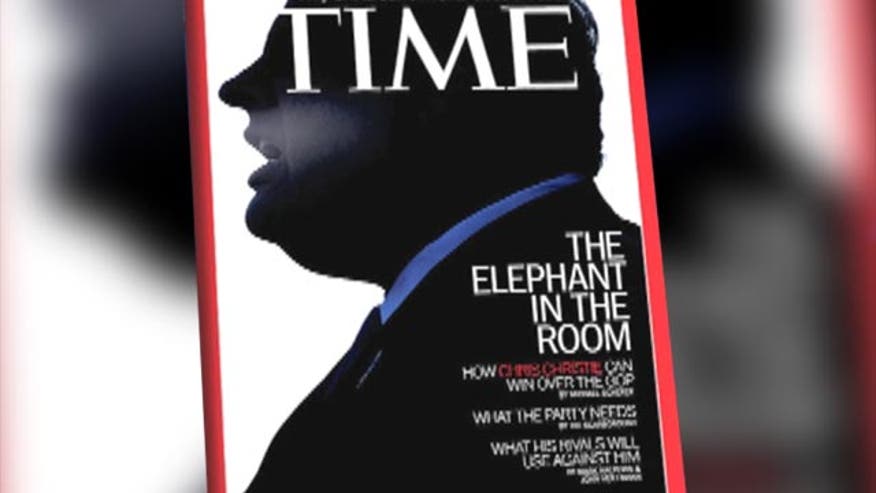 Maybe it was when Chris Christie was holding forth at a news conference for nearly an hour and it seemed like he could have gone on for three or four more. Maybe it was the moment when he agreed to appear on four of the five Sunday shows.
Suddenly it became clear: the New Jersey governor loves engaging with the press. He feeds off it, he's good at it, he's energized by it. And I can't think of another Republican since John McCain in 2000 who so openly embraced the media culture that many members of their party view as hostile.
Unlike, say, Mitt Romney, whose lack of accessibility became a major point of friction between him and the press corps, Christie's default position is bring it on. That has a positive impact on his coverage, since journalists are human beings who don't like being stiff-armed. It just does.
Of course, it will also make Christie an object of suspicion among conservatives who don't trust the MSM.
What journalists also like are politicians who tackle questions head on, as Christie did at his day-after presser when asked about the 2016 chatter:
"Speculating about me, that means I'm continuing to do my job well. If I'm doing my job, that's good for the people here. So I've never seen it as a distraction and I've never -- and as I've said before, I don't see it as a burden, either. You got to have such a huge ego, right, to, 'Oh, please, it's such a burden for you to be speculating me, about being the next leader of the free world. Stop. I'm so burdened.' I mean, you know, that's a pretty huge ego to be complaining about that. It's complementary, it's flattering, and I have no problem with it."
So much more interesting than the usual it-hasn't-crossed-my-mind baloney.
Constantly engaging the media can be risky business. It means one testy answer or slip of the tongue becomes the flap of the day.
Political pros will eventually tell him he has to be more disciplined or lose control of his message. Even McCain, when he got the nomination in 2008, stopped the practice of letting reporters ride around with him on buses and airplanes.
But for now, as he becomes chairman of the Republican Governors Association, it's clear that Christie views the press as a potential ally.
The Atlantic outlines the strategy:
"The Christie for America 2016 calculation goes like this: All Republican nomination contests usually go the same way. Primary voters claim to be big-C Conservatives, but they vote with a small c. After months of carping and griping, after rubber-chicken dinners, purity tests and endless debates, the party always settles on the most viable center-right option who has earned his place in line--Bob Dole, George W. Bush, John McCain, Mitt Romney. As Christie might say it, the party decides it wants to win.
"Christie's strategy is clear enough, to execute a political coup de main: to try to clear the field (or his side of the field) by coming on very strong at the outset to take up the Establishment real estate. With four or five others (Cruz, Rand Paul, Rick Santorum and others) battling to become the purist on the right, Christie's initial goal is simply to be the Electable One.
"Christie has a quality rarely found in politics: Instead of sounding like a generic politician, he sounds like himself. 'Authenticity' is not something that can be scripted, though sometimes consultants find it worthwhile to sand it down a bit around the edges."
National Review's Ramesh Ponnuru says Christie is showing conservatives how to win:
"Socially conservative positions on hot-button issues don't seem to be a deal-breaker even for the much more liberal voters of New Jersey. Christie has vetoed legislation to grant state recognition to same-sex marriage -- a judge later ordered it, though Christie briefly appealed -- and vetoed bills to fund Planned Parenthood five times. He does not, however, seem obsessed by social issues: Democrats haven't gotten much mileage out of ads saying that his priorities are different from those of voters."
Are the Democrats worried? You bet.
"Top Democratic officials launched a concerted offensive Wednesday to define New Jersey Gov. Chris Christie in a negative light, believing that he has emerged from his reelection landslide as the Republican Party's strongest potential presidential contender for 2016," the Washington Post reports.
"Some Democratic strategists said the party made a mistake by not spending more money to attack Christie during the gubernatorial campaign, which might have suppressed his margin of victory and denied the Republican a sweeping mandate in a blue state," the story continues. "In the months to come, Democrats say, they plan to chip away at Christie's moderate image and present him nationally as a hard-edged conservative."
But won't it be hard to depict as a hard-edged conservative a pro-life candidate who just won 57 percent of women against a pro-choice woman, as well as 51 percent of the Hispanic vote?
Weighty Issue
Some critics are up in arms about Time's Christie cover, or more precisely the headline: "The Elephant In The Room."
I say they should calm down.
Yes, it's a gratuitous slap at the governor's weight with a bit of wordplay on the party's symbol. But at least it didn't show a full-body shot of Christie looking obese.
The finger-in-the-eye headline was designed to generate buzz and sell magazines, and it worked. Christie is hardly an overly sensitive soul who's going to be crushed by this.
And guess what? "He's a workhorse with a temper and a tongue, the guy who loves his mother and gets it done."
The piece is pretty positive.
Corralling Costa
Kudos to the Washington Post for hiring National Review's Robert Costa as a national reporter.
For one thing, he's a digger with lots of GOP sources who kept delivering scoops during the government shutdown. For another, it's healthy for the Post to take on someone from a conservative publication who hasn't let his opinions get in the way of good reporting.
Trust me, there have been more than a few left-leaners who have passed through that newsroom over the years.
Top Twitter Talk
Click for more from Media Buzz.
Howard Kurtz is a Fox News analyst and the host of "MediaBuzz" (Sundays 11 a.m.). He is the author of five books and is based in Washington. Follow him at @HowardKurtz. Click here for more information on Howard Kurtz.