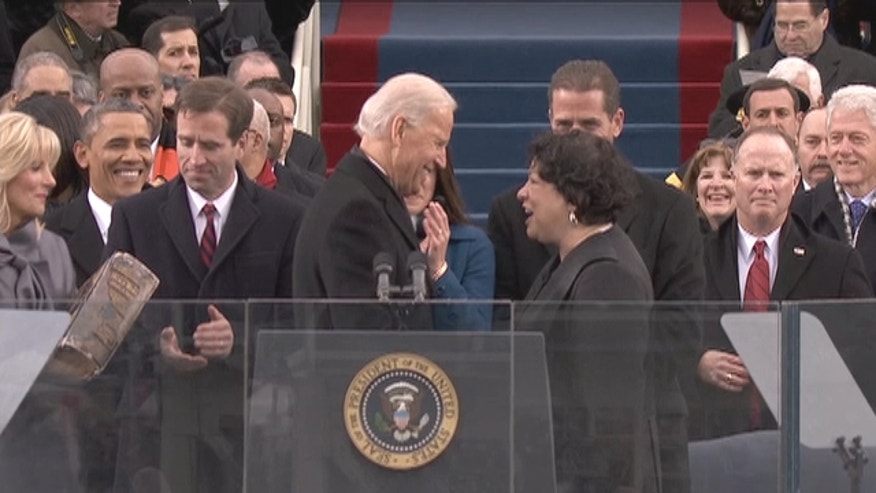 Washington D.C. – Supreme Court Justice Sonia Sotomayor swore in Vice President Joseph Biden Monday at the presidential inauguration, becoming the first Hispanic to administer an oath of office in U.S. history.
Sotomayor, the first Latina to serve on the high court, also became the fourth female judge in U.S. history to administer an oath of office.
Biden personally selected Sotomayor to swear him in.
"From the first time I met her, I was impressed by Justice Sotomayor's commitment to justice and opportunity for all Americans, and she continues to exemplify those values today," Biden said after choosing her. "Above all, I'm happy for the chance to be sworn in by a friend – and someone I know will continue to do great things."
It was one of the greatest pleasures of my career to be involved in [Sonia Sotomayor's] selection to the Court.

- Vice President Joseph Biden
The prominent role of a Latina at the inauguration is a nod, to some degree, to the critical role Hispanics played in the Nov. 6 elections that gave President Barack Obama a victory. Latinos turned out in record numbers, accounting for 10 percent of voters; 71 percent voted for Obama over his GOP challenger, Mitt Romney.
Latinos also made history in Congressional races. The 113th Congress included more Latinos than ever, with three in the U.S. Senate and 28 in the House of Representatives.
Obama nominated Sotomayor to the Supreme Court in 2009. It was a remarkable moment for a woman who was born in the South Bronx to Juan and Celina Sotomayor, both of Puerto Rican descent. Sotomayor's mother was a methadone clinic nurse, and her father was a tool worker who died when Sotomayor was just 9 years old.
Sotomayor has said that her mother doggedly pushed her two children to get a college education. Sotomayor began dreaming of becoming a judge after watching the TV show "Perry Mason," in which the main character was a defense attorney.
She earned a bachelor's degree in 1976 from Princeton University, graduating summa cum laude and receiving the Pyne Prize, the university's highest academic honor. In 1979, she earned a degree from Yale Law School, where she served as an editor of the Yale Law Journal.
In 1991, President George H.W. Bush nominated her to the U.S. District Court, Southern District of New York, and she served in that role from 1992–1998. She served as a judge on the United States Court of Appeals for the Second Circuit from 1998–2009.
Follow us on twitter.com/foxnewslatino
Like us at facebook.com/foxnewslatino