As a rural latchkey kid growing up in Iowa in the 1970s, I used to climb on the rooftops of our farm buildings with my German shepherd and look out at the endless horizon beyond the corn fields. You could see the curvature of the earth and just beyond was a world that I yearned to explore. The tough thing for a young woman to figure out in those days was how to get there.
Then, as often happens, a door opened. I learned through an Air Force Academy liaison officer and a high school counselor that in the fall of 1975 President Gerald Ford signed a law that would open up endless possibilities for women and allow me to explore that world I couldn't quite see.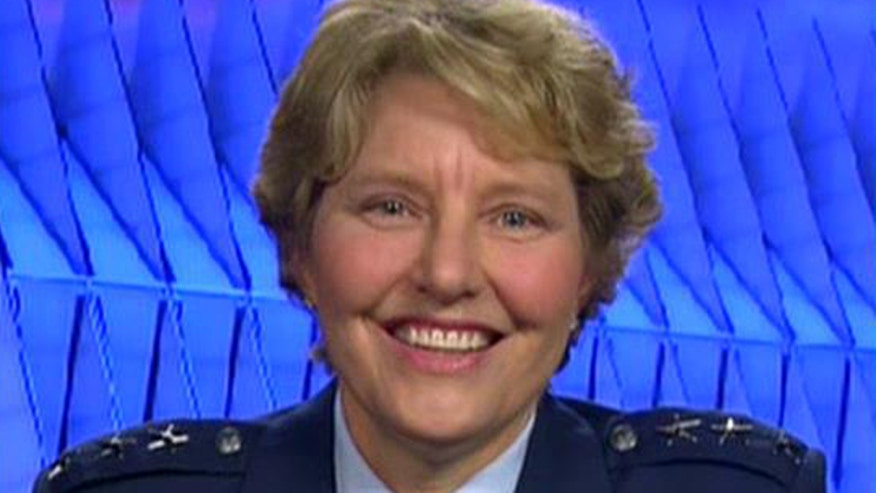 Despite divisive debate in Congress and some resistance from the Department of Defense, the President's signature allowed the first coed class, the Class of 1980, to enter the three military service academies – West Point, Annapolis, and the U.S. Air Force Academy in Colorado Springs, CO.
I didn't know much about the armed services and even less about the academies, but I was a National Merit Scholar and an accomplished athlete. I knew I was looking for a challenge. I was eager to explore worlds beyond the corn fields, and serving my nation seemed like a great way to do it.
However, the core of the USAFA experience hasn't changed. We teach character and leadership, an academic balance of technical subjects and the humanities...
So, on June 27, 1977 I entered the Air Force Academy as a member of the Class of 1981. Those four years at the Academy were wonderful and bittersweet for many entering a previously all-male domain. Shattering the glass ceiling there was at times painful and yet deeply rewarding. I combined the rigors of military training with an academic program that equally balanced technical fields with the humanities, played intercollegiate sports and honed my leadership style.
It is no exaggeration to say that the four-year immersion provided me with many of the lessons I still use today as the Air Force Academy's 19th Superintendent.
Make no mistake: being in the second coed class was tough. To have my existence challenged every day made me sometimes wonder if I should just return to the rooftop of our barn and dream other dreams.
Fortunately, I stuck it out and actually found success as both the first woman Cadet Wing Commander, as well as the first woman Rhodes Scholar from the Academy. These experiences would set the foundation for a 34-year career in service to my nation.
After graduation and finishing my graduate studies at Oxford, I went to pilot training and earned my wings as a C-141 cargo pilot.
I couldn't have dreamed of a better job. The view from that cockpit was just what I envisioned when I looked out from the roof of our barn – leading crews of Airmen on worldwide missions: drinking tea with air traffic controllers in the Middle East; bargaining with local authorities for take-off clearance in Africa; cooling my jets in the South Pacific; and taking every chance I could to experience life.
My mission was flying transport and air refueling aircraft to support global operations – on short notice and in dangerous places. There is nothing more rewarding than delivering combat material and troops, or flying supplies to a needy nation in the throes of a devastating earthquake or hurricane. In one sense, we were and are ambassadors – locals recognize the flag on the tail of our plane and they see first-hand the reach and generosity of the American people. They understand equality when the aircraft commander walks off the plane and they see the diversity of our crews.
If you were to visit our Academy today, you'd notice some things have changed. The number of women attending the Academy has nearly doubled since 1980 and nearly a third of all graduates are from one minority group or another.
The climate is more inclusive, the culture more respectful. Antagonistic relationships are no longer tolerated. The education and training we offer cadets leverages diversity of thought to solve problems in more relevant ways using modern technology like satellites, cyber networks, and flipped classrooms. The gliders our cadets fly are acrobatic and the parachutes they jump are rectangular, not round. However, the core of the USAFA experience hasn't changed.
We teach character and leadership, an academic balance of technical subjects and the humanities, and an immersion in the Air Force culture, ethos, and mission. Combined, this fosters a competitive experience that builds grit, resilience and courage, an experience that prepares them to reach beyond the horizon and lead our nation into the future.
Exactly one month after Memorial Day, on June 25, 2015 the Academy welcomed its sixty-first class -- the Class of 2019 -- to the ranks of the "Long Blue Line."
I'm so proud to know these young Americans will be embraced, challenged, inspired and transformed over the next four years. They'll graduate ready to see beyond a horizon we can't even imagine.
Lt. Gen. Michelle D. Johnson is Superintendent, U.S. Air Force Academy, Colorado Springs, Colo. She directs a four-year regimen of military training, academics, athletic and character development programs leading to a Bachelor of Science degree and a commission as a second lieutenant. A distinguished graduate of the U.S. Air Force Academy in 1981, General Johnson completed graduate studies as a Rhodes Scholar before earning her pilot wings in 1984.