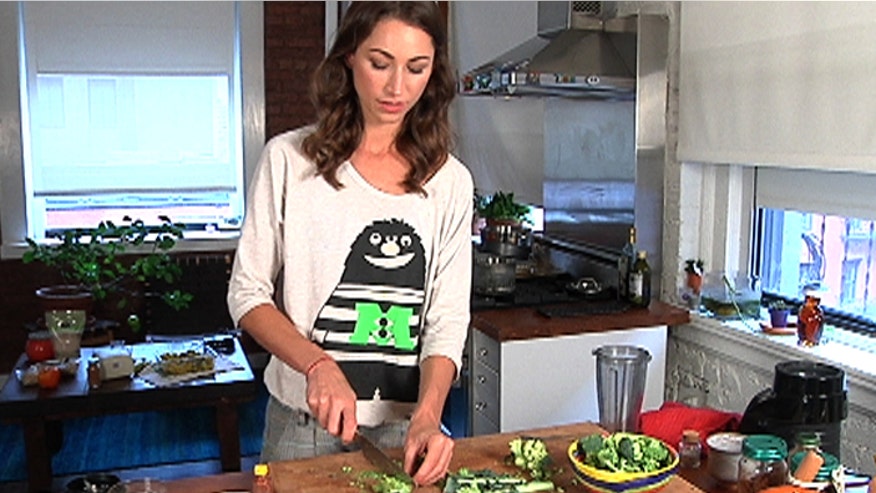 Tara Stiles, known as the "Yoga Rebel," has brought her accessible form of the practice around the world. Once you see her in action, you'll probably wonder, "What does she eat and can I have some?"
After fielding that question time and again, Tara put the answers down on paper in the "Make Your Own Rules Diet" book.
Her concept is for readers to have a program that is based on being sensitive to their bodies and paying attention to what works for themselves.
Growing up in the small town of Newton, Illinois, Stiles had always been health conscious. She admitted to struggling with an eating disorder after a sexual assault as a teenager in New York City.
"I honestly didn't think that I was having repercussions and having all the side effects and the behaviors that I was developing because I needed to control something," she said.
It's hard to believe she would live off of candy and soda in those days, but now she's all about simple and satisfying foods. Stiles cooks at home as much as possible and shares her creations on Instagram and in the book.
Stiles' mac and cheese recipe is made of cashews, which make the dairy-free dish creamy and provide antioxidants, magnesium and copper— which are great for strong bones and flexible joints.
"This dish is an amazing 'mac and cheese' with cashew sauce and I found it on this great website called Detoxinista and it looked so amazing in the picture and I thought, 'How can I make it so it's a little more spicy and even more indulgent and creamy?'" Stiles said. "What can I do to make it so every dude in my life— even my dad— would want to eat this?"
Tara Stiles' Mac and Cheese
Serves 4
4 cups pasta shells
2 cups chopped broccoli
1 cup whole cashews
1 tablespoon Dijon mustard
½ cup water
1 ½ teaspoons red pepper flakes
1 teaspoon curry powder
½ cup nutritional yeast
2 cups chopped cremini mushrooms
Juice from ½ lemon
- Preheat the oven to 350 degrees Fahrenheit.
- Prepare the pasta according to package directions.
- Meanwhile, spread the broccoli on a cookie sheet and place it into the oven until the tops are browned, approximately 15 to 20 minutes.
- Blend cashews, Dijon mustard, water, red pepper flakes, curry powder and nutritional yeast in a blender until smooth to create the sauce.
- When the pasta is tender, remove it from the heat and drain.
- Put the pasta back into the pot, and add the broccoli, mushrooms and sauce.
- Stir the mixture until fully combined.
- Pour the entire mixture into a glass baking dish.
- Bake for 25 minutes.
- After removing the past a from the oven, drizzle with the lemon juice.
Sticking to her roots, yoga is a big part of the book. But meditation, which Stiles turns to for stress relief, is also important.
"It's not like meditation has cured my life and now everything is blissfully wonderful and 'ahh' and angels are singing and all that, but I know it's a tool that I can always come back to that does have that immediate shift back to the calm and easygoing, which is really useful," she said.
Click for more information about the book and Stiles' studio, Strala Yoga, at TaraStiles.com.