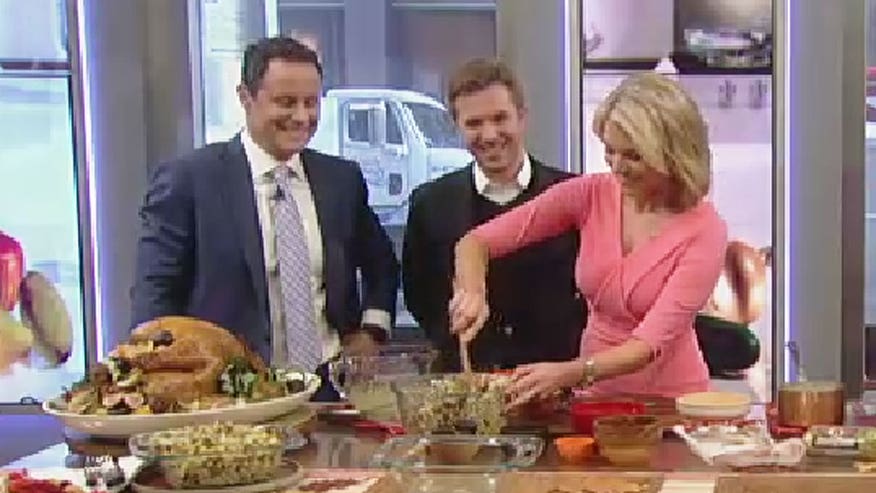 Is it stuffing or dressing?
No matter what you call this savory side, there's no denying it's an essential part of any Thanksgiving feast.
"Fox & Friends" anchor Heather Nauert and her brother Jonathan stopped by "Cooking with Friends" to share a classic version of the dish that their family has been making for decades. Stuffing isn't just a side dish, it's a family tradition, says the host.
"My dad loved Thanksgiving," Nauert told the "Fox & Friends" team. "He passed away about 10 years ago but this is one way that we always honor his memory."
13 COCKTAILS TO SPICE UP YOUR THANKSGIVING
Nauert, who is one of four siblings—and the only daughter-- says her dad would make sure meal prep was a family affair each year and drag everyone into the kitchen to help prepare the turkey and all the trimmings.
While his sister snapped plenty of family pictures, "I would help my dad, be his right hand man, and just kinda help with the ingredients," Jonathan Naeuert told the "Fox & Friends" team.
DON'T FORGET THIS IMPORTANT THANKSGIVING PREP STEP
There may be hundreds of ways to cook this popular side but Nauert says there are three major keys to ensure a successful stuffing every time.
Says the anchor, "What is key is the sausage, not overcooking it-- making it moist and not too dry-- and a lot of butter."
Check out the recipe for Heather Nauert's classic turkey stuffing.