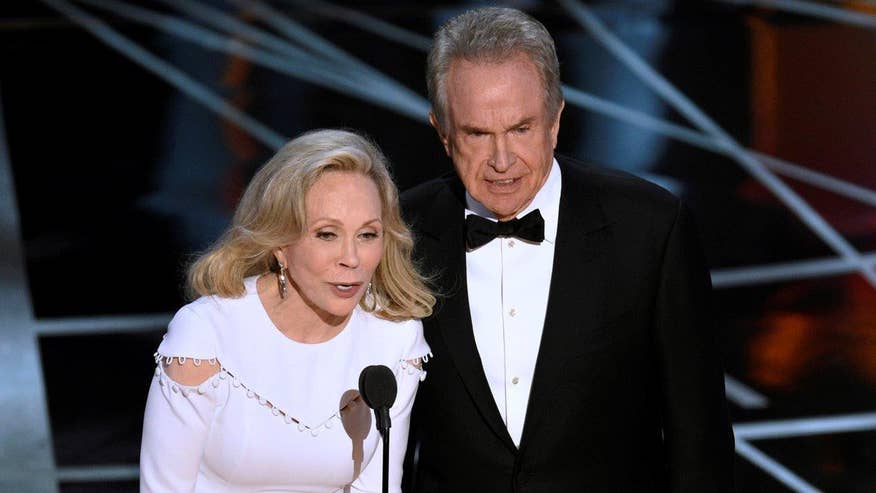 History was made during the 89th Academy Awards after "La La Land" was awarded "Best Picture" when, in fact, the Oscar should have gone to "Moonlight."
Warren Beatty, who presented with Faye Dunaway, took responsibility for the gaffe, saying they were given a card with the winner for best actress — Emma Stone for "La La Land."
And Hollywood celebrities quickly took to Twitter to express their reactions and praise the cast of "La La Land" for handling the situation as smoothly as they did.
Nothing like live TV. Congrats to Moonlight! And to La La Land for such a gracious reaction. #Oscars

— Ellen DeGeneres (@TheEllenShow) February 27, 2017
Whaaaaaaa??!congratulations Moonlight! My favorite #Oscars in memory!!

— Oprah Winfrey (@Oprah) February 27, 2017
Gee, I'm glad I stayed up! That was a first!!!!

— Bette Midler (@BetteMidler) February 27, 2017
Why didn't the producers of the show rush to the stage when the wrong winner had been announced?! I feel bad for #lalaland producers AWKWARD pic.twitter.com/bs2S7rj325

— Jessica Chastain (@jes_chastain) February 27, 2017
"Personally I blame @IamSteveHarvey for this." - Jimmy #Kimmel #Oscars

— Jimmy Kimmel Live (@JimmyKimmelLive) February 27, 2017
The Miss Universe organization even took to social media to joke that they could have helped the Academy. They referenced the 2015 mix-up when presenter Steve Harvey crowned the first runner-up winner instead of the actual winner.
Have your people call our people - we know what to do. #Oscars #MissUniverse

— Miss Universe (@MissUniverse) February 27, 2017
When The Hollywood Reporter asked Dunaway about the mistake at the Governors Ball annual after-party, she reportedly refused to comment.
FOLLOW US ON FACEBOOK FOR MORE ENTERTAINMENT NEWS
Other stars at the Oscars after parties were more chatty.
Viola Davis, winner of best supporting actress, told ABC's "Oscar After Party" if the mistake was part of a movie it would have been "bad writing" and "bad directing." Davis says she couldn't believe the whole thing and for a moment thought it was a joke by host Jimmy Kimmel.
And "Moonlight" director and screenwriter Barry Jenkins told the ABC that the "La La Land" cast was so "gracious" after figuring out a mistake had been made in the best picture announcement.
Jimmy Kimmel, meanwhile, told ABC that Warren Beatty's card did in fact say "Emma Stone Best Actress" on it. When pressed on why Beatty didn't ask for help if he had the wrong card, Kimmel quipped, "He's [Beatty] had so much sex in his life he can't think of things like that."
Fox News' Blanche Johnson and Rebekah Sager contributed to this report.