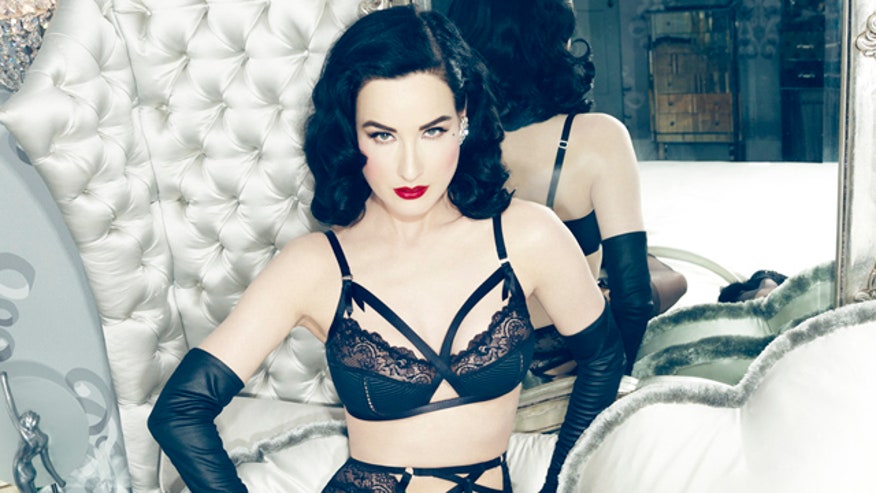 Some celebrities aren't afraid to bare (nearly) all — even if that means showing off what's underneath their clothes and selling it to the masses.
Several recognizable names are adding lingerie designer to their growing resumes and it's making fans do a double take, especially in time for Valentine's Day. While the concept isn't new, some have managed to transform it into a thriving business for fans yearning to look and feel just like their favorite stars day or night.
COLLEGE LINGERIE STARTUPS AIM TO TAKE ON VICTORIA'S SECRET
And some of these famous faces are doing more than just slapping their names onto any line created by a seemingly unknown designer — they're also adding a personal touch to their collections, too.
DITA VON TEESE ON BUYING LINGERIE FOR YOUR VALENTINE
Whether it's showcasing their love for old school glamour or experimenting with runway-ready fabrics in an array of sizes, these are the current celebrities making their mark in the fashion world with sizzling lingerie:
Dita Von Teese
Burlesque star Dita Von Teese got her first job at a department store fitting bras, so it would only make sense that the 44-year-old would launch a collection of her own. The pieces from Von Teese's international lingerie line pay tribute to her journey as one of the most famous modern-day pinups. "I was inspired by retro glamour, but I designed the collection in a way which makes it become very wearable, modern and functional in everyday life," explained Von Teese. "That's really been my aim all the long; not to create lingerie that you just put on for someone, or something for a special event, but really to wear in everyday life and look good under your clothes."
Rosie Huntington-Whiteley
British model-turned-actress Rosie Huntington-Whiteley teamed up with retailor Marks & Spencer in 2012 to launch her own lingerie collection, named Rosie for Autograph. The line was described as being created specifically for comfort and practicality, featuring a smoothing effect on the silhouette. Several of the 29-year-old's recently styles are delicate and sheer, helping to showcase camera-ready curves.
Elle Macpherson
Australian model Elle Macpherson previously had a 25-year licensing deal to create Elle Macpherson Intimates, but later launched her own company, Elle Macpherson Body, in 2016. It's inspired by her teenage stepdaughters, who only shopped at Victoria's Secret due to reported lack of variety. "I wanted to create a cool, sexy alternative for young girls," said Macpherson.
Heidi Klum
German model Heidi Klum signed with New Zealand-based company Bendon in 2014 to launch Heidi Klum Intimates in 2015, which replaced Macpherson's lingerie collection. "I've seen a lot of lingerie in the past 20 years, probably more than anyone," explained the 43-year-old. "Most women put on a bra in the morning and take it off at night. Sometimes I have like 10 or 15 of them on a day. I've learned so much in the years that I've been modeling lingerie, so I don't come completely out of left field in terms of knowing about the product. It's not like I'm an athlete and all of a sudden I'm going into the lingerie industry."
Ashley Graham
Ashley Graham made history in 2016 when she was the first plus-size model on the cover of Sports Illustrated's Swimsuit issue. But back in 2013, the 28-year-old Nebraska native collaborated with Canadian brand Addition Elle to launch her own line of "seductive, size-conscious" lingerie. "I drew on my experiences as a plus size model to create lingerie pieces that work on the body and are as comfortable and supportive to wear as they are beautiful," said Graham. "My goal was to create a luxurious collection which could flatter women of all sizes and ages, bringing out their inner sexy goddess as beauty comes from within and sexy is a state of mind."
Carmen Electra
"Baywatch" star Carmen Electra kicked off 2017 by rolling out a collection of her own, titled "With Love From Carmen," which consists of nylons, homewear, swim, and yes, lingerie. The site describes the 44-year-old actress/model's ensembles as being "made of soft and smooth fabrics, designed to fit every curve of your body." To create the line, the American bombshell teamed up JBS Textile Group in Denmark. "Really excited that my lingerie line with @jps_underwear launched today in #scandinavia I'm also excited to share the rest of my collection with the rest of the world," she captioned in an Instagram post. "Everything from sexy to comfy or playful and edgier designs for every woman." Electra's rep told Fox News that the line is only available in Europe at this time, but is expected to debut in the U.S. soon.
CARMEN ELECTRA TALKS 'BAYWATCH' SWIMSUITS
Stephanie Seymour
Just like Electra, American supermodel Stephanie Seymour released her own vintage-lingerie line, Raven & Sparrow, which focuses more on dressing up for bedtime. "My forte is more in nightgowns and robes and pajamas," said the 48-year-old. "It's something that's sort of a ritual for me." It's been reported that everything is primarily made by hand and fit by Seymour herself, which could explain the hefty price tag, which ranges from $500-$1,000. Seymour also adds that she's more interested in practically, less on seduction. "I think, for me, what is really sexy is modesty," she said. "Being a mother, I can't wear lingerie that's too skimpy."
Naomi Campbell
In 2015, Naomi Campbell teamed up with Italian undergarments company Yamamay for a limited edition collection, called "I Am Naomi Campbell," which was her first foray into lingerie design. Along with Yamamay, the 46-year-old British supermodel helped produced the pieces, creating sets in glamorous, yet familiar shades of black, red, and lavender, along with delicate embellishments and lace. The designs also range from cleavage-enhancing bras to backside-sweeping kimonos, which can still be found on Yamamay's site.