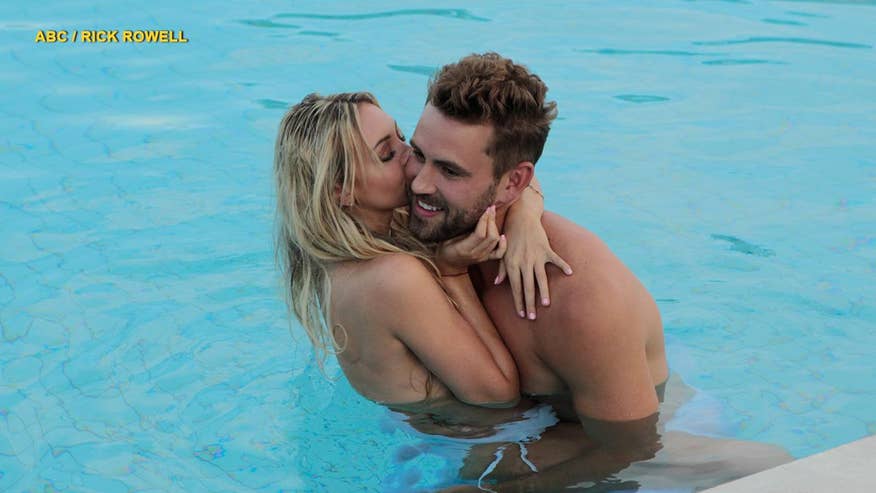 TV's "The Bachelor" has always been sexy, but this season seems to be breaking all the boundaries as it's a non-stop raunch-fest.
In only three episodes of edition 21, viewers have seen plenty of girls gone wild as they vie for the love of Nick Viall, a 36-year-old software sales executive from Milwaukee.
And their behavior has disgusted some critics, including entertainment reporter Ross Mathews, who said on the Jan. 16 episode of the nationally syndicated Fox show "Hollywood Today Live," "We … need to talk about the level of sexiness this season … You know I'm not a prude … But this show has just kind of gotten a little grody this season for me. I have a hard time watching it and not judging."
Katie Yoder of the conservative-leaning media watchdog group the Media Research Center agreed, telling FOX411 "The Bachelor" has often seemed naughty but, Viall's edition has been "one of the most risqué seasons so far. This season, in particular, 'The Bachelor' is sending the message that entertainment is based on sex."
Most of the criticism has hit competitor Corinne Olympios, 24, who, in episode two, stripped topless and embraced Viall in a pool on their first date.
On episode three, she went to go visit Viall while naked under a trench coat. She then sprayed whipped cream on her cleavage — and Viall obediently licked it off.
Despite barely knowing him, Olympios plotted on camera that she and Viall should "explore each other sexually."
Yoder said, "It's very disturbing. It's kind of setting the example that women's value depends solely on their sexiness. Instead of being entertaining, it's heartbreaking."
During episode three, Viall and Olympios straddled each other in a moon bounce.
After observing his sleazy moment with the blonde, rival Vanessa Grimaldi, 29, raged to him, "Are you looking for a wife or are you looking for someone to f--k around with?"
She might well ask because in another awkward situation for Viall, he had to tell the women he'd eliminated Liz, who turned out to be an old flame he'd had a one-night stand with during a wedding party. Viall told the remaining stunned competitors, "We had sex."
All the girls have worn barely-there bikinis and Brittany Farrar flaunted her body in a tiny Eve costume.
"A lot of the women this year—it's not just Corinne—are basing their worth on sexuality," Yoder said. "It's sad. 'The Bachelor' claims to be about finding true love … It should not be based on kind of showing a sort of soft core porn to audiences."
Yoder insisted it doesn't have to be this way, recalling that season 17, starring Sean Lowe, was much different as he fell for Catherine Giudici, whom he later married. "They were a very wholesome couple. They practiced abstinence. They were both very Christian … and audiences loved them."
This salacious season also seems too much to former "The Bachelor" season 14 and "The Bachelorette" season six star Ali Fedotowsky, 32, who blasted the latest contestants on her "All Things Ali Luvs" blog.
Fedotowsky wrote, "Overall, I am pretty disappointed with how some of the girls are handling themselves. In general there is just too much focus on sexuality this season already."
"As a mom, I sat there and watched the show thinking, 'I never want my daughter to think she has to behave this way to find a good man,'" wrote Fedotowsky, who had a baby in July with her fiancé Kevin Manno whom she did not meet on the show.
While all "The Bachelor" seasons have been sexy, some think this one is pushing the envelope because Viall has appeared in the franchise before. He got rejected on both the 10th and 11th seasons of "The Bachelorette" and also showed up on season three of "Bachelor in Paradise."
Entertainment host Mathews said, "I'm not sure I'm rooting for Nick. I'm going to be honest. I don't like 'The Bachelor' as someone who's been on before because it's like inside baseball. They [the women] all know the rules of it. They all have a strategy which is an extra layer of grody."
Meanwhile, small business owner Olympios, who has made the most waves, addressed the haters on Instagram, writing, "I was confident and I was me. Yes I seemed a bit aggressive … but I've been through a lot in my life and I did not want any time wasted ..."
ABC had no comment on the season's tone.
"The Bachelor" airs Monday nights on ABC.