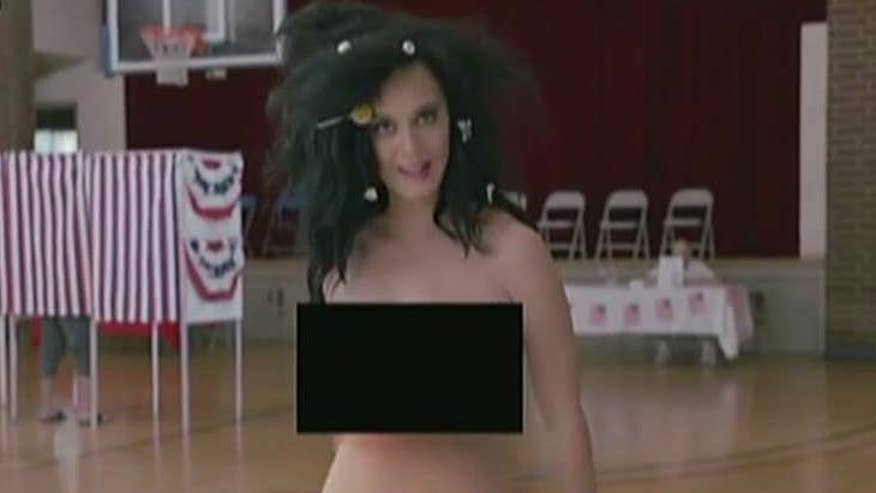 In 2008, professors at Northwestern University and the University of Maryland published a study that found Oprah Winfrey's endorsement of Barack Obama netted the President over 1 million votes when taking into account her endorsement's effect on financial contributors and voter turnout.
So do Hillary Clinton or Donald Trump have an Oprah in 2016?
Larry Sabato, director of the University of Virginia's Center for Politics, told FOX411 no one celeb is making such a dramatic impact in 2016.
Katy Perry strips down in appeal to voters
"I don't believe there is anyone in Hollywood or the entertainment industry who could produce a large number of votes for either Clinton or Trump. Now, maybe some celebrities can get more millennials out to vote, since they lag in turnout. But that's a very different thing."
Rosie O'Donnell, Bryan Cranston, Jon Stewart and Samuel L. Jackson are just a few celebs that have claimed they will leave the country if Trump is elected. Katy Perry filmed a nearly-nude video encouraging stars to vote, and she has endorsed Clinton. Meanwhile, Demi Lovato, Lena Dunham and Justin Timberlake are also supporting the Democratic candidate. And Stephen Baldwin, Willie Robertson, Jon Voight and Kristie Alley have thrown their support behind Trump.
10 stars who are moving to Canada if Donald Trump wins
Democratic strategist Joe Trippi said a celebrity can help candidates reach different audiences.

"Often a campaign's biggest problem in getting its message out is reaching people who are not paying attention," he said. "Sure there are people watching cable news every day and paying near total attention to the Presidential campaign, but there are also plenty of people who shun political news or are more focused on other things. A celebrity can make a big difference in reaching people who don't pay much attention to politics or don't spend a lot of time watching the news."
However, Pat Caddell, former pollster for President Jimmy Carter and Fox News Contributor, believes celebrity endorsements don't actually pay off for the candidates, and in some cases they hurt the stars.
Mike Rowe won't join Hollywood types encouraging people to vote
"No…it doesn't matter. It does get a lot of attention," he said. "Some people have really ticked off their fans once they cross over into something."
These past few months celebrities have been extremely vocal, especially during and after the debates. "Saturday Night Live" has poked fun at the debates as Kate McKinnon plays Clinton and Alec Baldwin transforms into Trump.
Sabato said although people may feel strongly about a particular celebrity, they may not care what that star has to say about politics.
Baldwin brothers in family feud of Donald Trump
"No doubt there are some people influenced by their favorite celebrities... but it's hard to believe that many voters would simply take a celebrity's word to make their choice," he explained. "But endorsements generally don't move gobs of voters. Instead they may validate the choices people have already made."
So in the end, Cranston's threat to leave the country if Trump is elected and Perry's birthday suit salute to Clinton may be fun to witness but have little effect on how regular Americans make their choices.
You can follow Blanche Johnson on Twitter @blancheFOXLA.