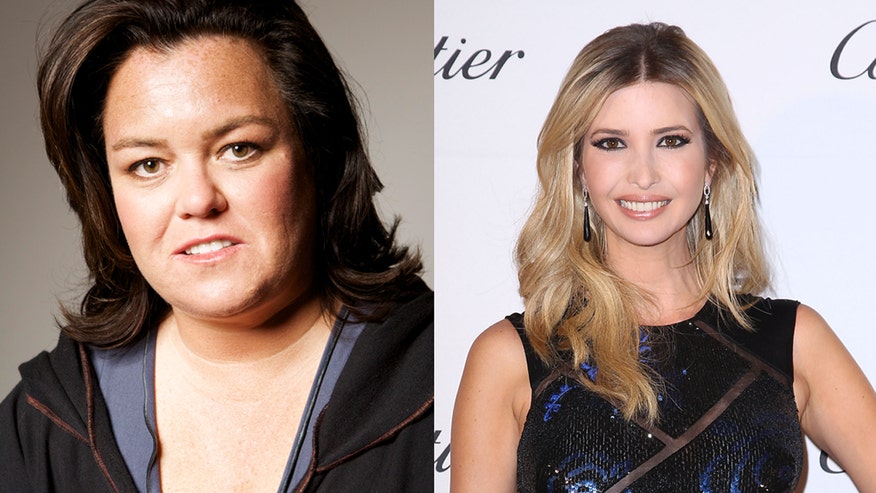 Rosie O'Donnell says she met the daughter of her tormentor-in-chief, Donald Trump, Wednesday night in Manhattan.
"@IvankaTrump in a city of 8 million – we meet face 2 face – i thank u 4 listening – mother 2 mother – on this new years week – my best 2 u," O'Donnell said on Twitter, referring to the Jewish New Year.
The apparently accidental run-in took place at Nobu on 57th Street at 9 p.m., O'Donnell claimed.
Ivanka Trump has not confirmed the meeting with her father's long-running adversary, nor has the GOP presidential candidate.
The feud between the two appears to have been sparked in 2006 when O'Donnell lashed out at the mogul for not firing a Miss USA accused of using drugs, underage drinking and sexual indiscretions.
O'Donnell, then a co-host of "The View," lashed out at Trump for not being "a self-made man" and for being a "snake oil salesman."
"[He] left the first wife — had an affair. [He] had kids both times, but he's the moral compass for 20-year-olds in America. Donald, sit and spin, my friend," she said at the time.
Trump replied by calling O'Donnell "a real loser" and warned: "Rosie will rue the words she said … I'll most likely sue her for making those false statements — and it'll be fun. Rosie's a loser. A real loser. I look forward to taking lots of money from my nice fat little Rosie."
During the late September presidential debate, Hillary Clinton referred to the war of words, saying: "This is a man who has called women pigs, slobs and dogs."
The mogul responded, "Some of it I said to somebody who has been very vicious to me, Rosie O'Donnell."
He added, "I said very tough things to her and I think everybody would agree she deserves it and nobody feels sorry for her."
That night, Sept. 26, O'Donnell emphatically tweeted: "HE WILL NEVER BE PRESIDENT."
This article originally appeared in the New York Post.