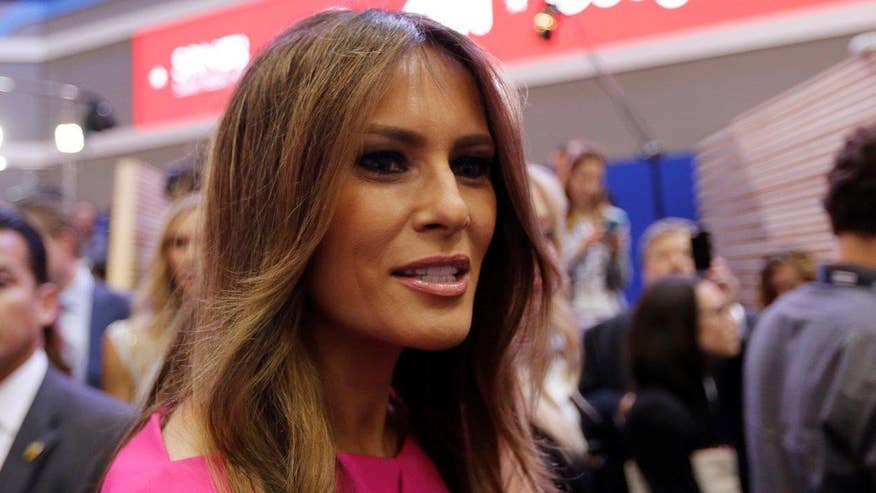 The risque British GQ photo shoot with Melania Trump (then Knauss) from January 2000 being used in a controversial political meme was re-published on the magazine's web site earlier this month.
Titled "The Future First Lady? See Melania Trump's nude photo shoot," the 15-year-old shoot features the then model in various poses in and outside of a private jet.
GQ-magazine.uk.co noticed its repurposed pics, writing: "We always knew American politics was weird, but we didn't realize it could get this weird..."
The meme making its way around the Internet was one of three ads created by the anti-Trump group Make America Awesome ahead of Tuesday's Utah caucuses.
However, Trump went after his fellow candidate Ted Cruz instead.
Lyin' Ted Cruz just used a picture of Melania from a G.Q. shoot in his ad. Be careful, Lyin' Ted, or I will spill the beans on your wife!

— Donald J. Trump (@realDonaldTrump) March 23, 2016
Cruz responded to Trump on Twitter saying, "Pic of your wife not from us. Donald, if you try to attack Heidi, you're more of a coward than I thought. #classless."
Liz Mair, Republican strategist in charge of the PAC, Make America Awesome, claimed responsibility for the ad.
.@realDonaldTrump Hi Donald, I know you're really upset about that ad, but it was Make America Awesome's, not Ted Cruz's.

— Liz Mair (@LizMair) March 23, 2016
Many on social media joined in on the latest Trump controversy.
If it comes down to 1st lady Melania Trump or Bill Clinton, I'd rather Melania. Bill can't pull this off. pic.twitter.com/IjMBG1OPrg

— FilmLadd (@FilmLadd) March 23, 2016