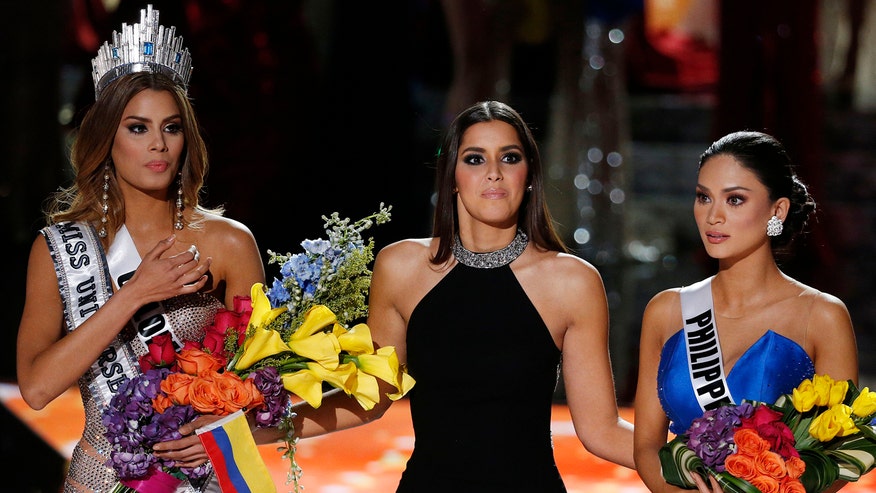 The former owner of the Miss Universe pageant, Donald Trump, is having a field day following the show's big gaffe Sunday night, where host Steve Harvey named the wrong winner.
Trump told the "Today Show" on Monday morning his solution to the issue: co-winners.
"I'll tell you what I think I'd do. I think I'd make them a co-winner. It'd be very cool," Trump said. "I would recommend that they go have a beautiful ceremony, which is good for the brand and good for Miss Universe, and do a co-winner."
Trump, the real estate tycoon and TV personality who is seeking the GOP presidential nomination, also tweeted about the night's big mistake.
"Very sad what happened last night at the Miss Universe Pageant. I sold it 6 months ago for a record price. This would never have happened!"
Harvey initially named Miss Colombia, Ariadna Gutierrez Arevalo, as the night's big winner, relegating the remaining contestant, Miss Philippines, Pia Alonzo Wurzbach, to the second runner-up spot.
But after Arevalo received the crown and a bouquet of flowers, Harvey announced he had made an error and that Wurzbach was in fact the winner.
Harvey, who was hosting the contest for the first time, held up the card announcing the order of finishers for Fox network cameras to see up close afterward. He said he re-read the card and noticed it said "first runner-up" next to the Colombia contestant's name before he asked producers if he had made a mistake. Talking with reporters afterward, Harvey and an executive for pageant owner WME-IMG called it human error.
"Nobody feels worse about this than me," Harvey said.