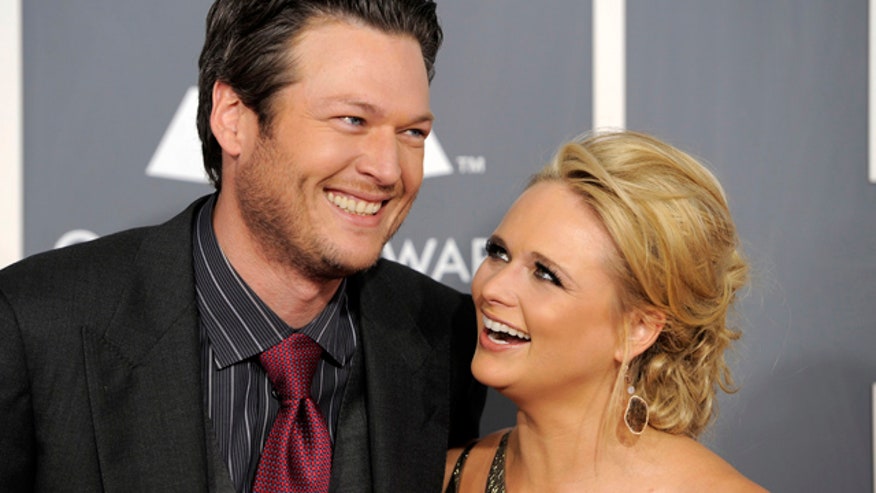 Blake Shelton admitted this year's CMA Awards are going to be "awkward." The "Voice" coach and his ex-wife Miranda Lambert will walk the red carpet solo for the first time in eight years.
Bumping into his ex at country music's biggest night isn't the only uncomfortable moment Shelton is prepared for; the "Sangria" singer is ready for CMA cohost Brad Paisley's jokes about his divorce.
"This year's gonna be awkward at the CMAs, speaking of jokes," Shelton said on "Late Night With Seth Meyers. "Because we are, it's such a family. Everybody there is friends. There's gotta be one about me and Miranda. Brad Paisley is not doing his job if he doesn't look down there and go 'Ha ha!' You have to address the elephant in the room. We've had the conversations like, 'Okay, dude. I'll sit there and let you kick me in the face a few times.' I know it's coming."
The newly single country crooner and Lambert have stayed friendly on social media and the 39-year-old is focused on his coaching gig on "The Voice." When Rihanna was recently brought on as a mentor, Shelton admitted to shamelessly flirting with the "Diamonds" singer.
"I never got the upper hand with her," Shelton admitted. "I was trying to get her to be a bit flirty, I mean, why not? I'm a perfect match for Rihanna. And so I was coming up with our couple name 'Blihanna' was one of them and 'Rake.'"
Shelton and Lambert announced their divorce on July 20 after four years of marriage.
Four4Four: Movie in big trouble after Tarantino cop comments?