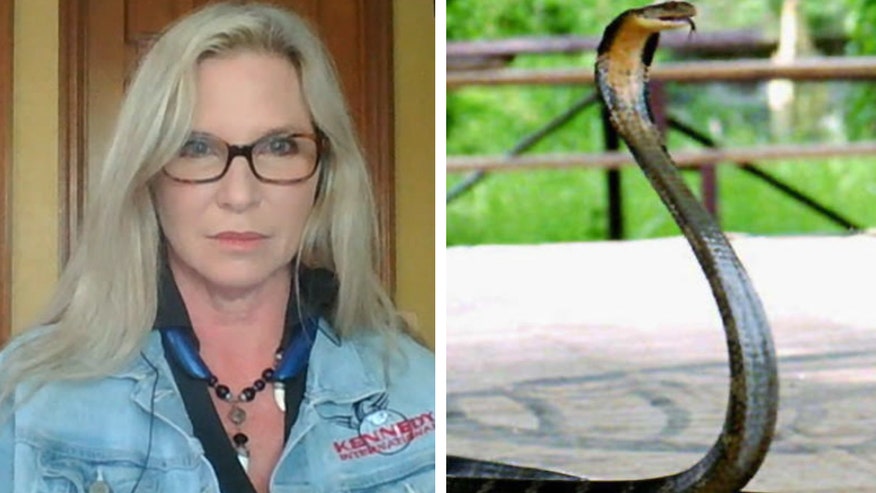 An 8-foot king cobra snake that had been missing for more than a month was found under a dryer in a garage not far from its reality TV star owner's home near Orlando.
Officials say a woman contacted Orange County Animal Services on Wednesday night after she heard hissing sounds while putting clothes in her dryer.
Valerie Kennedy, the wife of "Airplane Repo" star Mike Kennedy, told FOX411 the snake "was found last night at 11p.m. The poor thing was in pretty bad shape. His eyes are fogged over. He hasn't eaten a thing since he was captured."
They had been searching for it since Sept. 2, the day after Mike Kennedy returned home from a trip and discovered it gone.
"We are so relieved," Valerie Kennedy said. "This has been so difficult to go through as a family, and it has really taken a toll."
Kennedy said the snake made it about a half mile from the Dragon Ranch Sanctuary, where it had been kept until it escaped after a storm damaged its enclosure.
Following its escape, students at a nearby elementary school weren't allowed outside for recess.
Mike Kennedy told FOX411 in September that the snake would be in big trouble if it wasn't found.
"Winter comes along and they die," he said. "I'm not going to say it's a 100 percent, nothing is 100 percent, but chances are he can't survive if he doesn't turn up."
King Cobras, which can reach a length of 18 feet, are among the most deadly snakes in the world. The venom in a single bite can kill 20 people, or one elephant.
FoxNews.com's Diana Falzone and the AP contributed to this report.