Shakira has some of the biggest fans in the world and among them is none other than Facebook founder Mark Zuckerberg.
The Colombian singer shared a snapshot of her 10-week-old son Sasha on Wednesday.
The picture has been liked on Facebook more than 1.7 million times including by Zuckerberg and actress Zoe Saldaña.
That was the not first social interaction between the Colombian pop star and Zuckerberg, who on Monday had a "meet up" when he held a Facebook Q&A.
"Hi Mark! How do you think technology can best be used as an education tool for those living in disadvantaged communities? Shak," the singer asked on his official page.
Zuckerberg, who also answered a question from billionaire businessman Richard Branson, thanked the "Hips Don't Lie" singer for the question before answering.
"I'm very excited about personalized learning – giving everyone the ability to use technology to learn what they're most interested in and at their own pace," he started. "There are some great new schools experimenting with different personalized learning models and getting great results. I'm supporting some of those schools through my personal philanthropy, and Facebook is also helping to build open source software to power some of these tools."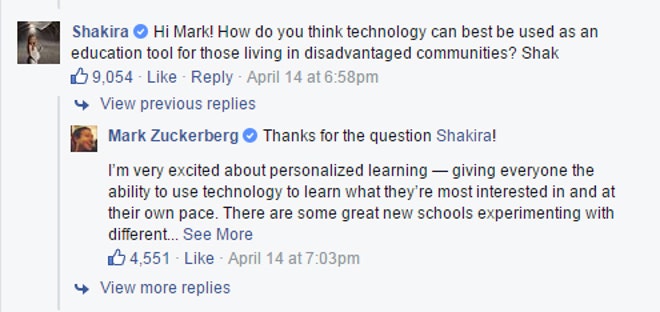 Shakira's question received more than 9,000 likes, while his reply got more than 4,500. Her Facebook page has more than 100 million likes, more than three times the number of people who follow Zuckerberg's page.
Up until last month Shakira led celebrities with the most "likes" on Facebook until Real Madrid soccer star Cristiano Ronaldo took over.
As for Branson, the British entrepreneur asked Zuckerberg what he believes the benefits to connecting the two-thirds of the world that currently doesn't have access to the Internet are.
"When we talk about connecting the world, most people talk about the clear benefits to all the people who will get Internet access and don't have it today," Zuckerberg said. "Those benefits are many: access to education, health information, jobs and so on. Many people estimate that for every billion people we connect, we'll raise more than 100 million out of poverty."
He continued: "But one thing that we often overlook in this discussion is how everyone who is already connected will benefit from having everyone online. Think about how many brilliant entrepreneurs there are out there who have great ideas and the will to change the world, but just lack basic tools to do so today. If you go by the population, almost two-thirds of these entrepreneurs don't have Internet access today. Once they get connected, we may have three times as many good ideas and amazing new services built that will benefit everyone around the world."
Like us on Facebook
Follow us on Twitter & Instagram