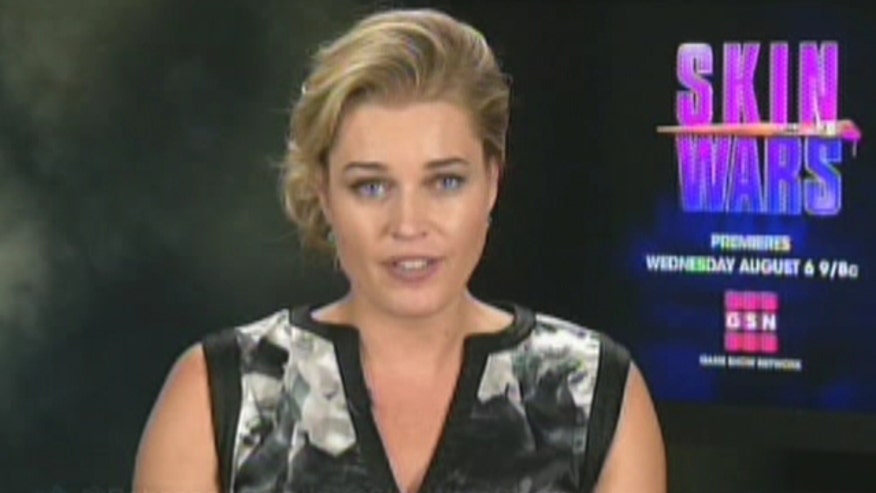 Rebecca Romijn is lending her expertise to the first-ever body painting competition show "Skin Wars" on GSN.
Romijn knows a thing or two about being painted head-to-toe: She was the first model painted for the Sports Illustrated Swimsuit issue, and she endured eight hours of makeup a day to be transformed into Mystique in the "X-Men" films.
"You sort of have to go to a zen place," Romijn told FOX411. "You have to get into some fairly awkward positions to help out the person who's painting you."
As shape-shifting mutant Mystique, Romijn was fully covered in layers of blue body paint. She said she was often brought in at midnight to begin the painting process so she could make it to the set by 9 a.m. And a side effect of all that paint? A trail of it wherever she went.
"Blue paint on everything, including every time I had to go use the loo, blue toilet seats," Romijn remembered. "Everybody knew when I had to go use the bathroom because there was a blue toilet seat."
It was reported that Jennifer Lawrence, who took over the role of Mystique in the recent "X-Men" reboot, wore a body suit because the body paint irritated her skin. Romijn shared her thoughts on the shortcut:
"Not that Jennifer Lawrence didn't do a great job, she's phenomenal. I love sharing that role with that girl. She's as cool as they come. But I do think nine hours of makeup makes you the villain you need to be to be Mystique," Romijn said.
"Skin Wars" airs on GSN Wednesday nights at 9 p.m. ET. Romijn warns viewers, there will be nudity.
"It's an art show where the canvas is the nude body so, yes, there is nudity. Whatever needs to be pixelated, we pixelate," Romijn said. "It definitely has more nudity than other shows on GSN. It has more nudity than 'Press Your Luck' or 'Sale of the Century.'"