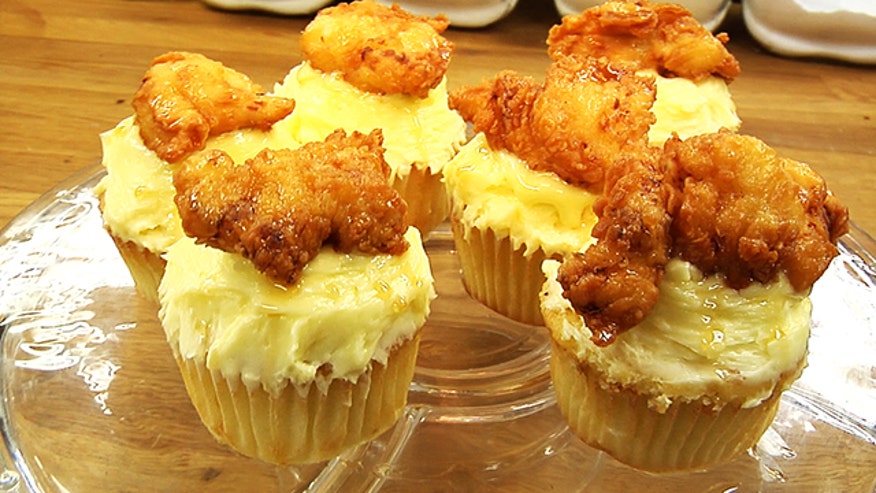 Here's everything that's happening, you guys:
Sports Illustrated model Chrissy Teigen (below) arrived at the 2014 ESPY Awards wearing a beige jumpsuit with an extremely low-cut neckline. Or maybe Teigen's neckline just begins at her bellybutton.
We're betting that you've never eaten a cupcake with a hunk of fried chicken on top, but you're going to want to after seeing Robicelli's Chicken n' Waffles Cupcake. Watch the video above to see how it's made, but maybe check your cholesterol levels first.
A Reddit user recently shared an old photo of Dwayne "The Rock" Johnson (circa the early '90s) in which he's sporting a turtleneck, a fanny pack and a pair of mom jeans. We can smell what the Rock is cooking, and it's probably a batch of snickerdoodles for the church bake sale:
A California production company is suing Seth MacFarlane, the writer and director of "Ted," for stealing their idea of a talking teddy bear. It's unclear whether this company will subsequently sue every 4-year-old across the country.
Just Jared revealed that Taylor Swift uses the name "Jenna" when she orders her drinks at Starbucks, presumably to maintain her anonymity among the two Starbucks baristas who can't recognize Taylor Swift when the see her.
After a recent lunch at the Cheesecake Factory, Britney Spears reportedly forgot to pay her $30 bill and casually walked out with her doggie bag. It was less of a "dine and dash" and more of a "dine and leisurely stroll away."
HBO is planning to bring Broadway's "All the Way" to TV, with Bryan Cranston reprising his role as President Lyndon Baines Johnson. And since it's now on premium cable, maybe LBJ will finally start a meth empire.
Scott Disick tried to recreate the rowboat scene from "The Notebook" with his wife Kourtney Kardashian, posting a photo of his attempt to Instagram. But if he really wants to be faithful to the film, he should next next kick her out of the boat because he hates her guts.
Weird Al Yankovic is trying his darnedest to stay relevant, releasing three new song parodies (and videos) just days apart. In his defense, the public needs to stay informed about the versatility of aluminum foil to the instrumentation of "Royals":
A Youtube video of a drunken Charlie Sheen began making the rounds on Tuesday, in which he's seen wandering around a Taco Bell drive-thru and showing his tattoos to customers waiting in their cars. It's also the most effective commercial for Taco Bell we've seen in years.
Former child-bride Courtney Stodden, who has somehow managed to parlay her 15 minutes of fame into a full three years of quasi-fame, modeled a lettuce bikini for PETA's Annual Congressional Veggie Dog Giveaway, which is also somehow an actual thing.
"True Blood" actress Anna Paquin debuted her new blue and purple hair on Twitter (below), likening her look to that of a mermaid. But she'd better not bring any of that mermaid crap to "True Blood," because we can't stomach any more ridiculous supernatural characters. You got that, Paquin?
— Anna Paquin (@AnnaPaquin) July 16, 2014
And finally, former "Wonder Years" actress Danica McKellar became engaged to boyfriend Scott Sveloski on Wednesday, which must come as a crushing blow to all of her male admirers, but an even crushing-er blow to young Kevin Arnold.