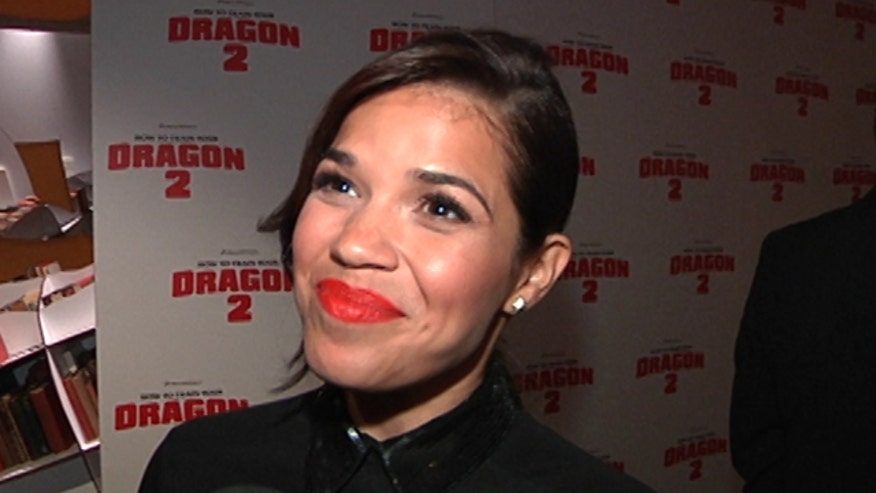 Here's what's up:
On Thursday, Lady Gaga paraded around New York City in a sheer bra-top that didn't shield anything at all from anybody's view, because Lady Gaga has seemingly run out of worthwhile ideas.
Now that Kim Kardashian's on her honeymoon (again), she's showing off her body in a teeny bikini on Instagram. Or, more accurately, she's showing off her bellybutton. But at least there's a bikini in the frame!
We're aware that "How to Train Your Dragon" was a movie for kids, but don't pretend you didn't love it too. Watch the video above to hear what America Ferrera and Kit Harington have to say about the fun-filled sequel.
Victoria's Secret supermodel Allesandra Ambrosio is also bikini-crazed, posting a World Cup-themed bikini photo to Instagram as a way of showing support for her home country of Brazil. So don't even think about looking to her beautiful female form for inspiration, French Guiana!
Leonardo DiCaprio reportedly rented the world's fifth largest private yacht to bring him around Brazil to watch the World Cup, and presumably also to search for any up-and-coming Brazilian supermodels he's yet to bed.
Award-winning actress Ruby Dee, whose credits included "A Raisin In the Sun" and "Do the Right Thing," died on Wednesday. She was 91.
Harrison Ford suffered an injury on the set of the upcoming "Star Wars" sequel when a garage door fell on his ankle, because this thing is maybe being filmed in J.J. Abrams' garage?
Just in case you were hoping to enjoy a family-friendly film with the kids this weekend, Angelina Jolie would like to inform you that parts of "Maleficent" are just metaphors for rape.
The FOX reality competition "I Wanna Marry 'Harry'" has been canceled and yanked from the summer schedule due to poor ratings. It's unclear whether FOX is still planning to go ahead with the spin-off series we just made up, called "I Wanna Lippa 'Pippa,'" in which 12 guys compete to make out with a Hoboken stripper who kinda looks like Kate Middleton's sister.
On Wednesday night's episode of "The Tonight Show," Barbara Walters said she once declined a date with Clint Eastwood. "I could have been Mrs. Clint Eastwood!" she said, before presumably remembering that no, she wouldn't, because the two of them would have been long divorced by now.
Speaking of Clint's relationships, the 84-year-old actor and director was recently photographed lazily strolling away from a Whole Foods with his new girlfriend. (Dang, Barbara Walters! That could have been you lazily strolling away from a Whole Foods!)
An Autralian pin-up model named Penny Brown has undergone plastic surgery to look more like Jessica Rabbit from 1988's "Who Framed Roger Rabbit," seemingly unaware that Mariah Carey has already beaten her to the punch.
In honor of Throwback Thursday, Bill Nye the Science Guy posted a #TBT photo of himself from high school. And c'mon, we can't be the only ones who looked at this picture and thought he was drinking straight from a can of heavy cream. (We eventually deciphered the word "soda," though.)
In honor of Blake Shelton and Miranda Lambert's third wedding anniversary, Blake fixed up an old boat so he could lure Miranda out for a day of carefree drinkin'. But if horror movies have taught us anything, that's exactly the kind of scenario that serial killers and axe murderers love.
And finally, Toblerone commissioned an artist commissioned to create a 12-foot portrait of Princes William and George made entirely of chocolate, presumably for people who think George's cheeks are so cute, they're just wanna eat them right up. Yes they do, Georgie! Yes they do! They're gonna eat those chubby cheeks right off your face!