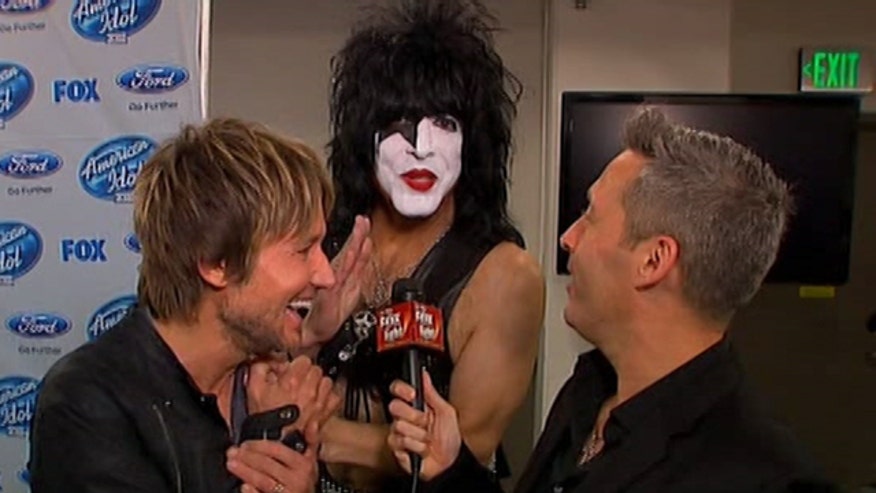 Here's what everybody's talking about:
The royal family is reportedly angry with a German tabloid magazine that published a photo of Kate Middleton's "beautiful bum," taken after some wind blew the Duchess' skirt up. But hey, blame the wind, not the magazine. People wanna see this kind of stuff, right?
If you're a fan of "American Idol," you have to see what happened backstage after last week's finale: While Michael Tammero was chatting with Keith Urban, Paul Stanley of KISS interrupted the interview to get chummy with the judge. Watch it all go down in the video above.
LeAnn Rimes decided publish a photo of her own butt this weekend, albeit on purpose. (And the royals seemingly have no problems with this.)
Models in training @SInow sequel #happymemorialdayboys #wetryhard #having fun pic.twitter.com/VRLuC40v9g

— LeAnn Rimes Cibrian (@leannrimes) May 26, 2014
Kim Kardashian and Kanye West married in Italy on Saturday, withe Kanye giving a romantic speech during the ceremony. Then, of course, he made another speech later on, where he rambled on about "public warfare," the pitfalls of being a celebrity, and how the Kardashians are an "industry." And of course, Kim Kardashian instagrammed it.
Oh, and Rob Kardashian reportedly left the festivities early because he didn't want be in any pictures after the ceremony.
For the 36th and final time, actor Jim Nabors belted out "Back Home Again in Indiana" at the Indianapolis 500. Perhaps he finally remembered that he wasn't born, nor doesn't live, in Indiana:
Former child actor Macaulay Culkin and his band, The Pizza Underground, got booed off stage during a performance in England. Apparently, the Brits don't appreciate pizza-themed experimental rock music like the rest of the world.
Floyd Mayweather Jr. and rapper T.I. got into a fistfight at a Fatburger in Las Vegas over the weekend. So if you can't afford tickets to a Mayweather fight, just hit up a Fatburger and wait.
Christie Brinkley recently told Social Life Magazine that she "can't live without" her hair extensions, because evidently, she thinks she would look wretched with slightly shorter hair.
David Schwimmer helped police solve a violent stabbing in his New York City neighborhood after offering up his home's personal surveillance footage, which just so happened to catch the altercation. The cops eventually arrested Robert Rainey of Newark, but we think they should take a second look at a shady Greenwich Village character named "Russ":
E! News has confirmed that Christina Ricci is expecting her first child, but really, anybody who's seen her lately could have probably told you as much.
Miranda Lambert reportedly thanked Carrie Underwood for singing on her "Something Bad" single by giving Underwood a motorcycle. This is either the nicest thing anyone has ever done for a friend, or the most evil, as Underwood doesn't know how to drive the darn thing yet:
Well, it's not every day @mirandalambert buys you a motorcycle! Next stop, motorcycle driving lessons!!! #RansTheBest pic.twitter.com/KzoRe9ufgk

— Carrie Underwood (@carrieunderwood) May 25, 2014
One Direction singer Harry Styles pantsed British television personality Piers Morgan during a charity soccer game on Monday, because come on, that guy really looks like he could use a pantsing. Just admit it.
Historians at Ancenstry.com are reporting that "Malificient" actress Elle Fanning is the 22nd great-granddaughter of King Edward III, making her a distant cousin of the current royals. "Great, now I have to send them a Christmas card," she's probably thinking right about now.
Alright, Jessica Simpson: We understand that you're been dieting and exercising to lose those extra pounds, but these latest Instagram photos are an indication that you're slowly wasting away:
"Modern Family" actress Sofia Vergara and her fiance Nick Loeb have split up for a second time. Vergara, 41, announced the news herself via Twitter, as opposed to merely shouting it from the rooftops in her moderate speaking voice, which we all surely would've heard from miles around.
And finally, Starbucks will begin serving carbonated-to-order sodas sometime this summer, probably for much more than you can get them at the soda fountain in the gas station next door.