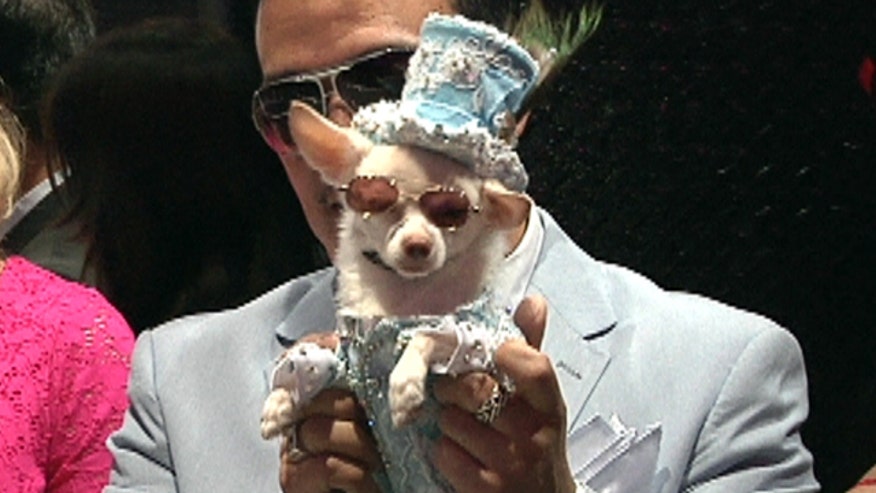 NEW YORK – Move aside supermodels, the runway belongs to the dogs now-- at least for one night-- in New York City.
The annual Paws for Style Charity event, benefiting the Humane Society, had a star-studded turnout on Tuesday night. FOX411 spoke to some of the pet-loving celebs and found out that some treat their furry friends better than they treat people.
"Real Housewives of New Jersey's" Melissa Gorga dished that she gets particularly generous with her pets around the holidays.
"Christmas is as extravagant as it gets; bones, presents, the T-bone from the steak," she said.
Meanwhile, fellow "Housewives" cast member Dina Manzo said she doesn't wait for a holiday to spoil her special-needs dog.
"She doesn't have any arms," Manzo explained. "She gets whatever she wants. She's treated like a queen 24/7."
But when it came to spoiling her pet, event organizer, Animal Fair Magazine's Wendy Diamond, took the cake-- the wedding cake to exact.
"My dog had the most expensive pet wedding in history, and she got a Guinness World Record for it," Diamond revealed. "So Baby is a Guinness World Record bride. It was all for charity so we raised a lot of money, and we actually created a wing at the Humane Society from that event."
Fox News.com Reporter and FOX411 host Diana Falzone covers celebrity news and interviews some of today's top celebrities and newsmakers. You can follow her on Twitter @dianafalzone.