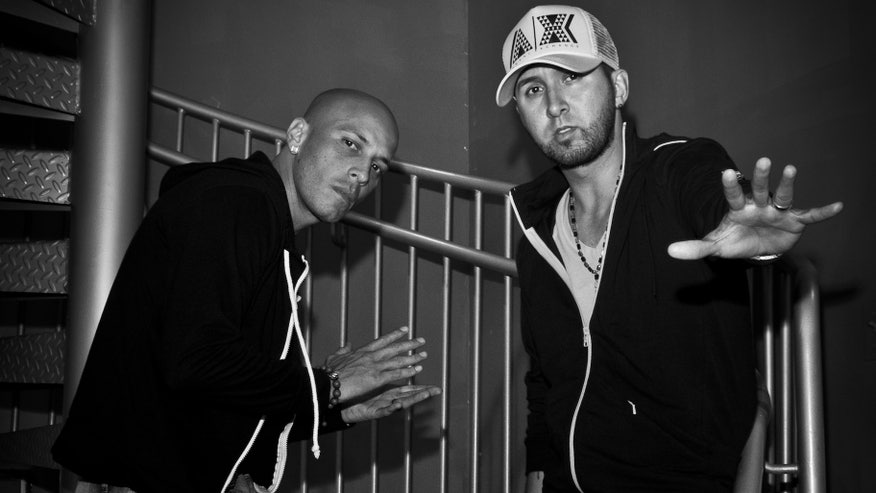 With their latest single, "Donde Estes Llegare," Alexis y Fido are showing the softer side of "perreo" with a more romantic theme than fans are used to.
Fox News Latino sat down with "Los Reyes Del Perreo," who just released their fourth single off their 2011 release "Perreologia" onto the airwaves and are gearing up to unveil the companion video later this month.
The lyrics of the song talk about a seemingly unattainable woman. Alexis and Fido, whose real names are Raúl Alexis Ortíz and Joel Martínez, take turns singing about what she means to them, and how far they are willing to go in order to be with her.
"We worked on the song together but I brought the concept," said Martínez. "Between the both of us we came up with the lyrics which are romantic, but the sound has reggaetón and pop mixed in."
"The beat is contagious and people love it!" he added.
Ortíz and Martínez, said the music video will transport viewers all over the world with scenes from the desert, the beach, a river, and mountains.
They stressed the importance if bringing something completely different to the table from their third single, "Energía."
"I'm sure fans are going to fall in love with the video," Ortíz told Fox News Latino excitedly.
"Our goal was to feature varied scenes from nature so as to remind people about the beauty in the world. We shot in various locations that are meant to impact the viewer in a very different way than with, 'Energía.'"
While Ortíz and Martínez continue to travel the world promoting "Perreologia," they are already working on their follow-up album. Despite collaborating with talent such as Pitbull, Daddy Yankee, and Wisin & Yanel, the duo aspires to work with diverse artists.
"As a group we have a lot of dreams for the coming year and they include working with a top American and Hispanic talent," said Ortíz. "We would love to work with Shakira, Juan Luis Guerra, or Juanes on the Hispanic side."
"We are big fans of Lil Wayne, Birdman, and Nicki Minaj and would welcome the opportunity to work with one of them," he added.
Rosy Cordero is the Owner/Editor of AccidentalSexiness.com. She is based out of Miami, Fla. You can reach her via Twitter: @asexiness
Follow us on twitter.com/foxnewslatino
Like us at facebook.com/foxnewslatino