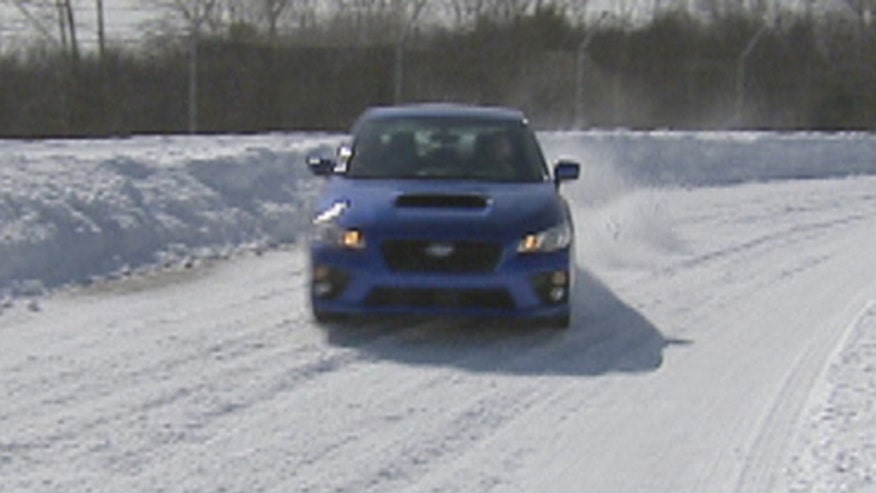 Subaru should be embarrassed.
It sells so many cars these days that it can't even keep up with demand.
Granted, its factories produce a lot less vehicles than the biggest players in the industry -- around 425,000 for the U.S. in 2013 -- but pretty much every one of them has customers clamoring for it before it's out the factory door.
This is largely due to the fact that it boasts not just one, but two fervent groups of fans.
Talk about greedy.
First, there's the stereotypical Subaru crowd that loves the great outdoors so much it can't bear the thought of stomping all over it in a traditional SUV. Instead, it treads around (relatively) lightly in Outbacks, Foresters and Crosstrek XVs. This characterization may seem overdone, but is actually so on-the-nose that the only large vehicle Subaru ever tried to make, the now discontinued Tribeca, is also the company's only recent failure.
But then there is also have the "whatever, yo," energy drink-chugging, flat-bill cap and hoodie-wearing crew that loves nothing more than tearing through the forest leaving a giant plume of Mother Nature in its wake; or at least watching people like pro rally drivers Travis Pastrana and David Higgins do that for their amusement.
They represent a much smaller group, however, and coalesce around just one model in the lineup: the WRX. To them, the turbocharged, all-wheel-drive compact is practically a religious icon; the true soul of Subaru.
And it's all-new for 2015.
As before, "Rex" is based on the Impreza compact, but no longer carries that car's model name as a prefix. It is now simply known as the WRX.
Nevertheless, it retains all of its donor car's goodness while adding plenty of its own. This includes a chiseled front fascia, a wide-body kit with vents behind the front wheels, deep side skirts, a subtle trunk lid spoiler, and a rear splitter impaled with quad exhaust pipes.
It also has a spacious cabin with incredible outward visibility afforded by roof pillars so thin you'll think it's the 1980's, and a low beltline that puts the top of the dash down low by your chest. You'd have to drive an open cockpit car to do any better.
This one has a roof, and the interior design remains as neat, tidy and unadventurous as it is in the Impreza, but gets some snazzy faux-carbon fiber trim, big-bolster racing seats with red stitching, and a small-diameter, leather-wrapped flat-bottom steering wheel for WRX duty.
A touch-screen navigation system is available, but three knobs for the climate control keep things refreshingly simple on the center stack, while a configurable display on top of the dash provides a wealth of information for those who want it -- including the amount of turbo boost being generated by the 2.0-liter flat-four-cylinder engine under the big scoop on the hood. It's smaller than the outgoing WRX's 2.5-liter, but more potent with 268 hp and 258 lb-ft of torque on tap, delivered to you at lower revs.
For the first time, the standard WRX is fitted with a six-speed manual transmission (a number previously available only in the top of the line WRX STi) that features tight throws and high performance carbon synchronizers on first and second gear for durability. Clearly the WRX is for boy racers only.
Or not.
Also new to the WRX is an optional "gearless" CVT automatic, a type of transmission generally considered blasphemous in a sporty car. Subaru says this one has been tuned for performance, and it offers modes that emulate six and eight-speeds to prove that point, but is clearly geared more toward the casual commuter than the autocross crowd.
In any event, my pre-production test car came with a stick shift nestled next to an increasingly rare handbrake on the center tunnel, and a set of Dunlop snow tires, so I was for once happy about this year's never ending winter. At a starting price of $27,090, it's pretty much in a class by itself. The similarly priced Mitsubishi Lancer Ralliart is too old and slow to be a true contender anymore.
Literally the first thing I did with the WRX was drive directly into an ice storm, where it was unflappable, endowing me with a sensation of fearlessness despite having to contend with all of the SUVs on all-season rubber slipping and sliding all over the road around me. The latest version of Subaru's Symmetrical All-Wheel-Drive is the smartest yet, only needing to call on its effective stability control system for help in the worst situations, while a front brake-based torque-vectoring system puts the power down in the turns regardless of how slick they are.
In true Subaru fashion, there's a bit more road noise than you'd like, but the song from the boxer engine seeping in makes up for it, as does the speed. Figure five and a half seconds to 60 mph. Maybe a few ticks more on snow, but not much. A chassis and suspension that are each much stiffer than before help out with the handling in all conditions, and work well together to provide a much more comfortable ride than you'd expect during normal driving.
Still, in a WRX, the real fun begins where the public road ends, and even though track season seems further away than usual in the Northeast this year, I took the WRX on a trip to the Monticello Motor Club outside New York City.
There, they'd plowed a beautiful white-top track out of the several feet of snow blanketing the venue, and the WRX was practically giddy when we pulled out onto it.
I'm relatively unskilled at this sort of driving, but it didn't matter. The WRX has quick, instinctive steering, is nicely-balanced in the curves, and despite a whiff of turbo lag, a responsive throttle and perfectly-spaced pedals that make it easy to drive sideways…intentionally.
I had so much fun that I may have overstayed my welcome. By the time I was done, there wasn't much snow left on the track, at all.
Greed?
Yes, and I'm not embarrassed, this car's too good.
----------
2015 Subaru WRX
Base Price: $27,090
Type: Four-door, five-passenger sedan
Engine: 2.0-liter turbocharged flat-4-cylinder
Power: 268 hp, 258 lb-ft torque
Transmission: 6-speed manual
MPG: 21 city, 28 hwy
Gary Gastelu is FoxNews.com's Automotive Editor.