Venezuela clashes leave one man dead, dozens arrested in Caracas
By ,
Published April 07, 2017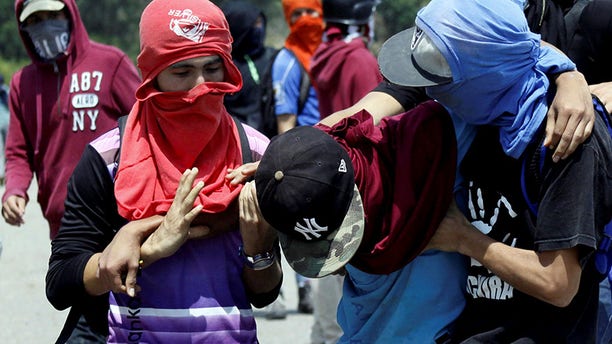 A 19-year-old man died after being shot in the chest during violent riots in Venezuela's capital Thursday evening.
According to published reports, the bullet that killed Jairo Ortiz came from National Guard troops as they were trying to clear up a road blockade by protesters.
The violent clashes came as the country's fragmented opposition gained new impetus against a socialist government it blames for the country's social and economic collapse.
VENEZUELA'S SOCIALIST LEADERS SEIZE BAKERIES IN 'BREAD WAR'
The demonstrations were sparked by Supreme Court action last week to assume control of the country's opposition-led congress in what demonstrators said was a lurch toward dictatorship.
While the widely condemned decision was quickly overturned, the opposition has stepped up street protests against President Nicolas Maduro, despite such demonstrations having achieved little in the past.
Thousands of people blocked a main Caracas highway on Thursday, chanting "Out with Maduro!" and "No more dictatorship!" and vowed to march to the office of the state ombudsman, the government's principal human rights advocate.
VENEZUELA OPPOSITION CALLS ON MILITARY TO INTERVENE AFTER 'COUP' RULING
"The human rights advocate has to stop being the Socialist Party advocate!" opposition leader Henrique Capriles said in an online broadcast as he marched wearing a hat in the Venezuelan colors of yellow, red, and blue.
Protesters threw stones and petrol bombs while security officials fired tear gas and dispersed the crowds by mid-afternoon. The opposition called for another nationwide march on Saturday.
Maduro critics are demanding the removal of seven Supreme Court justices who signed last week's decision. They accuse the government of stalling elections for state governors, which polls suggest would not go well for the ruling Socialists.
TRUMP CONFRONTS VENEZUELA'S MADURO BY CALLING JAILED NEMESIS 'POLITICAL PRISONER'
State ombudsman Tarek Saab on Thursday evening shot down a censure measure against the Supreme Court justices that had been approved by the opposition-controlled assembly this week, saying the controversial ruling had been "clarified" by the reversal of the decision.
Maduro said in a televised address that authorities had detained 30 people involved in the demonstration.
Reuters contributed to this report.
https://www.foxnews.com/world/venezuela-clashes-leave-one-man-dead-dozens-arrested-in-caracas