Vatican Quest Draws Anger For Mocking Pope Benedict XVI As Pimp
By ,
Published December 18, 2016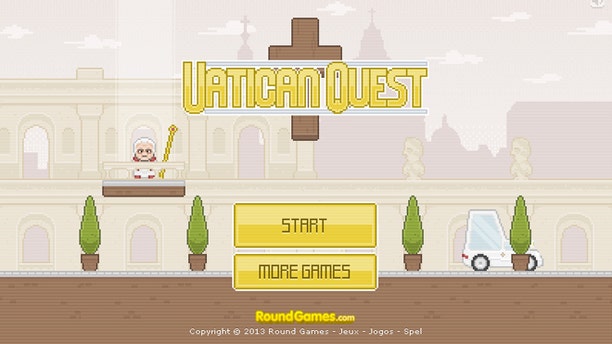 An online game takes the idea of child's play to a questionable new level.
Vatican Quest, which has a character resembling Pope Benedict XIV snagging children and delivering them to pedophile priests while being chased my camera-wielding members of the media, is under fire in Spain by critics who claim it makes fun of both sexual abuse victims and the Catholic Church.
The Spanish human rights group Maslibres.org recently launched an online petition demanding that the website RoundGames.org remove the video game from its free website.
"Reducing to caricature the drama of child sexual abuse, and then profiting from it, offends the victims and their families, said Miguel Vidal, spokesman for Maslibres.org, according to The New York Daily News. "Representing the pope as a pimp and the cardinals as pedophiles is an offense to Catholics.&quot
The group wants the game's Spanish distributor of the game, Minijuegos.com, to ban it from PCs and smartphones.
Resembling a game from an old Nintendo platform, Vatican Quest has Pope Benedict XVI snatching up young boys and taking them to cardinals hiding in doorways. The pope character must avoid being caught by journalists and photographers, investigating abuse allegations.
If the pope is caught the game ends.
During his time as the head of the global Catholic Church, Pope Benedict XVI faced multiple controversies over sexual abuse cases in dioceses throughout the world and there was speculation that his resignation was related to the accusations.
Despite the accusations, Pope Benedict XVI was the first pope to openly apologize to victims and called for zero tolerance against sexual abuse by priests.
Last week Pope Francis called on the Catholic Church to "act decisively" to root out sexual abuse and ensure the perpetrators are punished.
In a statement released by the Vatican, Pope Francis told Archbishop Gerhard Ludwig Mueller, the head of the Vatican department that deals with sexual abuse, to "act with determination" in those cases.
Follow us on twitter.com/foxnewslatino
Like us at facebook.com/foxnewslatino
https://www.foxnews.com/world/vatican-quest-draws-anger-for-mocking-pope-benedict-xvi-as-pimp