St. Petersburg attack aftermath: Explosive device defused, 3 arrested
By ,
Published April 06, 2017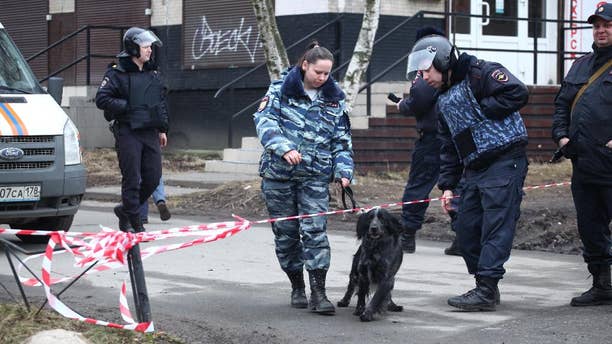 Russian security agents on Thursday arrested three people suspected of links to a suicide bomber accused of attacking St. Petersburg's subway and deactivated an explosive device in the apartment where the suspects lived.
Meanwhile, a loud bang nearby -- which witnesses initially called an explosion -- was revealed to be a collapse of paneling at an apartment building. Falling brickwork damaged a car but nobody was hurt, Reuters reported.
MOTHER DIES, DAUGHTER SURVIVES IN ST. PETERSBURG SUBWAY BLAST
The suspects arrested Thursday were residents of the former Soviet Central Asia region -- like the subway bomber, 22-year-old Akbarzhon Dzhalilov, a native of Kyrgyzstan, according to Russia's Investigative Committee.
The impoverished, predominantly Muslim countries in Central Asia are seen as fertile ground for Islamic extremists, and thousands of their citizens are believed to have joined the Islamic State terror group in Syria and Iraq.
RUSSIAN COURT MULLS JEHOVAH'S WITNESSES BAN
No one has claimed responsibility for Monday's subway bombing, but Russian trains and planes long have been targeted by bombings by Islamist militants.
The committee, the nation's top criminal investigation agency, said investigators also found objects that would help advance the probe during a search of the home on St. Petersburg's eastern outskirts.
The Federal Security Service, the main KGB successor agency, said in a statement that its experts defused a self-made explosive device at the apartment. The Russian news reports said three people were arrested.
Materials used in the explosivs found Thursday matched those used by militants in Syria, according to a leading St. Petersburg news portal, Fontanka.ru.
Investigators were checking information that Dzhalilov may have trained with the Islamic State terror group in Syria, an unidentified law enforcement official told the Tass news agency.
Russian President Vladimir Putin has said between 5,000 and 7,000 people from Russia and other former Soviet republics were fighting alongside the Islamic State group and other militants in Syria. He has named the ISIS threat as one of the reasons behind Russia's military campaign in Syria in support of Syrian President Bashar Assad.
Thursday's arrests came a day after law enforcement agencies detained eight Central Asian migrants suspected of acting as recruiters for ISIS and Al Qaeda's Syria branch. The investigators found no immediate evidence of their involvement in the subway attack.
One victim of Monday's attack, 50-year-old Irina Medyantseva, an artist well-known for the dolls she made, was buried Thursday in a funeral attended by a few dozen relatives and friends.
"I'm thankful to all those who want to help us," said her husband, Alexander Kaminskiy. "The country and the entire world share our pain."
The Associated Press contributed to this report.
https://www.foxnews.com/world/st-petersburg-attack-aftermath-explosive-device-defused-3-arrested