Roadside bomb kills US soldier in southern Afghanistan
By ,
Published August 23, 2016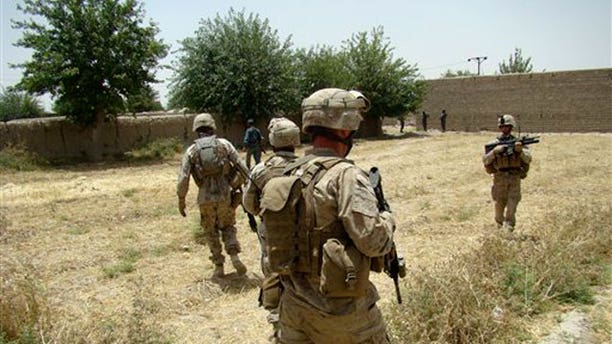 The U.S. military said Tuesday an Army soldier was killed and another wounded by a roadside bomb during an operation in Afghanistan's southern Helmand province.
The wounded American was in "stable condition," a U.S. military official told Fox News, saying the explosion was not part of a Taliban attack.
The blast also wounded six Afghan soldiers on a foot patrol outside their base in Lashgar Gah, the provincial capital. Someone on the patrol stepped on the bomb buried underground.
There are nearly 700 U.S. troops in the volatile Helmand Province, which appears to be at increasing risk of falling to the Taliban. Days ago, the U.S. sent more than 100 additional troops to Helmand. Fox News was told the Army soldier who was killed was not from this group.
Afghan officials say the insurgents effectively control around 80 percent of the province.
In July, President Obama authorized 8,400 troops to stay in Afghanistan when he leaves office, down from the nearly 10,000 service members there now. Until July, the plan was to reduce U.S. forces down to roughly 5,500 by early 2017.
The administration previously had hoped to reduce the U.S. troop presence in Afghanistan to just 1,000 to protect the U.S. Embassy in Kabul.
In December 2009, President Obama authorized 30,000 troops to Afghanistan in a surge following a recommendation from his generals.
The U.S. military said the soldier who died was "conducting train, advise, assist activities with Afghan counterparts under NATO authorities." A "medivac" helicopter transported the killed and wounded to Kandahar Air Field.
The U.S. military did not immediately release the names of the soldiers. Staff Sgt. Matthew McClintock, a Green Beret, was killed last January in a gunfight with the Taliban in Afghanistan.
In August 2015, another Green Beret, Master Sgt. Peter Andrew McKenna Jr., 35, was killed in Kabul during a Taliban attack on his base.
Two Romanian soldiers died in May during what was described as an "insider attack" in Kandahar, shot by Afghan security forces.
Fox News' Lucas Tomlinson and The Associated Press contributed to this report.
https://www.foxnews.com/world/roadside-bomb-kills-us-soldier-in-southern-afghanistan