Putin: 'Read my lips,' election interference claims are lies
By ,
Published March 30, 2017
When asked on Thursday if Russia meddled in the United States presidential election, Russian President Vladimir Putin responded by saying, "Read my lips: No."
Putin said he was "confident" that Russia did not interfere in last year's election, having quoted former President George H.W. Bush's 1988 pledge to not raise taxes -- although Putin mistakenly cited former President Ronald Reagan in his statement.
PUTIN: CRITICISM OF RUSSIA PROTEST ARRESTS IS 'INTERFERENCE'
"All those things are fictional, illusory and provocations, lies. All these are used for domestic American political agendas. The anti-Russian card is played by different political forces inside the United States to trade on that and consolidate their positions inside," Putin told a CNBC-moderated panel of world leaders, according to The Hill.
Putin's comments come on the heels of today's first hearing of the Senate Intelligence Committee's investigation into Russian election interference in the form of disinformation, hacking and the like.
COMEY REPORTEDLY TRIED TO EXPOSE RUSSIAN TAMPERING BEFORE ELECTION
FBI Director James Comey recently told Congress that the U.S. intelligence community has been probing the possibility of collusion between the Trump campaign and Russia.
American intelligence agencies formally accused Russia of interfering in the presidential election almost six months ago.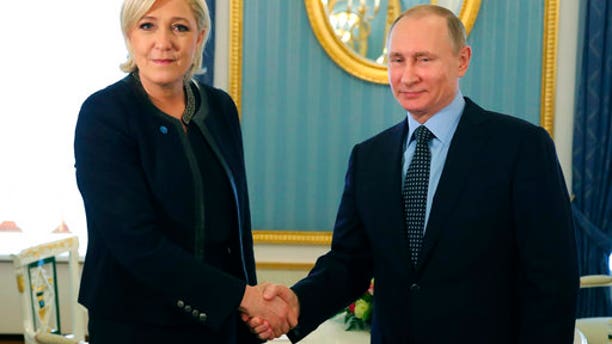 During his statement to world leaders, Putin brushed aside the assessment of U.S. intelligence agencies, and urged the U.S. to accept his version of events.
"[We know many Americans are] friendly towards the Russian Federation and I'd like to tell these people that we perceive and regard the United States as a great power with which we want to establish good partnership relations," said Putin, according to The Hill.
Meanwhile, intelligence agencies in several other countries, including Germany and France, have determined that political breaches in their countries were perpetrated by Russia, dating back well before the Democratic National Committee breach.
https://www.foxnews.com/world/putin-read-my-lips-election-interference-claims-are-lies