Palestinians, Israeli troops exchange stones and tear gas as Hamas reportedly bribes, threatens demonstrators
By Greg Norman, ,
Published May 15, 2018
Clashes between Israeli troops and Palestinians flared up Tuesday in the West Bank for the second consecutive day, as protesters burned tires and lobbed stones at Israeli troops, who fired tear gas at demonstrators.
Palestinian health officials said two people have been killed so far in Tuesday's clashes. About 200 Palestinians were protesting in the biblical city of Bethlehem while another 100 demonstrated in the Palestinian city of Ramallah, according to the Associated Press. The protests come a day after thousands gathered and 58 were killed trying to breach the Gaza border during protests that coincided with the opening of the U.S. Embassy in Jerusalem.
Organizers claim the protests are meant to bust a decade-old blockade on the territory, but Israel says Hamas – the terrorist organization that controls Gaza -- is using the demonstrations as cover to carry out attacks. The country's military says at least 24 of those killed Monday were members of Hamas and the Islamic Jihad groups, with a "documented terror background".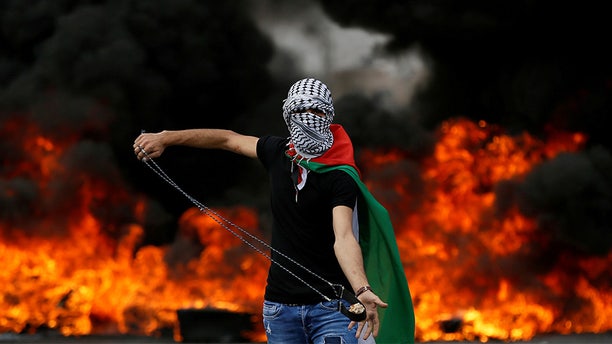 It said eight Hamas operatives in one incident attempted to breach the border fence using Palestinian civilians as cover. It added that they threw grenades and shot at troops who had rushed to the scene, and that its troops returned fire and killed the militants.

Israeli Brig. Gen. Ronen Manelis said Hamas was egging on the protesters, even bribing them by offering "$100 per family that comes" and threatening those who didn't attend with being labeled "collaborators," the Times of Israel reported.

Palestinians Tuesday are marking the anniversary of what they call their "nakba," or catastrophe, a reference to the uprooting of hundreds of thousands who fled or were expelled during the 1948 war surrounding Israel's creation.
Thousands also attended funeral rallies in the southern Gaza Strip for those killed the day before.
"With souls and blood we redeem you martyrs," the Jerusalem Post reported mourners in Khan Younis chanted. Many of those gathered were seen waving Palestinian flags and a few called for revenge.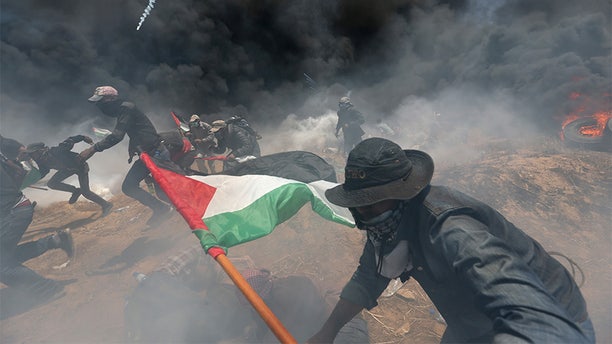 Gaza health officials, meanwhile, casted doubt on initial claims that a 9-month-old baby died from Israeli tear gas fired during Monday's protests.
A medical doctor told the Associated Press Tuesday the baby, Layla Ghaben, had a pre-existing medical condition and that he did not believe her death was caused by tear gas -- even though the Gaza Health Ministry counted her among those killed on Monday. The doctor spoke on condition of anonymity because he was not allowed to disclose medical information to the media.
Citing figures from the Health Ministry and a group of aid agencies, WHO official Mahmoud Daher told the Associated Press Tuesday that 2,771 people were wounded in Monday's unrest. Of those, 1,360 were wounded by live fire, 400 from shrapnel and 980 from gas inhalation. He said the majority of those wounded by live fire were struck in their lower limbs.
Daher added that nearly 1,800 of the wounded sought hospital care, putting additional pressure on Gaza's already stressed hospitals, which endure equipment and medicine shortages and face power cuts like the rest of the territory.
"It is really massive in terms of numbers," he said.
U.S. Ambassador Nikki Haley told the U.N. Security Council Tuesday -- which is meeting to discuss the violence -- that no member "would act with more restraint than Israel has" in its confrontation with Palestinians at the Gaza border.
She said the violence Monday had nothing to do with the opening of a U.S. embassy in contested Jerusalem. She says the Islamic militant Hamas extremist that rules Gaza has been inciting violence there for years.
On the other side of the Gaza border fence Tuesday, in Israel, residents were told to go about their daily business but to be prepared for any instructions from officials, the Times of Israel reported.
The newspaper said Israel's army started amassing around 2,000 soldiers there ahead of this week's protests.
"This is unprecedented in terms of the level of violence, compared to previous weeks," Manelis said Monday following the violence, adding that he expects the protests to continue for several more days this week.
The Associated Press contributed to this report.
https://www.foxnews.com/world/palestinians-israeli-troops-exchange-stones-and-tear-gas-as-hamas-reportedly-bribes-threatens-demonstrators