Italian bridge collapses in Genoa, killing at least 35, officials say
By Katherine Lam, ,
Published August 14, 2018
More than thirty people -- including a child -- were killed when a raised highway in Genoa crumbled during a sudden and violent storm, sending several vehicles plunging to the ground where rescuers desperately searched for survivors.
Italy's civil protection agency Angelo Borrelli said in an earlier news conference that 20 people were killed and 13 others were injured when a 650-foot section of the Morandi bridge collapsed over an industrial zone just after 12 p.m. local time. The bridge is part of the A10 highway that connects Italy to France.
Italian transport official Edoardo Rixi initially said 22 people were killed and eight were injured. The figure has now climbed to 35, Reuters reported, citing police.
The victims appear to all have been in vehicles when the structure crumbled beneath them, causing them to plunge nearly 300 feet to the ground, according to Borrelli. The concrete pieces also crushed two warehouses below, but officials believe no one was inside because the buildings were closed for summer holiday.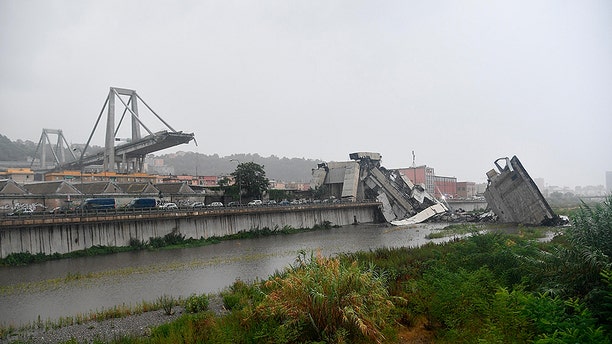 About 20 vehicles were involved, firefighter Amalia Tedeschi told RAI state TV.
The transport minister, Danilo Toninelli, earlier said the collapse was likely "an enormous tragedy."
"We are following minute by minute the situation of the bridge collapse in Genoa," Interior Minister Matteo Salvini wrote on Twitter.
Tedeschi said two people were pulled from the rubble alive as rescuers searched the scene for survivors.
The exact cause of the collapse was unclear, though a witness said he saw lightning strike the structure, which fell apart soon after.
"It was just after 11:30 a.m. when we saw the lighting bolt hit the bridge and we saw the bridge go down," witness Pietro M. told ANSA.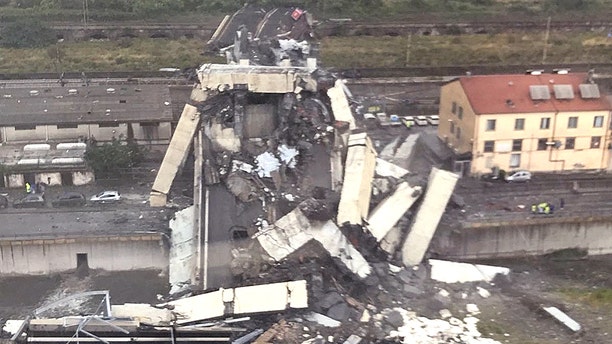 Authorities earlier said they suspected there was a structural weakness.
Images posted by state police and witnesses showed a huge section of the bridge missing and crushed trucks and cars. Parts of the structure also landed on the rooftops of nearby buildings. Video captured the sound of a man screaming: "Oh, God, oh, God!"
Firefighters said they are concerned about gas lines in the area.
The bridge was inaugurated in 1967 and is about 0.6 miles long. It's an interchange between the northern regions of Lombardy and Piedmont and the beaches of Liguria.
The collapse also occurred on the eve of Ferragosto, a major Italian holiday. Authorities said traffic on the bridge was expected to be higher than usual because many people travel to beaches or mountains during the holiday.
Two years before the deadly collapse, an engineer said the bridge was bound for disaster. Antonio Brencich, who is also a professor at the University of Genoa, said in July 2016 that there were problems with the structure, Ingegneri.info reported.
The Associated Press contributed to this report.
https://www.foxnews.com/world/italian-bridge-collapses-in-genoa-killing-at-least-35-officials-say