ISIS child soldiers are latest casualties of brutal terrorist army
By Hollie McKay, ,
Published November 01, 2016
A reed-thin boy sits meekly in a blue molded plastic chair in a darkened office, flickers of light from a camera casting shadows around a young face mottled by adolescent acne. His anxious dark brown eyes dart relentlessly from side to side, betraying confusion and fear.
His name is Awad Arkan Helal Mohammed, and, at just 14, he is a captured ISIS operative now in the custody of Kurdish authorities. He is one of thousands of child soldiers recruited into the brutal Islamist terrorist army's service.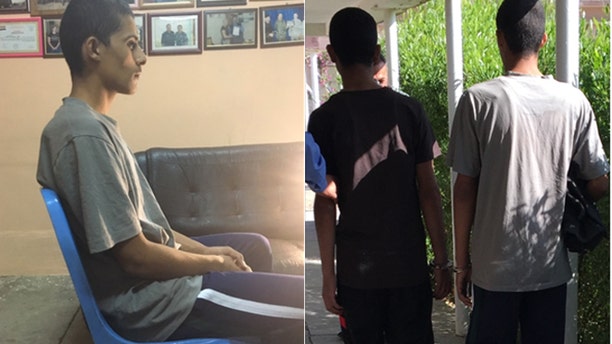 "The Caliphate Abu Bakar Al-Baghdadi, to listen and obey in times of hardship and ease, in difficulty and prosperity," he shouts into the camera with mustered defiance. "I am not to dispute his orders, only when I see evident infidelity regarding which is there is a proof from Allah. Allah is my witness."
FREED ISIS SEX SLAVE IN EMOTIONAL REUNION WITH FAMILY

FoxNews.com was present earlier this week as the camera rolled, collecting evidence for his future trial. After his cursory interrogation, Awad told FoxNews.com how he joined ISIS, a process that began with a simple pledge of allegiance recited on April 16, 2015, after he was recruited by a friend, Mahmood Ibrahim Shukoor, in his local Kirkuk village of Smata Olya. The decision made him a chip off the block.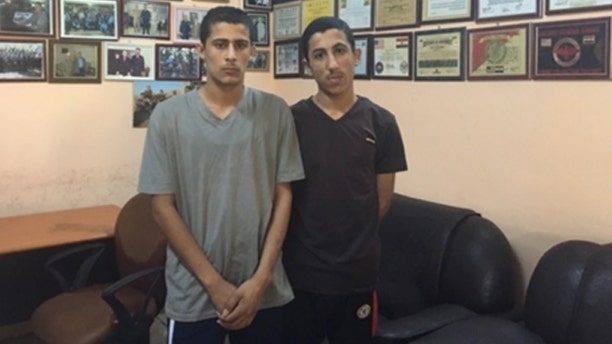 "My dad was also ISIS," Awad said, while noting he nonetheless didn't tell his parents out of fear they might have stopped him. "So I just ran away."
ISIS TARGETS CHILDREN OF MOSUL WITH TEDDY BEAR BOMBS
His father, Awad said, was killed in an airstrike just more than a year ago. The loss deepened his determination to become a martyr and reap the benefits his adult handlers had promised, he said.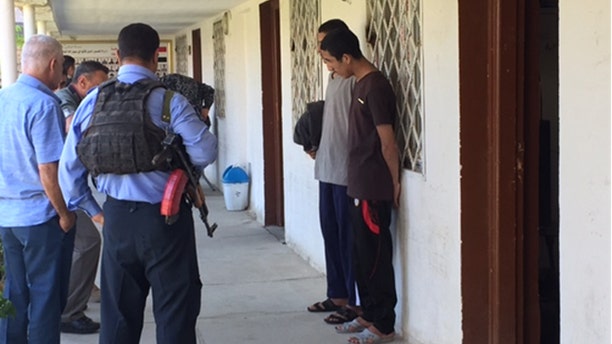 "The leaders told me I would go the Paradise," he said. "Where there would be many angel women waiting."
The interrogation and subsequent exclusive interview took place inside the barricaded and nondescript confines of the Kirkuk Police Department. Encircled by a thick cement wall and layers of security, the unmarked building in the city center is guarded by snipers atop the roof and 24-7 patrols on the ground. Inside, uniformed men puff on cigarettes as they roam the shabby hallways, their rifles slung tight.
Awad recounted the events that followed his pledge to the self-styled ISIS caliph when he was 13. He was whisked away to the nearby village Albo Najim for 37 days of intense weapons training, he said. The focus was on using AK-47s, M16 rifles and the Soviet-style machine gun BKC, otherwise known as PKM outside Iraq. There were two ISIS trainers and 30 trainees -- half of them minors.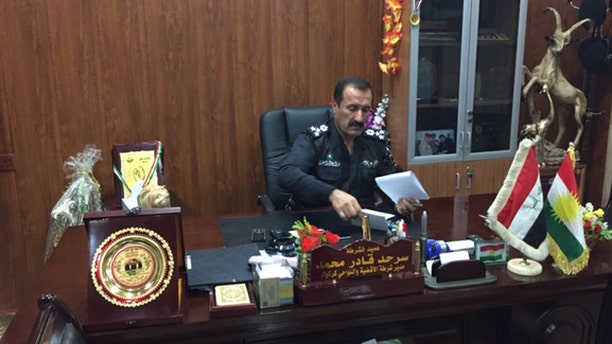 After completing his training, Awad spent four months working for ISIS in the Kirkuk village of Al Bonajim, earning a salary of $50 per month. That hitch was followed by a 45-day assignment in Tel Afar, a town outside of Mosul. For 45 days he underwent more advanced training alongside Iraqi and foreign kids.
The leaders, according to Awad, would yell at them during the boot camp to "kill Peshmerga," the name for Kurdish fighters, as well as the Shia militia Hashd Al Shahbi. Peshmerga forces and Shia militias are now playing a key role in the ongoing effort to retake Mosul from ISIS.
Awad's next stint was commanding a guard post in Kirkuk's Sehel village with eight others -- all from neighboring Qahara Village in Daqoq. With an AK-47 in his hands at all times, his task was to inform the ISIS intelligence agents if anyone "came close" to their post. On Aug. 23, Peshmerga fighters ambushed the guards and arrested Awad and others.
"I wasn't scared," he said. "They treated me well."
As Awad slouched hopelessly and gazed at the cold cement floor, his interrogator barked at him to look up and into the lens at all times. Soldier-like, Awad snapped to attention before making a resigned observation to no one in particular.
"I don't think," he said, "that I will go to the Paradise anymore."
The session was interrupted when Kirkuk Police Brig. Gen. Sarhad Muhammed -- known in the local community as "Rambo" for his no nonsense persona and legendary ability to survive assassination attempts -- burst in. He ordered Awad to rise and trade places with another teen who was standing in a corner, awaiting his turn in the interrogation chair.
Fifteen-year-old Mostafa Qais Ahmed Dawood solemnly took his place before the camera and began recounting his story.
"ISIS told us this is the Islamic State that the Prophet commanded," he said. "If you get killed, you will enter the Paradise and there are women for you."
Unprompted, Mostafa repeated the same pledge of allegiance to Baghdadi heard moments earlier from Awad.
Mostafa's strong jawline clenched and his eyes flashed with defiance as he was grilled. He fidgeted in the blue chair, and pulled at a phantom beard -- the Kurds shave ISIS captives.
Moments later, Mostafa told FoxNews.com that he joined ISIS in July, after being recruited by a local Sharia law judge named Abu Rashid. He recounted how he and seven other newcomers -- all children -- were trained by three ISIS leaders, learning the ins and outs of "the AK-47 weapon, BKC weapon, the 12.5-mm. machine gun weapon and body fitness."
Mostafa's first assignment was alongside 10 other teens, inside Kurdish territory in Abbasi Village in Kirkuk province, guarding secretly deployed ISIS vehicles. In September, local authorities moved in, arresting the team and putting an end to Mostafa's brief journey into jihadism.
As Mostafa spoke, Awad stood timidly in the dark, transfixed by the multitude of framed photographs and certificates of Kirkuk Police Department accolades and awards adorning the walls.
Neither of the boys are believed to have taken part in combat operations against security forces or executions. Both claimed to recognize the mistake in aligning with an organization that has slaughtered, enslaved and waged savage warfare on their neighbors and loved ones.
"I do regret it. If I saw my young friends I would tell them to leave ISIS because it is outlawed," Mostafa said, in a methodical tone that seemed to lack in sincerity. "I would tell them to surrender to Iraq."
Later over tea, Muhammed affirmed that pleas of regret are taken with a heavy measure of salt.
"They are obliged say that, but we don't believe them," he said.
Kirkuk authorities have captured dozens of ISIS child soldiers, he said. Those under 18 are held in an undisclosed children's correctional facility while they await trial, which typically comes between two and six months after their arrest.
Muhammad stresses that the juveniles, held not in cells but in a large common room, tend to further radicalize one another. Their sentences vary, but minors usually get half of what an adult would for the same crime. Another official tells FoxNews.com that these child soldiers will probably spend six or seven years behind bars.
There is no mention of the amnesty or rehabilitation programs that routinely drive the discourse of Western media and human rights groups when it comes to the issue of child soldiers. Given ISIS' unprecedented use of kids to spy, kill and die for the cause, officials know they may never be able to afford leniency.
"ISIS uses every technique, every way, to get everyone," Muhammad says. "They take women, train children, they find every possible way to infect the community."
For a few moments, the two jihadists -- flanked by security -- are permitted to stand outside in the bright, mid-morning sun as officials talk among themselves and armed cops assemble nearby. The boys stand together with their backs against the wall, both staring blankly ahead.
Then, handcuffed together, they are led back inside and down the hallway toward a truck waiting to take them to the detention facility.
"It is not easy for these children to forget their ideology, forget something that they wanted to die for," Mohammad said. "But this ISIS ideology is like a cancer. It spreads if you don't treat it accordingly."
https://www.foxnews.com/world/isis-child-soldiers-are-latest-casualties-of-brutal-terrorist-army