Colombia arrests four in US drug agent's killing
By ,
Published December 12, 2015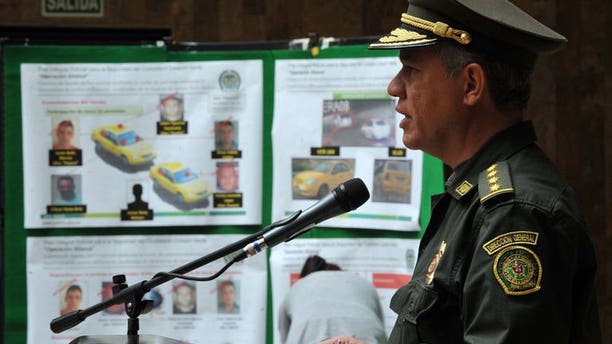 Colombian authorities have detained four suspects in the killing of a US Drug Enforcement Administration agent who was stabbed to death during a robbery last week, officials said Tuesday.
The US embassy issued a statement to congratulate Colombian police and said US and Colombian authorities had worked closely in the case following Friday's killing of James "Terry" Watson.
The four suspects, who are part of a criminal gang, face an extradition request from the United States and were listed in an Interpol "red notice" of wanted persons, said the national police chief, General Jose Roberto Leon.
The detainees include the man who allegedly stabbed Watson and an accomplice who beat him to "reduce his resistance" during the robbery," Leon told a news conference.
The drivers of two taxis used in the crime were also arrested. One driver was driving the agent from a restaurant district to his hotel, while the other cab was used by the assailants to attack him.
Police made the arrest thanks to the help of an informer and the intercepted frequencies of a cellphone and tablet stolen from Watson.
The suspects were arrested after they tried to get rid of evidence, including the seats of one of the taxis, which they tried to sell to undercover agents, Leon said.
Investigators also found blood-stained trousers belonging to the stabber.
Two other arrest warrants have been issued in the case, the prosecutor's office told AFP.
Watson's remains were repatriated to the United States on Monday. US authorities say the murder was an isolated criminal act that would not affect good relations with Colombia.
"We salute the brave and expeditious work of Colombian law enforcement and we look forward to justice being served," DEA chief Michele Leonhart said in a statement.
The agent, who recently married a Colombian woman, had been working in the Caribbean coast city of Cartagena for the past three years and was in Bogota for a mission when he was killed.
In the past 13 years, Watson worked for the DEA in Hawaii, Puerto Rico and Afghanistan.
https://www.foxnews.com/world/colombia-arrests-four-in-us-drug-agents-killing