Chavez's health key to Venezuela political future
By ,
Published December 14, 2016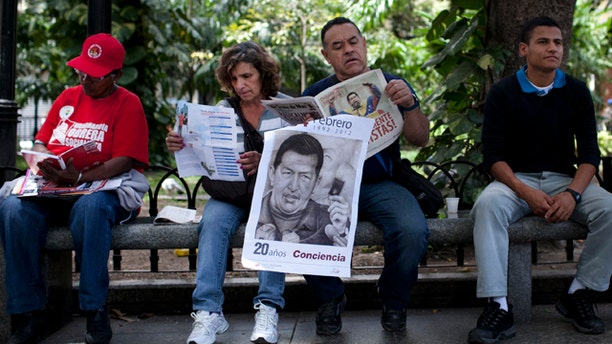 It's hard to imagine an election in Venezuela without Hugo Chavez, the larger-than-life personality who gazes down from billboards and murals and fills the airwaves for hours at a stretch with his unique mixture of fiery speeches and folksy banter.
Yet that's just the scenario this South American nation must contemplate as the charismatic populist, who has dominated the political landscape during 13 years as president, is treated in Cuba for a possible return of the cancer he thought he had licked.
If Chavez were to die or lingering health problems force him to withdraw suddenly from the public eye, it could plunge his socialist-inspired political movement into chaos over who will stand in the Oct. 7 presidential vote.
For his long-marginalized rivals, running against a candidate not named Hugo Chavez means a better chance of retaking the presidential palace, but Chavez loyalists could see a victory over a mere stand-in for their hero as illegitimate and their feuding could cause instability. So a world without Chavez would mean greater potential turmoil for loyalists and opponents alike.
"I think everyone is hoping for a successful operation," said Mariana Bacalao, a professor in the School of Social Communication at the Central University of Venezuela.
Even Chavez's election rival, Henrique Capriles, has wished the president a speedy recovery saying he wants to win "fair and square."
Chavez underwent surgery Monday in Havana and aides said he was recovering well after a one-inch lesion was removed from the same part of the body where a larger, malignant tumor was taken out last summer. There has been no confirmation that the new tumor is cancerous.
But details about the seriousness of Chavez's illness have not been released, and with speculation flying about dire prognoses, Venezuelans are increasingly forced to wonder, What if?
If Chavez, 57, recovers fully and returns to the campaign trail, he would be a formidable candidate. With popularity ratings around 50 percent, he's still the man to beat, although pollsters predict a close race against Capriles, the Miranda state governor who handily won a primary in February.
Defying cancer a second time could even burnish Chavez's image as a bulletproof politician who survived an attempted coup in 2002, a crippling three-month general strike soon after and a 2004 recall referendum.
If he stays in the race but is weakened by weeks of chemotherapy or radiation treatment, however, he would be vulnerable to doubts about his ability to serve a new six-year presidential term.
If Chavez is forced to drop out, his party's fortunes could hinge on whether he is able to annoint a new candidate and campaign for that person. There are rifts in the president's movement, and without Chavez himself rallying the troops, it could be hard to line up behind a substitute.
"I think that would be the kiss of death for the Chavistas as far as October is concerned," said Steve Ellner, a political scientist at Venezuela's Universidad del Oriente.
Even if Chavez is healthy enough to support a hand-picked successor, he has allowed no obvious choice to develop in the top echelons of power.
Both Foreign Minister Nicolas Maduro and Vice President Elias Jaua were essentially demoted in January as Chavez tapped them to run for state governorships.
"When Chavez was sick, everybody began to say that Maduro was the heir apparent," said David J. Myers, a political scientist at Pennsylvania State University who studies Venezuela and in 1998 briefed Chavez on election polls. "What Chavez has done is anytime anybody surfaces as heir-apparent, Chavez knocks them down."
Some see a possible candidate in new National Assembly president Diosdado Cabello, a former military man who took part in Chavez's failed 1992 coup attempt. Another possibility is the president's bookish elder brother Adan, governor of Barinas state.
The inconvenient fact for Chavez's Bolivarian movement is that many of his supporters will be leery of anyone who's not the "comandante."
"I don't see anyone who can take his place," said Humberto Chacon, a 25-year-old street vendor. "If he can't (run), I wouldn't vote for the opposition, let alone Jaua, Diosdado.
"I don't trust them. They're all just a bunch of 'patarucos,"' he added, using a Venezuelan term for a rooster unfit for the cockfighting pit.
Chavez has won election after election relying on the politics of personality, and he may be loath to throw in the towel if he is at all physically able to continue.
"The president himself has created and even fed this vision in which the only leader is him," Bacalao said, "... It doesn't leave space at all for other members of his own party."
Venezuelan officials insist there is no candidate other than Chavez and predict another landslide victory. They strenuously deny reports that Chavez's cancer may have metastasized and his life is in danger.
If the denials are wrong, however, Vice President Jaua is in line constitutionally to serve out the rest of his term until October's winner is sworn in January. If Chavez wins election and dies during the first four years of the new term, the new vice president would step in until new elections are held.
Though there is no sign yet that Chavez's absence could cause upheaval, some say it can't be ruled out in a country with several coup attempts since the democratic era began in 1958.
Cabello recently warned that Venezuelans "would not retreat a single millimeter" from the changes of the last 13 years. Adan Chavez suggested last year that Chavez's supporters should not rule out armed struggle in the future.
And current Defense Minister Henry Rangel Silva said in 2010 that the armed forces would not accept an opposition victory.
The military has become tremendously powerful and influential under Chavez, and Myers said it is capable of organizing strikes, street protests or other forms of pressure on a Capriles administration if it's worried about being cut out.
"It would be very difficult for Capriles to govern," Myers said.
https://www.foxnews.com/world/chavezs-health-key-to-venezuela-political-future