Bolivia: U.S. Drug Agents Not Welcome Back
By ,
Published December 11, 2015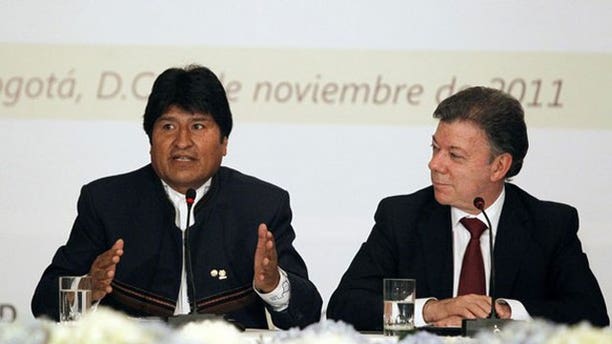 Bolivian President Evo Morales said Tuesday that U.S. drug agents are not welcome back in his country despite the newly announced normalization of diplomatic relations with Washington.
Morales told reporters during a regional summit in the Colombian capital that it is a question of "dignity and sovereignty."
As a coca growers' union leader before his 2005 election, Morales added, he was "personally a victim" because U.S agents controlled Bolivia's military and police.
Bolivia's anti-narcotics police, working closely with the Drug Enforcement Administration, often clashed with coca growers and Morales says they on one occasion beat him unconscious.
"They repressed us in Bolivia. That has ended," Morales said.
"For the first time since Bolivia was founded, the United States will now respect Bolivia's rules" and laws, he added, under the agreement restoring full diplomatic ties that Bolivia and Washington signed Monday.
It comes three years after the Andean nation's leftist government expelled the U.S. ambassador and DEA for allegedly inciting the opposition.
The pact calls for the restoration of ambassadors as soon as possible and close cooperation in counternarcotics, trade and development, said a U.S. official familiar with the agreement. The official spoke on condition of anonymity because of the subject's sensitivity.
Morales said Tuesday that he still considers the ambassador he expelled in September, Philip Goldberg, to have been "a conspirator."
The U.S. government denies the Bolivian government's allegations that Goldberg schemed with lowlands agrobusinessmen to unseat Morales, an Aymara Indian raised poor in the country's poor, windswept highlands.
Bolivia is the world's No. 3 producer of cocaine. Drug control officials say cocaine production has been on the rise there since the DEA was expelled with Mexican and Colombian traffickers moving in and building ever more sophisticated processing labs.
That, despite limited growth in the country's coca crop, which the U.N. says only grew by 0.3 percent last year to 31,000 hectares (120 square miles).
The agreement normalizing relations does not address the issue of restoring trade preferences with the United States, which Washington suspended in December 2008 and which Bolivian officials said cost them thousands of jobs and millions of dollars.
The tariff exemptions have allowed the region's cocaine-producing nations -- Peru, Bolivia and Colombia -- to export thousands of products to the United States duty-free since 1991 as an incentive for trying to wean peasants off coca.
Analyst Kathryn Ledebur of the Andean Information Center said the normalization of relations "doesn't represent the end of friction between the U.S. and Bolivia, but it does create a new diplomatic framework to attempt to resolve (it)."
Washington continues to be without an ambassador in Venezuela, whose President Hugo Chavez is a close ally of Morales' Bolivia.
https://www.foxnews.com/world/bolivia-u-s-drug-agents-not-welcome-back