9-Year-Old Reports Mother, Sister Dead
By ,
Published December 12, 2016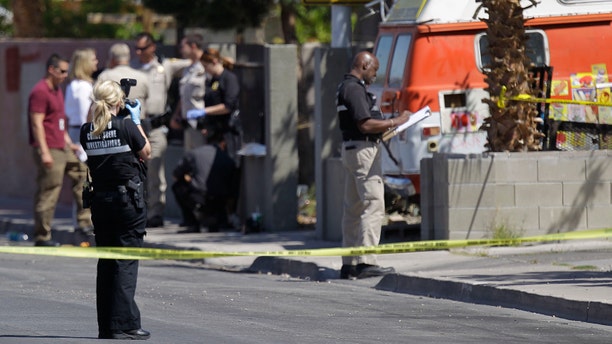 Police in Las Vegas are trying to unravel a grisly murder scene that unfolded when a 9-year-old boy got to school and told officials his mother and sister were dead.
Investigators arrived at the house found a horrifying site: A 10-year-old girl was dead. Her mother's lifeless body sprawled next to her. The father was covered in blood. And a distraught 4-year-old boy was found unharmed.
Police took the man, who the Las Vegas Review-Journal said may have been Arturo Martínez, based on county records, into custody. It's unclear whether he was a suspect or charged, but police have made it clear there is no killer on the loose and that there is no evidence of a break-in.
The five people belonged to a single family, police Officer Jacinto Rivera said.
Police wouldn't immediately say how or when the slayings occurred. One neighbor, Lucinda Jackson Griffith, said she heard at least one gunshot early Monday.
Longtime neighbor, Dick Webb, said he had walked past the home less than 90 minutes before the boy arrived at school. He said he didn't notice anything amiss.
Rivera called it too early in the investigation to determine a motive, and said investigators were working carefully to collect evidence inside the single-story stucco home with a motorcycle and two sport utility vehicles in the driveway.
"We get one shot at a homicide scene. Our No. 1 priority is to find out what happened," the police spokesman said. "Right now we don't know what happened."
Clark County spokesman Erik Pappa said the 4-year-old and 9-year-old boys were in the custody of child protective services because they didn't have an adult caregiver.
Clark County Department of Family Services officials planned to try to locate other relatives before placing the boys together with a foster family, department spokeswoman Christine Skorupski said.
Police cordoned off the entire block near the home during their investigation.
Officials said the boy was uninjured when he arrived at Mabel Hoggard Elementary School, where his older sister also was enrolled.
Principal Celese Rayford declined comment.
Clark County School District spokeswoman Amanda Fulkerson wouldn't describe how or what the boy told school officials, or whether other students were told what happened.
School administrators quickly notified police about the boy's story and began mobilizing its crisis response team to help students process the tragedy, Fulkerson said.
The campus, with about 450 students in grades kindergarten through 5, was "struggling to sort out emotions and details of a tragedy that claimed the life of a student at home this weekend," she said.
Students also were being reminded that school "is always a safe zone with caring adults that can help in uncertain situations," Fulkerson said.
Based on reporting by The Associated Press.
Follow us on twitter.com/foxnewslatino
Like us at facebook.com/foxnewslatino
https://www.foxnews.com/world/9-year-old-reports-mother-sister-dead